Pinterest Flourless Chocolate Cake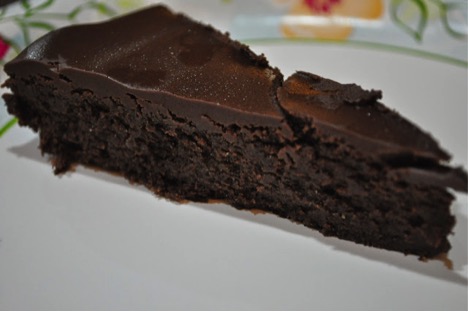 So, I must admit, I am not a huge chocolate cake fan. I am not a super big cake fan to start with. When I make a cake, no matter how good it is, it ends up getting dry before it gets eaten in this house.
However….
Something told me to try this dessert. Seems like I struggle to find a decent gluten free dessert recipe lately and I have always been curious about how a gluten free cake could actually be called cake.
One bowl (for the cake), so easy! Simple cleanup! Few ingredients, and I think it would be really easy to swap chips for a different flavor. I am thinking the raspberry chocolate chips that come out during winter, or mint, or peanut butter and chocolate….
Here is the recipe:
Ingredients
8 ounces bittersweet chocolate chips
1 cup unsalted butter, cubed
1 cup granulated sugar
4 large eggs
for the ganache
1/3 cup whipping cream
1/3 cup bittersweet chocolate chips
Instructions
1. Spray an 8 inch round cake pan and line bottom with parchment paper.
2. For the cake-in a medium bowl, microwave chocolate chips and butter for 1 minute. Remove from microwave and stir until chips are completely melted and chocolate is smooth. If necessary microwave for an additional 30 seconds. Using a wire whisk, stir in sugar and eggs, making sure to blend completely.
3. Pour batter into prepared pan and bake in a preheated 350 degree oven for 30-35 minutes. You should have a crust on the top, like a brownie. Let cake cool in pan for 20-30 minutes. Run a knife around the edge of pan to loosen edge, then turn cake out onto a wire rack to cool completely.
4. For ganache-place chips in a small heat proof bowl. In another small bowl, microwave cream for 30 seconds on high, until almost boiling. Pour heated cream over chips and let rest for a minute before stirring. Continue to stir until chips are completely melted and chocolate is smooth.
5. Drizzle ganache over entire cake or each slice as you serve
ADD RECIPE TO COOK'N
Now…. This shouldn't be called cake. This should have a category all its own. This flourless chocolate cake when above and beyond any expectation I could have had. It did take us (2 adults and one chocolate obsessed toddler) about four days to finish. It doesn't make a large recipe, just a standard 8 inch round cake pan. This cake, is really decadent, so rich and does not make a fluffy cake. Mine came out dense and almost but not quite gooey, more like a fudgy brownie. It also had this beautiful crust on the top, that is similar to a brownie crust. It was so rich that I skipped the ganach all together. Right out of the oven (and it did require 14 additional minutes in the oven), the cake was super moist and almost custard like in the center. The next day the cake settled into perfection. I know I am gushing, but it really is THAT good. It held up nicely for the next four days, until it was finished. It got my toddlers vote of approval when I found him cliff hanging off the counter, trying to get to that yumminess.
My notes:
My baking time needed to be increased by 14 minutes. That's a big difference.
I used semi-sweet chocolate chips, because that is what I had.
When I poured the batter into the pan, I freaked out because I thought it was going to raise and run all over my oven. It did raise, but just slightly.
Add Recipe to Cook'n
-->
Sources:
http://teacherbakermealmaker.blogspot.com/2013/06/decadent-flourless-chocolate-cake-from.html
http://chocolatechocolateandmore.com/2014/02/flourless-chocolate-cake/

Sharon Ng
Monthly Newsletter Contributor since 2012
Email the author! sharon@dvo.com