Mashed Cauliflower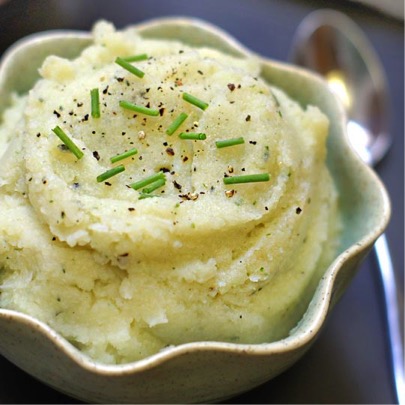 When it comes to Holiday meals, I am a traditionalist. We have a set menu of must have classic's and maybe a few rotational side dishes. Thanksgiving holiday is turkey, stuffing, rolls, green veggies (usually green bean), cranberry sauce, sweet potato casserole, and mashed potatoes with gravy. However, as of late, it seems more people are avoiding starches and potatoes can be difficult for diabetics. I tried out mashed cauliflower a few years ago, thinking it would be really disgusting and I was wrong. It wasn't bad at all, and when you add cheese or garlic, or rosemary, it just gets better.
Another great part about mashed cauliflower is that it doesn't get gummy like potatoes can (potatoes get gummy because of the starch), so it reheats well. I have even done these ahead of time, put them in a freezer bag and reheated them a few weeks later and they were just as good! If you use cream cheese or sour cream in yours, I recommend adding that when you reheat as I haven't tried freezing the mashed cauliflower with either of those things and always add them after it is reheated.
My tips to make sure you love your mashed cauliflower are few, first, use whatever ingredients you would use to make mashed potatoes. For us we typically use chicken stock, a bit of milk and once in a while some grated cheddar cheese as well as salt and pepper. Other ingredients I suggest adding are parmesan cheese, sour cream or cream cheese, rosemary and garlic. For an Asian flare throw in some curry powder.
You can cook the cauliflower over the stove in a large pot, though this lends to a wetter floret and it would be necessary to drain and essentially squish out some of the water. Another way, which may be easier, is to steam the cauliflower in the microwave, with a small amount of water (which creates the steam) in a plastic wrap covered bowl. A medium sized head of cauliflower takes me about 10 minutes to steam in the microwave. Either way you choose to cook your cauliflower, cut it into small florets first, removing any large stalks, to achieve a faster cooking time.
After your cauliflower is cooked and drained as needed, throw it into a food processor and give it a spin. You can process until it is very well blended, or slightly chunky, whatever your preference is. If I freeze the mashed cauliflower, it is at this point that I remove it from the processor and allow it to cool, then add it to a ziptop freezer bag. If I am not freezing this I add all my ingredients and whirl it up until blended. If you use a blender, do small batches at a time, adding the milk or liquid a little at a time to help process it.
This can be used in place of potatoes on casseroles, such as shepherd's or rancher's pie. It will get a crust just like the mashed potatoes would. We actually now prefer shepherd pie with mashed cauliflower, it has a lighter texture and an equally light taste.
A great, low carb, option for your family that is actually good enough to become a classic!
Sources:
http://detoxinista.com/2012/11/mashed-cauliflower-vegan-paleo/



Sharon Ng
Monthly Newsletter Contributor since 2012
Email the author! sharon@dvo.com

---