Poultry Carving in Ten Easy Steps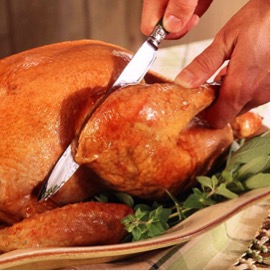 I love a fresh, from the store rotisserie chicken. I like roasting my own too, but it seems that almost always the seasoned and store cooked ones are actually cheaper. They really need to get with the program and do the same thing for the turkey for Thanksgiving!
I will admit that I have always struggled with cutting chicken and because I cut/mangle it in the process, I lose a lot of useable meat. So, I set out to correct my irresponsible behavior, and I know that what I learned and these ten easy steps will help many of you too!
How to carve a bird in 10 easy steps;
1. Find a good, sharp knife.
2. With your bird on a tray or dish to catch juices, remove any tied string and thermometers and dispose of them.
3. Allow fowl to rest for 20-30 minutes.
4. LEGS- With the bottom of the drumsticks pointed toward you, cut a circle around the leg, slightly pulling the leg away from the body. Start with the top and then cut underneath. Putting more pressure on the leg, pull the leg further from the body. At this point the leg may pop free from the joint. If it doesn't get the tip of your knife in the joint and gently wedge it free. Repeat for the second leg.
5. WINGS- The wings should come of very easy as well. Pull the wing slightly away from the body and with through cut, it will easily be free.
6. BREAST- (this is not the pretty Better Homes and Gardens chicken breast slice because those take practice). Slice down the middle of the breasts op the top of the chicken. Now, wedge your knife to the right or left of the middle cut, and sliding the knife along the bone, free the meat from the breast bone. Place your hand on the top of the breast, and cut along the bottom, side. This will create a horizontal cut and will remove the breast meat. Repeat for both sides.
7. Slice breast meat into lovely slices.
8. Organize on a platter.
9. Eat!
10. Use the carcass to make homemade chicken stock. J
Sources:
http://www.dimasharif.com/2010/11/enjoy-your-holidays-this-season-with.html

Sharon Ng
Monthly Newsletter Contributor since 2012
Email the author! sharon@dvo.com