The Woman Behind it All!
Do you have a co-worker who always has a smile on their face, can make anyone laugh and is an absolute delight? Sometimes, it's rare to find co-workers with these qualities, but here at DVO Enterprises, we have Executive Assistant, Barbara Williams. She lifts our spirits and so much more!
So, for my table talk article this month I decided to conduct a little interview with Barbara. This way you can get to know the woman behind it all…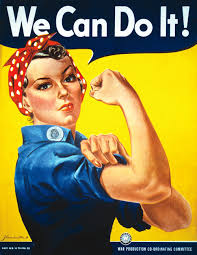 The Interview:
Bethany: How long have you worked with DVO Enterprises (DVO)?
Barbara: I have been with DVO since 2007, going on my 8th year! Wow, where does the time go!
Bethany: What are your responsibilities at DVO?
Barbara: I work closely with Dan, CEO of DVO Enterprises, and oversee the day to day running of the office. This includes answering all e-mails, and managing the office property. I arrange travel, meetings, company events and appointments for Dan and staff. I also provide employees with reports and reviews, oversee the Cook'n Club, bill the club members, organize submitted articles for the newsletter, as well as work one- on- one with the Cook'n Newsletter editor Andy Hunt. The position I hold is one of multi-tasks! And I have LOVED every minute of it.
Bethany: What is your favorite feature of Cook'n?
Barbara: My favorite feature of Cook'n is the ability to add photos to your recipes. I have many of my mother and grandmother's handwritten recipes. I like to take photos of them to preserve these special gifts. I love how this feature makes me feel connected to past generations; I feel like they are there with me in the kitchen!
Below is a short tutorial of how to import photos to recipes.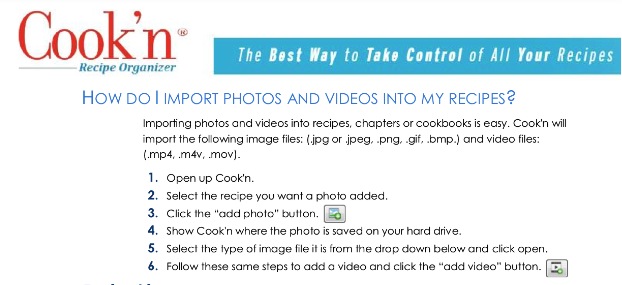 Bethany: Do you have a favorite family recipe?
Barbara: Yes! One of my favorite soups this time of year is Harvest Gumbo.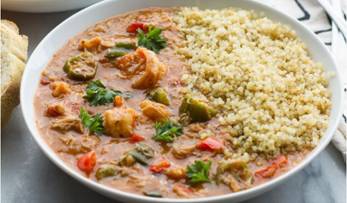 Add Recipe to Cook'n
Bethany: Where is your favorite getaway location?
Barbara: Yellowstone! It's a 4.5 drive for my family and I. We go there as often as we can… about two to three times a month in the summer and monthly in the winter. Our cabin is near Henry's Fork of the Snake River so the fishing is divine and boating is so fun. In the winter we have about 9 feet of snow, and this area is known as the snowmobile capital of the West. Can't tell you how amazing it is!!!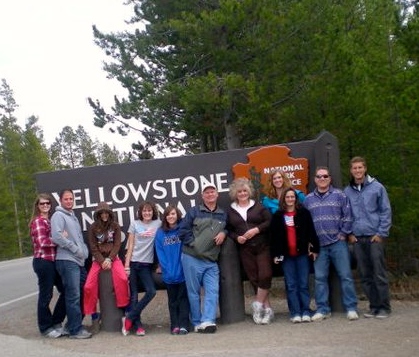 Thoughts On Barbara:
I have personally known Barbara for many years. The Williams family moved into our neighborhood in Alpine, UT about the same time our family did. Her daughter, Mary, is my best friend to this day. I think of Barbara as my "second Mom" and have always been touched by her thoughtfulness and kindness.
In keeping with the theme of "giving" and "food gifts" here are some words from her daughter that expound upon Barbara's charitable nature…
It makes my Mom very happy to buy or make people food. When I was working in Ogden as a Certified Nurse Assistant, money was always tight. One night I came out from work to find my car full of groceries she left for me. I had cheese, apples, milk, and even some crackers and soup. Whenever she came to Ogden, she always brought me dinner…
My Mom doesn't give just food (although that's probably her favorite go-to "gift.") She always gives her time to those who need her. She's always at our events, big or small. She'll go out of her way to do something for someone who asks, no matter what it is. She finds joy in serving those she loves.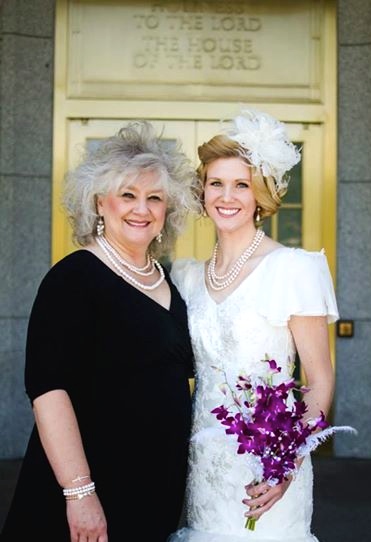 Lastly, here are some thoughts on Barbara from our very own CEO and founder of DVO, Dan Oaks:
Barbara is one of the most kind, caring, and thoughtful people I know. She is deeply concerned about her family, neighbors and friends. Barbara goes the extra mile to magnify her responsibilities at church and serve others. Once, she even opened up her home to a family who were victims of Hurricane Katrina.
Barbara also cares deeply for her co-workers. She usually comes to the office with fruit from the local stand for everyone. She often sends text messages to the DVO Team and asks if anyone wants mexi-fries from Taco Time or donuts from Daylight Donuts. She cleans the kitchen at the office and does things to help out on her own accord. She often comes to me with information about people who are struggling and suggests ways to help them out.
She is also very smart and works efficiently and effectively. I am very grateful to have such an amazing Executive Assistant. She is a key player on the DVO Team and a key part of the winning culture that we have here at DVO. I can't imagine a scenario without her here.
So there you have it folks- the woman behind it all who truly does it all! Thank you Barbara for your wonderful example and everything you do for DVO! We adore you!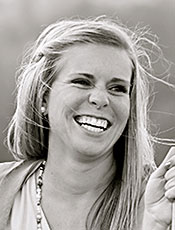 Bethany Bird
Monthly Newsletter Contributor since 2014
Email the author! bethany@dvo.com