10 Tools of the Trade that Make Mom's Life in the Kitchen a Little Easier
Recently at a playgroup one of the mom's mentioned that she was really hoping to get a certain blender soon (I know, we are a thrilling group, right?). All the other moms were commiserating and soon we were all talking about things we love, hate, and dream about to make our lives easier. The first answers were "a maid and a cook" and while we could all agree that those were at the top of our dream wish lists, it is fair to say that none of us is expecting to see those wrapped up as presents?not this year anyway!
After the playgroup I decided to take the question to my Facebook friends and see what they had to share. So what made the list? What are the 10 items the ladies said have made their kitchen lives easier? I will share in a minute, but first I will pause for a subtle (or not so) hint?
Men — This is the part where you bookmark this page! I am giving you tried and true gift ideas here.
Women — This is the part where you email this page to your husbands, boyfriends, children, etc! A gentle nudge in the right gift-giving direction never hurt anyone!
Okay, now that we got that taken care of, let's get to our favorites—in no specific order!
---
1 — Pressure Cooker — The ladies agreed that they love how fast they can cook good, healthy meals in their pressure cookers. They also mentioned that they were afraid of the old ones they had seen their grandmothers mothers used, but that the new ones are much nicer and safer! Don't forget that you can get great recipes with Cook'n Under Pressure!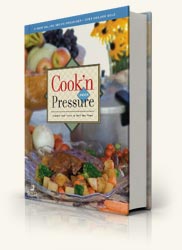 ---
2 — Slow Cooker — The opposite of the pressure cooker, but an absolute must have in my book! I love mine so much I have two! I don't think everyone needs multiples, but one it a must have. You can always borrow from a friend if you find you want more than one on a given day. Check out 101 Things to Do With A Slow Cooker for some fun recipe ideas!
---
3 — A Good Blender — Vitamix and Blendtec were mentioned, of course, but for most of us those are on the "dream" list. The Ninja seemed to be the bender of choice for most of my friends (thought they all agreed they would love one of the others). With a good blender you can do so much more then just blend a smoothie here and there!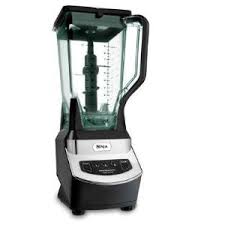 ---
4 — Quality Knives — This is one place where an investment really can go a long way! When I was first engaged we went to a depertment store closing sale. We bought our entire set of knives for $9?and let me tell you how wonderful those knives were?.about $9 wonderful. At their best they were awful and by the end I was begging for new, quality knives. I think I could have just verbally negotiated things apart better than those old knives could have cut them! A nice set of knives, taken care of well, can be a wonderful tool for a long time to come.
---
5 — Storage — This is critical to keep your kitchen running efficiently. Only you know your space and every kitchen is different so find tools that fit for you. Stacking containers are wonderful, can rotating returns are nice, but labeling is super important! If you put something in a bag or a container label it! No matter how sure you are that you will remember what it is later?label it! I speak from experience here.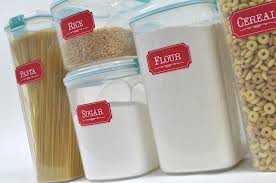 ---
6 — A spare can opener and pizza cutter — There are two items I use multiple times every day and it they aren't functioning when I grab for them it can really through me. I have a nice elvetric can opener, but I keep a small (easy to store) can opener in the drawer just in case and I have 3 pizza cutters in there because I really use them for everything! In fact, I just used one tonight for Navajo Tacos at my mom's house. At first she laughed at me?.then she saw the genius.
---
7 — An Egg Slicer — Not just for eggs! Want to slice strawberries, bananas, or mushrooms quickly with perfectly uniformity. I know, who doesn't? Well this is a super easy way to do just that!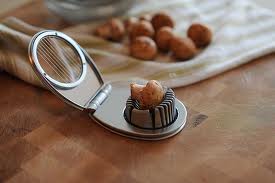 ---
8 — A Nice Mixer — I was just recently involved in a Facebook debate over the old Bosch vs. Kitchen Aid debate. Wherever your loyalties may lie, having a good, strong mixer can save you time and work and open up your kitchen to new recipes and possibilities.
---
9 — Paper Products — Seems odd, I know, and I certainly don't mean for every meal, but we all have those days where getting dinner to the table seems enormous enough and the thought of doing the dishes afterwards is enough to drive us through that nasty drive-thru lane! I like to keep a stockpile just for those can't-wash-another-dish nights. Every once in a while I am entitled to one. I watch for them to go on sale or clearance and stock up at discount prices. I keep them in the pantry until we need them. Two years ago I found a pack of 100 Dora the Explorer plates for $2. I bought them because my daughters would get a kick out of them. Well, we are still using that $2 stack of plates and each time we do I get a chuckle (and the enjoyment of not scrubbing them clean). You don't have to rock it Dora style, but having some paper supplies is always nice for rough days!
---
10 — A whiteboard — It doesn't need to be anything huge, but a whiteboard can be a great kitchen tool. Keep a running grocery list, jot down the menu for the day, or keep track of "to-do's" on it. I like to jot down the things I realize we are out of and when I leave to go to the store I snap a quick picture on my phone and then I don't have so many of those "did I really forget?" moments! I also like to put the day's menu on there so the kids can see what we are having. It seems like we get less dinner time complaints that way. When everyone knows what to expect, everyone is happier.
---
Whether you get tools for kitchen, a new puppy, or a giant diamond this year for whatever occasion, I wish you all the best and the happiest of memories!
---