Sausage Stuffed Zucchini Boats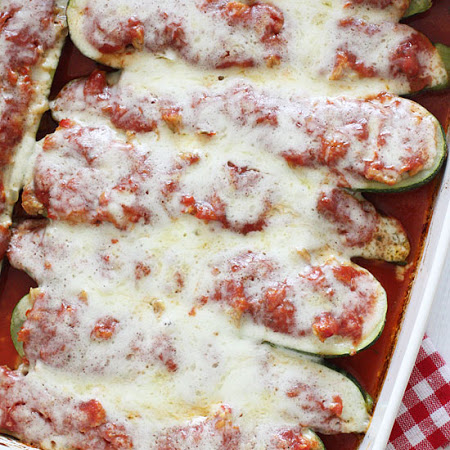 One yummy way to use up an abundance of zucchini is a zucchini boat. It's a fresh, healthy way to get your veggies, without feeling like you are a skimping on taste!
There are several options for making zucchini boats, one of my favorite ways is to make a stuffed sausage zucchini boat. If you prefer a pizza or taco boat you can create those too, its very easy to fill the zucchini boat with whichever toppings you choose and cook.
These basic instructions can help you if you choose to create your own zucchini boat.
The first thing you want to do to make a zucchini boat is to start with a clean medium sized zucchini. Cut the zucchini in half, lengthwise. Next you scoop out the flesh, I suggest using a melon baller, but a metal spoon will also work. Scoop out flesh until you have a good size area to fill, but don't go so far down that there is no stability in the zucchini. Boil the halves for about 1 minute. Then fill with toppings of your choice. Cover the halves with foil and Bake in a 400 degree oven for 35 minutes. You can also place completely foil wrapped boats on the grill.
If you prefer to prepare the Sausage Stuffed Zucchini Boats (which I highly recommend), the recipe is here for you.
---
Sausage Stuffed Zucchini Boats
Yield:
8 boats
Serving size:

8


Calories per serving:

243




Ingredients:
1/2 cup

part skim shredded

mozzarella cheese
8 teaspoons

grated parmesan

cheese
1/2 cup

diced red bell

pepper
14 ounces

lean italian chicken

sausages

, removed from casing (al fresco)
1/2

small

onion

, finely diced
3 cloves

garlic

, crushed
4

medium

zucchini
1 teaspoon
oil
2 3/4 cups

quick

marinara sauce
Directions:
Bring a large pot of water to boil.
Preheat oven to 400°. Cut zucchini in half lengthwise and using a spoon or melon baller, scoop out flesh, leaving 1/4" thick. Chop the scooped out flesh of the zucchini in small pieces and set aside.
Drop zucchini halves in boiling water and cook 1 minute. Remove from water.
Place 1/4 cup of sauce in the bottom of a 9 x 12" baking dish, and place zucchini halves cut side up.
In a large saute pan, brown sausage, breaking up as it cooks into smaller pieces until browned; set aside. Heat oil and add onion, garlic and bell pepper. Cook on a medium-low heat for about 2-3 minutes, until onions are translucent. Add chopped zucchini, season with salt and pepper and cook about 2-3 minutes. Combine with sausage and cook a few more minutes.
Using a spoon, fill each hollowed zucchini with 1/3 cup cooked sausage, pressing firmly. Top each with 2 tablespoons each of sauce, 1 tablespoon each of shredded mozzarella cheese and 1 teaspoon each of parmesan cheese. Cover with foil and bake 35 minutes until cheese is melted and zucchini is cooked through.

Recipe formatted with the Cook'n Recipe Software from DVO Enterprises.
---
Image source:
Image: http://www.keyingredient.com/recipes/542294848/sausage-stuffed-zucchini-boats/
---


Sharon Ng
Monthly Newsletter Contributer since 2012