101 Things to do with a Slow Cooker
by Stephanie Ashcraft
---
---
NOTE: You must have Cook'n installed to use this download!
---
101

Things to do with a

Slow Cooker!
From the New York Times best-selling author of 101 Things to Do With a Cake Mix! comes 101 Things to Do with a Slow Cooker! Call it a slow cooker, a crockery cooker, or your best friend, the popularity of these handy machines has exploded recently, and "Mrs. 101" Stephanie Ashcraft has stepped up to the plate (or bowl, or serving tray) with an amazing collection of timesaving recipes. From South of the Border Pot Roast to Hearty Vegetable Soup to Cherries Jubilee, now anyone can make hearty, healthy dishes for the whole family the "throw-n-go" way. Simply throw several ingredients into the slow cooker, get on with life, and come home to a kitchen filled with the aroma of real home cooking. 101 recipes for main courses, side dishes, desserts, and more are included, along with suggestions for how and what to serve with each dish, time-saving meal preparation tips, and easy modifications to fit your families tastes.
Stephanie Ashcraft, New York Times best selling author of 101 Things to Do With a Cake Mix, is a full-time mom who has created and collected recipes for years. She also teaches a monthly cooking class for Macey's Little Cooking Theater.
Janet Eyring's interest in learning how to cook healthy, inexpensive meals without living in the kitchen inspired her to write a cookbook that relied on the ease of the slow cooker. She also teaches cooking classes at Macey's Little Cooking Theater.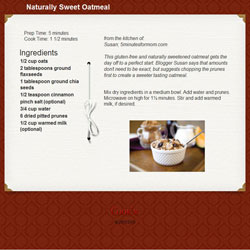 New Cook'n theme included.
Recipes Included:
Almond Chicken
Almond Hot Chocolate
Alphabet Soup
Aunt Patty's Italian Barbecue
Barbecue Pork Sandwiches
Barbecued Meatballs
Barbecued Pork Chops
Beef and Mushrooms
Bodacious Bean Dip
Broccoli-Cheese Soup
Burritos
Burton's Minestrone
Caramel Fondue
Caramel Rolls
Carrot Cake
Cheese Fondue
Cheesy Chicken Noodles
Cherry Biscuit Cobbler
Cherry Jubilee
Chicken and Potatoes
Chicken and Rice Casserole
Chicken and Wild Rice Soup
Chicken Cacciatore
Chicken Enchiladas
Chicken Fajitas
Chicken in a Bag
Chicken Noodle Soup
Chicken Parmesan
Chicken Teriyaki
Chocolate Custard Cake
Chocolate Fondue
Cola Roast
Cooked Chicken for Entrees, Soups, and Stews
Cowboy Soup
Cranberry Pork Roast
Creamy Chicken Soft Tacos
Creamy Italian Chicken
Easy Chicken Bake
Easy Flank Steak
Easy Granola Apple Crisp
Easy Swiss Steak
Easy Taco Soup
Ehler's Pork Ribs
Family Favorite Brisket
Favorite Barbecue Chicken
Four Hour Stew
French Dip Sandwiches
Ham and Potatoes
Hawaiian Chicken
Hawaiian Haystacks
Hearty Vegetable Soup
Holiday Ham
Holiday Wassail
Hot Cranberry Punch
Hot Spiced Cherry Cider
Italian Chicken with Mushrooms
Italian Pork Chops
Lasagna
Lemon Custard Cake
Lemonade Chicken
Mallow-Mint Hot Chocolate
Mama's Italian Chicken
Mild Chili-Cheese Dip
Onion Meatballs
Orange Chicken
Party Hot Chocolate
Peanut Butter Fondue
Pineapple Chicken
Pineapple Upside Down Cake
Pizza Fondue
Polynesian Pork Chops
Pork Chop Casserole
Pork Chops and Mushrooms
Pork Sausage Casserole
Quick Stew
Red Potatoes with Ham
Salsa Fever Soup
Santa Fe Cheese Soup
Savory Pork Roast
Scalloped Chicken
Shepherd's Pie
Shredded Ham Sandwiches
Shredded Pork Burritos
Simple Beef Stroganoff
Simple Chili
South-of-the-Border Pot Roast
Spicy Tomato Beef Soup
Sugar and Spice Cake
Sunday Chicken
Sunday Roast
Sweet and Soup Chicken
Sweet and Sour Beef
Sweet and Sour Pork
Tater Tot Casserole
Tortilla Soup
Triple Rich Chocolate Cake
Tri-Tip Roast
Turkey and Rice Soup
Unbelievably Simple Brisket
Vegetable Cheese Soup
Whole Cranberry Chicken
Zesty Minestrone
---
---
Cook'n Is Several Products in One!