Healthy Mexican Meals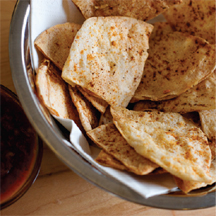 Hands down! My absolute favorite snack is chips and salsa but those fried chips are not too hip friendly and are very addictive. Mexican food can be healthy if you pay attention to the preparation and toppings.
Most Mexican dishes are high in complex carbohydrates and fiber and can be topped with plenty of fresh and nutritious salsa. The trick is to manage the meal by making healthy food choices and avoiding the fried and cheese-smothered menu items. For example, choose corn rather than flour tortillas, spice up lean or turkey burger rather than greasy meats, choose salsa rather than sour cream as a topping and so on.
Small and simple choices will make a big nutritional difference. Here are a few recipes and tips that will trim up your mexican menu and tickle your taste buds.
Try my best-loved Simply Salsa recipe with some homemade Garlic Baked CornTortilla Chips. Most grocery stores also sell baked tortilla chips or better yet serve fresh salsa with multi-colored bell pepper slices. What could be healthier than vegetables served with vegetables? Surprisingly tasty!
---
Simply Salsa (Beth's Blender Salsa)
5-10 (depending on size) Roma tomatoes
1 bunch cilantro
1 green bell pepper
1 jalapeno
1 clove garlic, crushed or chopped
1/2 yellow onion
2 Tablespoons white vinegar
1 teaspoon lemon pepper
1/4 teaspoon sugar
salt and pepper to taste
Pour vinegar, lemon pepper, and sugar into blender and set aside. Wash and coarsely chop all other ingredients. Place all ingredients in blender, adding tomatoes last. Blend to desired consistency. Add salt and pepper to taste. Refrigerate in an airtight container.
---
Garlic Baked Corn Tortilla Chips
10 corn tortillas
garlic salt to taste
Preheat oven to 400 degrees F.
Stack 5 tortillas at a time, use pizza cutter to slice into quarters.
Spread chips out in a single layer on two baking sheets. Sprinkle sparingly with garlic salt.
Bake 8-12 minutes or until chips begin to crisp and edges slightly brown.
Remove from oven and allow chips to cool before serving.
For Extra crispy chips: turn off oven and place chips back in for 5-10 minutes longer or until ready to serve. Leave door open a crack to prevent burning chips.
Also try this recipe using cinnamon and sugar for a sweet treat!
---
Don't forget the salad! Mexican food isn't all beans and tortillas, this Cucumber Mexican Salad will have your mouth watering for less than 80 nutritious calories per serving!
---
Cucumber Mexican Salad
1 medium cucumber, chopped
1 (8.75 ounce) can whole kernel corn, drained
1 (16 ounce) can stewed tomatoes, drained and sliced
1 green bell pepper, chopped
1/4 cup fresh cilantro, chopped
2 tablespoons red wine vinegar
1 tablespoon crushed red pepper flakes
1 clove garlic, minced
1/2 teaspoon cumin
salt and pepper to taste
In a large bowl, toss together the cucumber, corn, tomatoes, green bell pepper, red bell pepper, and red wine vinegar. Season with crushed red pepper flakes, garlic, cumin, cilantro, salt, and black pepper. Cover, and chill at least 30 minutes before serving.
---
Fish tacos are a favorite in our home and will be in yours as soon as you try this tilapia recipe. My kids don't normally enjoy fish but they gobble up these tasty tacos.
---
Tilapia Tacos
3 teaspoons extra-virgin olive oil, divided
1 pound tilapia fillets (US farmed)
2 cups diced red, orange and yellow bell peppers
1 medium onion, diced
1 jalapeno pepper, minced (optional)
1 cup fresh or frozen corn kernels, thawed
2 tabelspoons lime juice
1 tabelspoon ground cumin
1 teaspoon dried oregano
3/4 teaspoon salt
12 6-inch corn tortillas
1 avacado, cubed
3/4 cup prepared salsa
1/4 cup cilantro for garnish, chopped
Heat 2 teaspoons oil in a large nonstick skillet over medium-high heat. Add tilapia and cook until opaque in the center, 2 to 3 minutes per side. Transfer to a plate and flake with 2 forks.
Add the remaining 1 teaspoon oil to the pan and reduce heat to medium. Add peppers, onion and jalapeño (if using) and cook, stirring often, until softened and starting to brown, 4 to 6 minutes. Stir in corn, lime juice, cumin, oregano and salt. Cook, stirring often, until heated through, 1 to 2 minutes. Stir in the fish and any accumulated juice from the plate.
Wrap tortillas in paper towels and heat in the microwave on High until warm and pliable, 30 seconds to 1 minute. Fill each tortilla with about 1/3 cup of the tilapia mixture and top with avocado, salsa and cilantro.
Serves 6
---
Just being aware of what foods you eat and how you prepare them will help make your dishes healthier and don't forget that The Cookn' Recipe organizer includes a nutrition and calorie counter that will keep track for you as you plan your shopping lists and meals.
---
An unbeatable value with exclusive benefits for members only.
Get a newsletter like this each week when you join the Cook'n Club.