Queso Cotija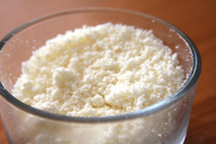 My husband and I recently discovered a little treasure that we love to add to many of our Mexican recipes. What is this treasure? Cotija cheese! Named after the town of Cotija, Michoacán in Mexico cotija cheese is a hard cow's milk cheese that originated from Mexico.
Cotija comes in two main varieties. El Queso Cotija de Montaña or "grain cheese" is dry and firm, with little taste beyond salt (the cheese is usually several times saltier than typical cheese). "Tajo Cheese" is a moister, fattier, and less salty version of the cheese that holds its shape when cut, with a flavor similar to Italian Parmesan and Greek Feta.
You can purchase cotija cheese in small rounds, large blocks, or already grated. We love crumbling or grating it to top our salads, soups, beans, tacos, and tostadas!
These recipes will give you some ideas of how to add this new artisan cheese to your cuisine.
---
Cauliflower with Cotija Cheese
1 medium cauliflower, cut into florets
1 tablespoon unsalted butter, at room temperature
1 tablespoon olive oil
1/2 teaspoon salt, or to taste
1/3 cup crumbled cotija cheese
2 teaspoons finely chopped fresh parsley or cilantro
Cook the cauliflower in a large pan of boiling water until barely tender, about 4 minutes. Drain and return to the pan while hot.
Add the butter, olive oil, and salt. Stir very gently to melt the butter and coat the cauliflower.
Transfer to a shallow serving bowl or platter. Sprinkle with the cheese and parsley. Serve hot. Serves 4.
---
Chicken Tacos with Cotija Cheese
2 unpeeled garlic cloves
4 medium-sized tomatoes
2 tsp dried oregano
1 Tbsp roughly chopped cilantro
1 seven ounce can chipotle peppers in adobo sauce*
1 roughly chopped onion
2 1/2 lbs chicken, either breasts or thighs
3/4 cup crumbled cotija cheese
2 avocados, peeled and sliced
Other garnishes: shredded lettuce, chopped tomato, sour cream
Heat 1 Tbsp olive oil in a pan. Add the garlic cloves with their peel still on. Saute until cloves are soft and all sides are slightly blackened, about 10 minutes. Let the cloves cool, then peel.
Cut an "x" on the top of the tomatoes, just breaking the skin. Under a broiler roast the whole tomatoes, blackening the skin on all sides, about 20 minutes total. Cool, then peel of the skin, saving the juice and pulp.
In a food processor, puree the garlic cloves, tomatoes, oregano, cilantro and chipotle peppers.*
*Using the entire can of chipotle peppers in adobo sauce will make the tacos very spicy. Using half the can will make the tacos spicy, and using 1/4 of the can will give the tacos a subtle amount of spiciness. If you don't like any spiciness, skip the chipotle peppers completely.
In a large skillet with a lid, saute the onion in olive oil until soft. Add the tomato mixture and bring to a simmer. Add the chicken and cover, simmering on medium heat until the chicken is cooked through - about 25 minutes for thighs and 15-20 minutes for breasts.
Remove chicken and shred the meat into thin slices with a knife or your hands. Mix back in as much sauce as you like with the shredded chicken. Salt to taste.
Serve chicken on small corn or flour tortillas. Sprinkle each taco with cotija cheese and garnish with fresh avocado (or guacamole) and other garnishes like shredded lettuce, chopped tomatoes, fresh cilantro and sour cream. Makes 8 small tacos.
---
Chili-Spiked Grilled Corn Rolled in Cotija Cheese
6 ears of corn, shucked
1/4 cup mayonnaise
1/4 cup crème fraîche or sour cream
1/2 cup freshly grated cotija or Pecorino-Romano cheese (about 2 ounces)
2 teaspoons chile piquín
Lime wedges, for serving
Light a charcoal grill or preheat the oven to 500°. In a large pot of boiling water, cook the corn until crisp-tender, about 3 minutes. Drain well.
Grill the corn, turning frequently, until well-browned, 10 to 12 minutes. Alternatively, roast the corn on a baking sheet for 10 to 15 minutes, turning the ears occasionally.
Meanwhile, in a small bowl, mix the mayonnaise with the crème fraîche.
Attach corn holders to each ear of corn, or press a bamboo skewer through the centers. Generously brush the mayonnaise mixture all over the ears and sprinkle with the cheese and chile piquín. Serve right away, with lime wedges. Serves 6.
---
Mexican Tortilla Salad with Cotija Cheese and Cilantro-Pepita Dressing
Salad:
4 corn tortillas
2 heads of Romain lettuce, cut into chunks
1/3 cup crumbled Cotija Cheese
1 roasted red pepper
1/2 cup roasted pepitas (shelled pumpkin seeds)
Dressing:
1- 4oz. can chopped green chiles
2 tablespoons roasted pepitas (*see above)
1 garlic clove
dash black pepper
1/4 teaspoon salt
1/3 cup olive oil
1 tablespoon lime juice
1 tablespoon Cotija cheese
1/2 bunch fresh cilantro
3 tablespoons mayo
2 tablespoons water 
Place all dressing ingredients except cilantro, mayo and water in a blender or food processor. blend approx 10 sec., then add cilantro, mayo and water and blend until combined .  Place in an airtight container and refrigerate, will keep for 3 days.
Cut tortillas into match sized sticks. Heat oil in saute pan over med-high; fry tortillas until crisp. Remove with slotted spoon and drain on paper towels. Set aside.
Tear lettuce into bite size pieces, toss in large bowl with half of the crumbled cheese, roasted peppers, pepitas and as much salad dressing as you wish. Top with the remaining cheese, roasted peppers, pepitas and fried tortilla strips.   Serves 4.
---