A Gue Hora es la Cena

"What's for Dinner?"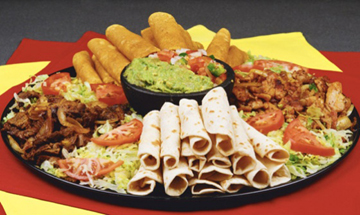 Well, what is for dinner? I hope its Mexican! The truth is that authentic Mexican food is hard to come by. Even in Mexico you will find many ways to make a taco. In fact, I think many of the recipes we use are more what we call Tex Mex, which is very much Americanized.
Actually, some of you readers who are of Mexican descent might find these recipes down right funny! I doubt if cream of chicken soup is used in traditional Mexican dishes. However, I don't think most of us care about the authenticity of a recipe as long as it's a taste great recipe and is easy to make.
Mexican food usually has chicken, beef or pork in the recipe so it makes fixing dinner a crock pot delight. Fix it and leave it! The meat needs to be shredded and a slower cooker can let you cook the meat without interruption until it is moist and will fall apart with a fork. Also, the smell of the spices mixed in the meat will makes your mouth water when you come in from outside.
---
Costa Vista Chicken
This chicken is delicious on nachos, tacos, taco salad or enchiladas. It is easy to make by using the crock pot.
1-16 ounce bottle of Italian dressing
1 Tablespoon Chili powder
1 Tablespoon Cumin
3 cloves of minced garlic
5 boneless, skinless chicken breasts
Cook all together in a crock pot on low for 4 hours. Shred meat and cook for an additional hour. This makes a lot, so you can half the recipe or use for leftovers.
---
Taco pizza
1 pizza crust
2 tomatoes (diced)
1 small can refried beans
2½ cups lettuce (shredded)
1 pound Hamburger (drained)
1 small onion (finely chopped)
2 Tablespoons Taco seasoning
½ cups shredded cheese
Pre-cook a pizza crust. Cook hamburger; drain and add taco seasoning mix and let simmer for 2 minutes. In a sauce pan, warm the refried beans. Spread beans on crust. Sprinkle meat over the beans; add chopped lettuce, onion and tomatoes. Place cheese over the top of pizza.
---
Chollope
Use costa vista chicken recipe
1 pint sour cream
1 cans cheddar cheese soup
1 cans cream of chicken soup
1 can diced green chilies
Corn tortillas
½ of a green pepper (diced)
1 medium onion
2 cloves garlic (minced)
1½ cup cheddar cheese
1 cup chicken broth
In a 9x13 casserole pan, place chicken mixture and add a layer of corn tortillas. In a sauce pan, make sauce from soups, chilies, peppers and onion and chicken broth. Sprinkle with cheese and bake at 325 degrees for 30 – 40 minutes.
---
Chicken Chulupus
1 cup Monterey Jack cheese
1 cup cream of chicken soup
2 large chicken breasts (cooked & shredded)
1 4-ounce can green chilies (diced and drained)
1 cup cheddar cheese
1 cup sour cream
2 green onions, sliced tops included
1 2-ounce can sliced olives
6 flour tortillas (9 inch)
Cook and shred 2 chicken breasts or use some of the Costa Vista Chicken recipe. In a large bowl, combine soup, sour cream, green onions, chilies, and cheese. Remove one cup of this mixture and add it to the shredded chicken. Lay out tortillas and divide the chicken mixture evenly between tortillas.
Roll up; place in a sprayed glass baking dish. Place roll ups seam side down. Spoon the remaining sauce over top, spread to edges of pan. This can be made the night before and refrigerated. Sprinkle with cheddar cheese before serving. Cover with foil and bake at 350 degrees for 40 minutes. This dish will freeze well.
---
"Que Aproveche" which means enjoy your food!