20 Tricks to Make

Your Kitchen Life Easier
By the time you make a meal, eat it, and then clean it up you have spent a good chunk of time in the kitchen. Now multiply that by 3 meals in a day (plus snacks!) and you really do spend some serious time working your magic in that room. Because the kitchen is the heart of the home, and the gethering place in many homes I wanted to compile a list of tricks to make your busy life just a little bit easier!
Ever find yourself wondering how to clean burnt food from a pan, keep potatoes fresh, prevent eggs from cracking while boiling them or how to make hardened brown sugar soft again? Well, wonder no more...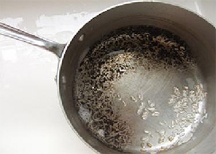 1. To remove burnt food from your pot with ease just add few drops of dish soap, cover the bottom with water and boil on the stove for a few minutes. You can also put a teaspoon-full of dishwasher detergent, cover it with hot water and let it sit overnight.
2. If you don't have a proper potato bin you can prevent your potatoes from budding by placing an apple inside the bag.
3. If your brown sugar hardened over time don't throw it out. Just put a slice of apple inside the container to soften it.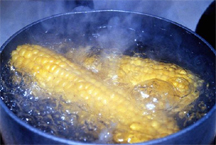 4. When you're boiling corn on the cob add a pinch of sugar to bring out the natural sweetness. Half way through add salt and stick of butter to make it ready to eat without needing to butter it.
5. To remove food stains from your hands just rub sliced raw potato over the stains and then rinse.
6. Want to keep ice cream from dripping out of the cone? Put a miniature marshmallow on the bottom of the cone and no mess (from the bottom, that is).
7. In a hurry and accidentally put too much salt into your dish? Don't worry, just put a large peeled potato into the pot while still cooking. The potato will absorb the salt like a sponge.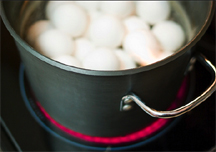 8. When cooking hard boiled eggs just add a pinch of salt in to the water before boiling to prevent the shells from cracking.
9. If you want to get the most juice out of your citrus fruits make sure they are room temperature and roll them with the palm of your hand on the kitchen counter.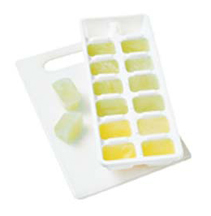 10. As long as we are talking about making the most of those lemons, here is a little trick to keep extras from being wasted if you have too many. Take any that you aren't going to use in time and juice them. Fill an ice cube tray with the juice and once they are frozen you can pop them out and store this in freezer bags. Any time you have a recipe calling for lemon juice you will have the real deal in your freezer!
11. Celery wrapped in an aluminum foil will stay crisp in the fridge for weeks (no need for expensive Tupperware, unless you have some).
12. Not sure how fresh are those eggs your fridge? Put them to the test in a pot with salt water and if the egg sinks it is fresh. Throw away the floaters.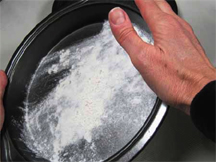 13. Use cake mix to flour your pan instead of a regular flour when baking a cake. The mix won't leave the white residue afterward. If cooking a chocolate or dark cake you can use cocoa!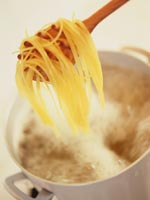 14. When cooking pasta rub the edges of the pot with butter. The water will not boil over and make a mess on your stove.
15. Recipe calls for buttermilk and you don't have any? No need to run to the store just add 1 Tablespoon of white vinegar or lemon juice to 1 cup of milk and let it sit for a few minutes.
16. When baking with dried or fresh fruit always coat the fruit lightly in flour. That way it won't sink to the bottom.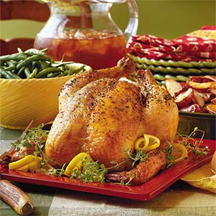 17. When roasting a chicken brush it with lemon juice before salt. It will make the chicken juicier and skin crispier.
18. When cooking fish dip it in milk 30 minutes before to get rid of the fishy smell.
19. When cooking with tougher and cheaper cuts of meat add little bit of vinegar. The vinegar will help to make it tender faster.
20. When chopping onions place them into freezer for 15-20 minutes to prevent crying. If you don't have time just dip the onion into iced cold water. A little chill goes a long way in stopping the tears!
---
I love to hear from our Cook'n Newsletter readers and I would love to hear about YOUR favorite tips and tricks! Send me an email at calli@dvo.com if you find any of these tricks helpful or to share some of your favorite tricks with us.