Hot Tamales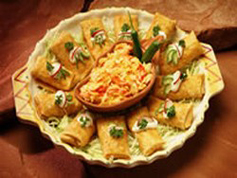 When my dad was 12 years old he had the opportunity to travel to Mexico City as an exchange student and live there for a summer. Beyond the love he gained for his host family he gained an incredible love for the Mexican people, culture, and foods. He would later return to live in Mexico for two more years and eventually become a Spanish teacher.
As a child I can remember him taking every chance to share his love for this second home through the language, stories, and foods he loved. There are two foods, in particular, that I can remember him having an almost humorous love affair with. They were warm, fresh, handmade tortillas and authentic, husk-wrapped tamales!
I hope you will enjoy this recipe and the instructions for making your own authentic tamales. May they leave you with a smiling face and a full, happy tummy!
---
Chicken Verde Tamales
(makes approximately 3 dozen tamales)
1 recipe sauce (below)
1 recipe basic fresh masa (below)
3 pounds freshly cooked chicken (below)
2 pounds jack or cheddar cheese, grated
Sauce Recipe:
1 1/2 pounds fresh tomatillos (approximately 18)
8 fresh pasilla or Anaheim chiles, roasted, or
1 large can (26 oz) green chiles
3 fresh jalapeno chiles or more (to taste), stems removed
3 cloves garlic, peeled
2 medium onions, quartered
1 tablespoon salt
1 teaspoon pepper
Husk and wash tomatillos. Place the tomatillos, onions, jalapenos and garlic in a large pot, cover with water and boil for 15 minutes. Remove from heat and cool to room temperature. Place all ingredients, including liquid, in food processor or blender and process until smooth. Taste and adjust salt and pepper if needed.
Basic Fresh Masa Recipe:
Purchase unprepared* masa and prepare it as follows for a perfectly light, flavorful dough.
5 pounds fresh masa dough (unprepared)
1 pound butter (or margarine if preferred)
2-3 cups meat (chicken, pork, beef) or vegetable stock (chicken stock recipe follows)
2 tablespoons (or less) of salt
Place the butter into a bowl and ship until fluffy, 2 minutes. Add the fresh masa alternately with the stock and add the salt. Beat until well mixed and turn mixer to high and beat for approximately 3-5 minutes or until masa resembles spackling paste.
Take a small piece (1/2 teaspoon) and drop it into a cup of cold water. If it floats it is ready, if it sinks, whip for another minute and test it again. Repeat this process until the masa floats.
Note: The fresher the masa, the faster it will become light and fluffy enough for use. Using 1/2 cup of masa per tamale, one pound of unprepared masa will yield approximately one dozen tamales so this recipe will make approximately 60 tamales.
The Chicken and Stock:
Using whole chickens is necessary to extract all the flavors from every important part of the chicken. DO NOT USE BREASTS ONLY. You may use whole leg quarters, but the best stock will come from a whole chicken. A large quantity of celery also adds to the richness. Of course, you may use your own chicken stock recipe if you prefer, as long as it is good and rich to punch up the flavor of the masa.
3 whole chickens - 3 1/2 pounds each
1 large whole celery
3 large whole cloves of garlic
1 large onion
3 quarts (at least) water
1 tablespoon seasoned salt.
Wash the chickens and pull off all fat and anything that looks as though it should not have been left on. Wash the celery separately and cut off the very bottom. Cut the top end off the onion (approx. 1/4 inch) and discard. Cut onion in half. Peel the garlic. Put everything in an 8-12 quart pot, cover with water, add seasoned salt, cover and bring to a very high boil you can't stir down. Then reduce to medium high and let cook for one hour.
When done, turn off heat, take chickens out, and set on a large plate to cool. You may cover with a kitchen towel if you wish. When chickens are cool enough to handle, remove all meat and set aside, discarding skin and fat.
Strain stock from the pot into a large bowl or other pot, saving it to use in the masa preparation. Taste stock and adjust if necessary.
TAMALE ASSEMBLY:
Choose the larger corn husks. Put a husk in the palm of your hand and evenly spread 1/2 cup (an ice cream scoop is a good tool for this step) masa across the middle (width) of the husk with a spatula or the back of a large spoon. In the center of the masa, place 1 heaping tablespoon of the chicken, 1 tablespoon of the cheese, and 2 tablespoons of the sauce on top. Fold both sides, one over the other, of the husk tightly over the filling. Hold firmly in your hand and tie at both ends with the strips of the husk.
Place all the tamales in a large steamer pot with a steamer basket with 3 to 4 inches of hot water on the bottom. Layer the tamales in a cross-cross pattern with the tied ends supporting the layer on top to allow them to steam uniformly and prevent crushing. Bring to a high boil and start timing the steaming process when the steam is rising out of the pot. Cover the tamales with leftover corn husks or a clean damp kitchen towel and cover the pot. Reduce the heat to medium high and steam for one hour.
*One of the most important ingredients, the correct and perfect preparation of the masa is essential. Masa is the plain, wet stone ground dough made with a special corn known as Nixtamal. Fresh masa is sold two different ways - prepared and unprepared. Prepared masa is plain masa which has been mixed with lard and salt only. This type of masa yields heavy, greasy, drier dough. For the purpose of this recipe, purchase the unprepared masa and prepare it as indicated above.
Recipe Source: www.tamarastamales.com
---
---
An unbeatable value with exclusive benefits for members only.
Get a newsletter like this each week when you join the Cook'n Club.