This and That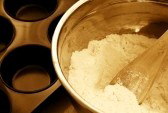 Sometimes I run across a recipe or an idea that excites me and I want to share it with you. But it may not constitute the writing of an article. So I thought... what if I sent you a little this and that? My mind tells me that when I find something that is interesting to me, chances are it will be of interest to a few other people.
---
Old Style Sauce
I was excited to find a recipe for Old Style Sauce. It was also known as Shredd's or Aunt Nellies. This sauce isn't sold anymore because it is out of production. It was used by us Wolfley's on fried egg sandwiches and many meat sandwiches. It has also been used as a secret ingredient in many potato and macaroni salads as well as in deviled eggs. Thanks to "Uncle Phaedrus, Consulting Detective and Finder of Lost Recipes," we have a "copycat" recipe.
1/2 cup mayonnaise
2 Tablespoon horseradish
2 Teaspoons ketchup
1/4 Teaspoon paprika
1/4 Teaspoon salt
1/8 Teaspoon dried oregano
Dash of black pepper
Dash of cayenne pepper
Blend all ingredients and refrigerate.
---
Cleansing Bath Scrub
I weigh this recipe for a body scrub right up there with cloud nine! This is a great way to polish and cleanse your feet, legs, elbow and arms. You can use this on your face but be gentle with your scrubbing. This cleansing scrub will exfoliate and soften your skin. If you do have a cut on your hands, it will sting because it has salt in it. Also caution… oil is slippery! Be careful when using it this scrub in the tub. Salt scrubs can costs as high as 12.00 to26.00 dollars for a 16 ounce jar bought from the store. This scrub makes an excellent gift if you package it nicely in an interesting jar and label.
1/2 cup of fine sea salt
1/4 cup sweet almond or jojoba oil, grape seed oil or even olive oil
1/2 – 1 Teaspoon essential oil (Lavender/Peppermint)
1/4 cup liquid soap base (Dove/ Ivory)
---
Old Fashion Butterscotch Pie
I love the taste of butterscotch syrup and candy but I am not thrilled with the taste of butterscotch pudding from the box. When Butterscotch flavoring is not artificial it is really pleasing to my palate. Maybe your mom made butterscotch pie. I just found this recipe for this old fashion pie.
1 (9 inch prepared pie crust) cooked
1/4 Tablespoon real butter
1 cup brown sugar
4 Tablespoons flour
2 cups milk
3 egg yolks
1/2 Teaspoon real vanilla
Preheat oven to 350 degrees. Stir while butter is browning, you want the butter browned not burnt (this is important!). Add the sugar; stirring until dissolved in butter. This takes about 1 – 2 minutes. Stir brown sugar and butter in a saucepan. Cook mixture 3 minutes on low heat. Then remove pan from stove top.
In a separate bowl, beat egg yolks together. In a separate bowl, mix flour and milk until smooth, then add the beaten egg yolks. Add the flour mixture to the saucepan with the sugar and butter mixture. Cook on medium-low heat until thickened, stirring constantly with a whisk. Remove from heat and blend in vanilla. Place mixture in the prepared already cooked pie crust.
This pie is typically made with meringue topping, but can be served with whipped cream. If you want meringue topping use the egg whites that were not used in the pie.
---
Meringue
3 egg whites
1/2 Teaspoon vanilla
1/4 Teaspoon cream of tartar
6 Tablespoons white sugar
Beat these ingredients together until stiff peaks are formed and put on top of pie. Bake at 350 degrees until the meringue is slightly brown.
---
Sweetened Condensed Milk
You can call me old fashioned but I sure don't like how expensive condensed milk has gotten. And, I really am not happy when I waste it because I didn't use it all in my recipe. It's a fact that it tastes so yummy I could eat it by the spoonful, but that isn't what I want to do either. There are times when a recipe calls for condensed milk, but you may not have any on hand and you don't want to run to the store. You might even like this recipe better than store bought.
1/2 cup hot water
1 cup sugar
2 cups powdered milk
1/8 cup butter
First, blend hot water and butter then slowly mix in the milk and sugar. Blend well in your blender. Store this mixture in the refrigerator. This is better, in my opinion, than what you buy at the store. This will thicken a little as it sits in the refrigerator.
---
An unbeatable value with exclusive benefits for members only.
Get a newsletter like this each week when you join the Cook'n Club.