Tortilla Rollups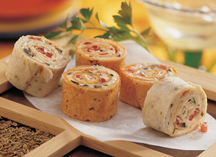 Fantastically flat tortillas are endlessly versatile and can be stuffed, rolled and cut in so many different ways.
Here are 3 quick rollup recipes that kids will love to eat and that kids can help make.
---
Cream Cheese and Honey Tortilla Rollup
1 10 inch flour tortilla
2 tablespoons cream cheese, softened
1 tablespoon honey
Spread cream cheese and honey onto tortilla, fold in half and cut quesadilla style or roll up and slice. Hint: you can also try this recipe with cream cheese and jam.
---
Tortilla Pizza Rollup
1 10 inch flour tortilla
2 tablespoons pizza or tomato sauce
1/2 cup mozzarella cheese, shredded
1/4 cup pepperoni
Spread sauce on tortilla, sprinkle with cheese and pepperoni, heat in microwave or in frying pan until cheese is melted. Fold in half and serve quesadilla style or roll up and slice.
---
Peanut Butter Apple Cinnamon Rollup
1 10 inch flour tortilla
2 tablespoons peanut butter
1/2 a medium apple, sliced very thin
1/8 teaspoon cinnamon
Spread peanut butter on tortilla, lay apples in a single layer across tortilla, sprinkle with cinnamon. Roll up and slice in half and serve.
---
Make these Rollup snacks even healthier by baking your own whole wheat tortillas. Homemade tortillas can be frozen or refrigerated so that you can have homemade tortillas on hand anytime.
Without any preservatives and reduced fat, this whole wheat tortilla recipe is healthy and one that my kids love to mix, roll out, and absolutely love to eat! My 3 year-old is crazy about adding food color to the tortilla dough to make pink, purple or sometimes blue tortillas.
---
Whole Wheat Flour Tortillas
4 cups whole wheat bread flour
1 cup all-purpose flour
1/2 cup vegetable shortening
2 teaspoons salt
1 1/2 cups boiling water
all purpose flour for rolling
In a large bowl, stir together 1 cup all-purpose flour, the whole wheat flour, and salt. Rub in the shortening by hand until the mixture is the texture of oatmeal. Make a well in the center, and pour in the boiling water. Mix with a fork until all of the water is evenly incorporated. Sprinkle with a bit of additional flour, and knead until the dough does not stick to your fingers. The dough should be smooth.
Make balls the size of golf balls, about 2 ounces each. Place them on a tray, and cover with a cloth. Let stand for at least 1 hour, or up to 8 hours.
Heat a griddle or large frying pan over high heat. On a lightly floured surface, roll out a tortilla to your preferred thinness. Fry one at a time. Place on the griddle for 10 seconds, as soon as you see a bubble on the top, flip the tortilla over. Let it cook for about 30 seconds, then flip and cook the other side for another 30 seconds. Roll out the next tortilla while you wait for that one to cook. Repeat until all of the balls have been cooked. Tortillas can be refrigerated or frozen.
---
I hope you roll up some fun and filling snacks with the kids in the kitchen!