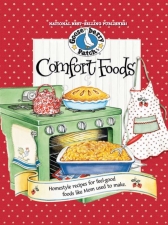 Comfort Foods
Home cooking that will bring you back to mom's house! This cookbook has all the feel good fuzzy feelings of those comfort foods that mom and grandma used to make. With six chapters including:


breakfast
soups, breads and sandwiches
sides and salads
mains
desserts
foods for 1 or 2
There is something for everyone! Some of my must tries in this cookbook are Caramel Apple Muffins, Finnish Cinnamon Toast, Potato Soup, Homemade Gravy Mix in a Jar, Sweet potato Pone, Bacon-Chicken Alfredo, Smothered Chicken and Chocolate Buttermilk Pie, just to name a few. If you are cooking for just yourself, or for two the special section in the back can help you cook for such instances with Wisconsin Cheese Soup and Crispy Bacon Mac and Cheese. With so many warm the heart and tummy recipes, you won't notice that there are no pictures, you won't be disappointed in this one!
-----------------------------------------------------------------
Recipe Hall of Fame Dessert Cookbook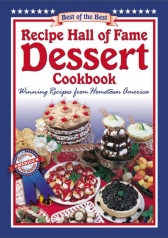 These winning recipes from Hometown America will be a sweet contribution for your electronic bookshelf! With lots of chapters from pies and pastries to candies, with everything in between! To tempt your sweet tooth on a hot day turn to the frozen dessert section. There are sections for brownies and bars, cakes, puddings, and so much more. Personal temptations from this book include Hawaiian Caramac Brownie Wedges, Apple Dumplings, Pumpkin Cheesecake, Frozen Creme de Menthe Pie, Heavenly Coconut Cake, and Brownie Meringues. The cookbook also features a very useful index to help you scan recipes for that perfect temptation to suit your mood! Though this book has no pictures, it will give you tons of sweet recipes to try out.