Not-Knots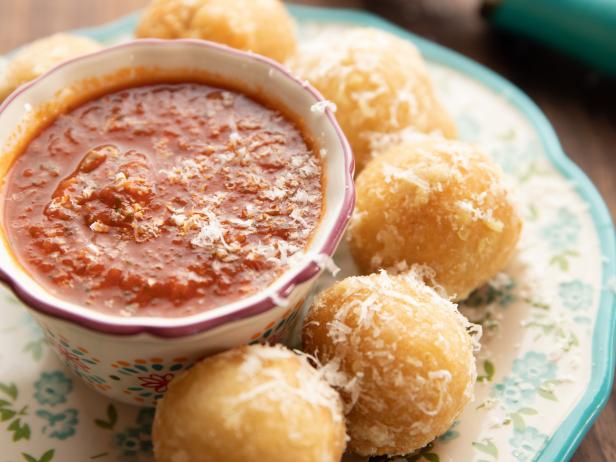 Not-Knots
These Not-Knots are a fun way to eat bread! serve with pasta for a yummy dinner!
Cook time:
Yield:
10 to 12 not-knots
Serving size:
10
Calories per serving:

582




Ingredients:
olive
oil
, for greasing the pan
1/2
recipe foolproof pizza dough, recipe follows
1/2
cup
garlic
butter
, recipe follows
2
tablespoons
grated parmesan
vegetable oil
, for frying
Foolproof Pizza Dough:
1
teaspoon
instant or active dry
yeast
4
cups
all-purpose flour 
1
teaspoon
kosher salt 
1/3
cup
olive
oil
, plus additional for drizzling 
Garlic Butter:
3 1/2
sticks
salted
butter
16
cloves
garlic
, finely pressed 
coarse sea
salt
Directions:
Grease a baking sheet with olive oil. Pinch off balls of the dough about 1 inch in diameter and roll into round balls, then place the balls on the oiled baking sheet. Cover and let rise for 2 hours.

Meanwhile, combine the garlic butter and Parmesan in a pan and stir together over medium-low heat until melted. Pour into a metal bowl large enough to toss the balls in.

Heat a deep pan of vegetable oil to 350 degrees F and fry the balls, stirring them so they cook evenly, until golden, 2 to 3 minutes.

Remove the balls from the pan, then put them in the bowl with the Parmesan garlic butter and toss to coat them thoroughly. Serve on top of a salad or as a side dish.

Sprinkle the yeast over 1 1/2 cups of warm (not lukewarm) water. Let stand for a few minutes.

Combine the flour and salt in a stand mixer fitted with the paddle attachment. Turn the mixer on low speed and drizzle in the oil until combined with the flour. Next, pour in the yeast mixture and mix until just combined and the dough comes together in a sticky mass.

Coat a separate mixing bowl with a light drizzle of olive oil and form the dough into a ball. Toss to coat the dough in the oil, then cover the bowl tightly with plastic wrap and set it aside for at least 1 or up to 2 hours at room temperature, or store in the fridge until you need it, up to 4 days ahead. Bring the refrigerated dough to room temperature before using.

Melt the butter in a skillet over medium-low heat, then add the garlic and salt. Cook for a couple of minutes to release the flavor, but don't let the garlic brown.


Add Recipe to Cook'n
---