What You Need to Know for Fool-Proof Brown Rice!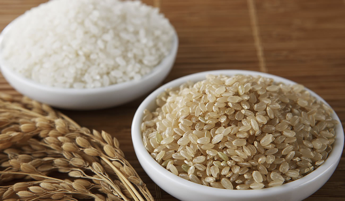 We all know that brown rice is better for us than processed white rice. And most of us also know that brown rice is much more difficult to cook than white. That is, if you want soft and fluffy brown rice, which we DO, right?
I've been trying to learn how to master the art of brown-rice-cookery for a long time. What I didn't know, that I've learned from sad experience, is that the directions and/or the recipe on the bag the brown rice comes in aren't exactly helpful or accurate. (NOTE: if you only use a rice cooker or Instant Pot for cooking rice, I admit this article may not be a bit interesting. But there IS a good recipe for cooked brown rice at the end. Just sayin'.)
For instance: STOVE TOP COOKING instructions say that for 4 to 6 servings you use 1 cup rice, 1 tablespoon butter or oil, and 2 cups of water. You're supposed to combine the rice, water, and butter in a pot with a tight-fitting lid. You bring it all to a boil. Stir once and cover the pot with the lid. Then you reduce the heat to simmer and cook for 50 minutes.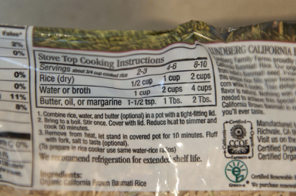 OK, here's the first problem. Even at simmer, water escapes the pot and makes a terrible mess on my stove top. So, clever me sets the lid askew so the steam can escape, thus eliminating the overflowing, bubbling mess.
So far so good, maybe? After the 50 minutes is up the pot is removed from the heat and the lid put back in place. Per instructions, I let it sit for 10 minutes. At the end of 10 minutes I lift the lid and "fluff" the rice with a fork.
Well here's the other problem. This rice won't fluff worth a darn. It's still on the crunchy side and much of it is stuck to the bottom of the pan!
And this takes me back to what I said above (second paragraph). It's taken a lot of experimenting to finally figure out that the bag's recipe is just WRONG. Instead of 2 cups of water for 1 cup of rice, you need 4 cups of water for 1 cup of rice! Then at the end of the 50 minute cooking time, you turn off the burner, pour off any excess water, replace the tight-fitting lid, return the pot to the stove top, and let the rice continue cooking in the steam.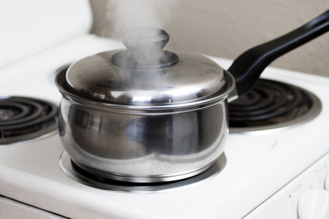 This "continue cooking in the steam" is now possible because there is enough water in the pan during the 50 minutes of cooking to actually produce some steam, for crying out loud!
Anyway, the happy news is, once I made the adjustment to the amount of water I was using, my brown rice now indeed does come out soft and fluffly. "Fluff the rice with a fork" isn't a ridiculous piece of instruction anymore.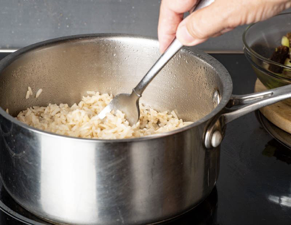 Turns out, what took me a long time to figure out on my own is actually what's recommended on line. Should have known to go there in the first place.
Now to end this rant, and in appreciation for you sticking with me, I'll top it all off with a terrific recipe using brown rice that I found in Food and Wine Magazine a few years ago. It's a family favorite and only takes 15 minutes to make. I hope you like it as well. And here's to soft, "fluffy" brown rice!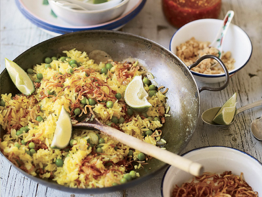 Fried Brown Rice with Shallots
Prep time:
Cook time:
Yield:
Serving size:
1
Calories per serving:

3,640




Ingredients:
3 1/2
tablespoons
peanut oil
plus more for frying
4 to 5
shallots
thinly sliced (scant 1 cup)
1/4
teaspoon
ground
turmeric
4 1/2
cups
cold, cooked
brown rice
salt
to taste
1
cup
frozen
petite peas
thawed
lime
wedges, for serving
Directions:
In a small skillet, heat 1/4 inch of peanut oil until shimmering. Add 1/4 cup of the sliced shallots and fry over moderately high heat, stirring occasionally, until golden brown and crisp, about 2 minutes. Using a slotted spoon, transfer the fried shallots to paper towels to drain.
In a wok or large skillet, heat the 3 tablespoons of oil until shimmering. Add the turmeric and the remaining 1/2 cup of shallots and stir-fry over moderately high heat until the shallots are softened, about 5 minutes. Add the rice and 1 teaspoon of salt and stir-fry over high heat for 1 minute. Add the peas and stir-fry until the rice and peas are hot, 2 to 3 minutes. Stir in the fried shallots and season with salt. Transfer the rice to a bowl and serve with lime wedges.
Add Recipe to Cook'n
Sources:
www.pritikin.com
www.bettycrapper.blogspot.com
www.leaf.tv
www.inthekitchen.net
www.foodandwine.com

Alice Osborne
Weekly Newsletter Contributor since 2006
Email the author! alice@dvo.com