There are Good Reasons for Mango Mania!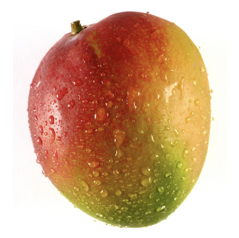 I'm not sure who says so, but the news on the streets is that the MANGO is the most popular spring and summer fruit, at least this year. This isn't that much of a surprise, really. Besides how yummy it tastes, the health benefits alone make it a must-have in my warm-weather fruit bowl. Consider this:
Mangos are bursting with antioxidants.
They're an excellent source of vitamins A and C.
They're an excellent source of dietary fiber.
With only 110 calories for one serving of mango, we can snack decadently!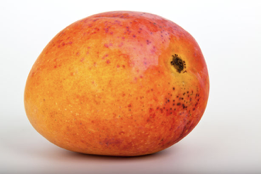 Before you eat your mango, you should be aware of the many ways to eat it. (Note: color isn't a reliable indicator of ripeness.) Follow these tips to enhance your mango experience:
First of all (and this seems so obvious), make sure the mango is ripe. If you push your fingers into it and they leave a dent, then the mango is ready to eat. Use the same method as you would to tell if an avocado or pear is ripe.
If you touch the mango and it remains firm, then leave it out for a few days until it's ready. If you eat a mango that isn't ripe, it'll taste hard and bitter, and you don't want to waste a good mango, especially because they can get expensive.
Next, know how to deal with its skin. You definitely want to remove it. Mango skin, which is thick and almost plastic-y in texture is just nasty. This skin is tough to chew and bitter in taste. But since the mango is a little tricky to peel, you might be tempted to eat its skin, if only out of frustration. You'll regret it.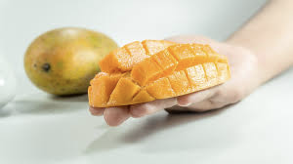 The easiest approach is to simply cut the mango in cubes, with the skin on:
Cut the mango into halves or thirds while avoiding the large pit.
Then, make vertical cuts on the piece you're holding. Be careful not to cut through the skin.
Now make horizontal cuts to create a checkered pattern.
Grasp the skin on the back of the half and push it forward. The chunks you cut should come out, making the mango piece look like a flower.
Next, just pull off the mango chunks. If they don't give, use a knife to slice them off into a bowl or a spoon to scrape them off.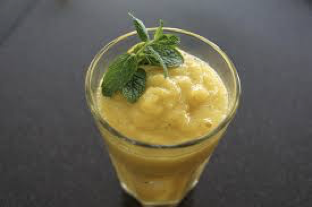 Now use those delectable mango chunks any way you want. The National Mango Board (who knew there was such a thing?) provides some great information and terrific recipes for mango use. For instance, there's the Mango Coconut Smoothie which incorporates super-antioxidant green tea, creamy yogurt, coconut extract and tropical mango.
Make this healthy drink to taste, by first placing a couple tea bags in boiling water (steep them for 5 minutes). Then squeeze all liquid from the bags into a blender and add a large mango (peeled and cubed), some vanilla yogurt and a dash of coconut extract. Six or so ice cubes polish it off. If you like, you can easily add a few spinach leaves to up the health factor—other than adding a green tinge, they won't even be noticed.
Or use your mango to make one of our very favorite spring and summer salads, the Mango Avocado Chopped Salad with Warm Chorizo. The complex flavors of citrus, mango and avocado blended into a creamy dressing highlight crisp romaine, bite-sized peas, spicy chorizo and sweet mango.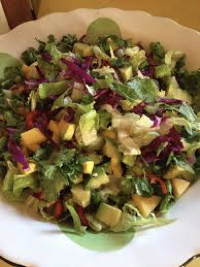 Mango Avocado Chopped Salad
Serving size:
1
Calories per serving:

695.5




Ingredients:
DRESSING
1/2
cup
orange juice
2
tablespoons
fresh
lime juice
3 14/
teaspoons
sea
salt
1
clove
garlic
1/2
ripe
mango
peeled and cubed
1/2
ripe
avocado
1/4
cup
fresh
cilantro
SALAD
8
cups
hearts of, thinly sliced
Romaine lettuce
1 1/2
ripe
mangos
peeled and diced
1/2
cup
small, thawed
frozen green peas
(fresh will also work well)
1/3
cup
minced
red onion
4
ounces
firm, Spanish-style
chorizo sausages
casing removed and chopped (about ¾ cup chopped)
1/2
ripe
avocado
diced
freshly ground
pepper
to taste
Directions:
For the Dressing: Puree orange juice, lime juice, salt, garlic, mango and avocado in a blender or small food processor until smooth. Add cilantro and blend until finely chopped; cover and refrigerate until ready to serve.
For the Salad: Toss romaine, mango, peas and red onion together in a large bowl. Place chorizo in a small skillet over medium-high heat for 5 minutes or until nicely browned and crisp; drain on paper towels. Add dressing to salad and toss well to coat. Stir in avocado and warm chorizo and toss lightly. Serve immediately. Prep Time: 15 minutes, Cook Time: 5 minutes.
Add Recipe to Cook'n
Sources:
www.reddit.com
www.publicdomainpictures.net
www.maxpixel.net
www.goodfreephotos.com
www.activeappetite.com

Alice Osborne
Weekly Newsletter Contributor since 2006
Email the author! alice@dvo.com