Roasted Stuffed Cauliflower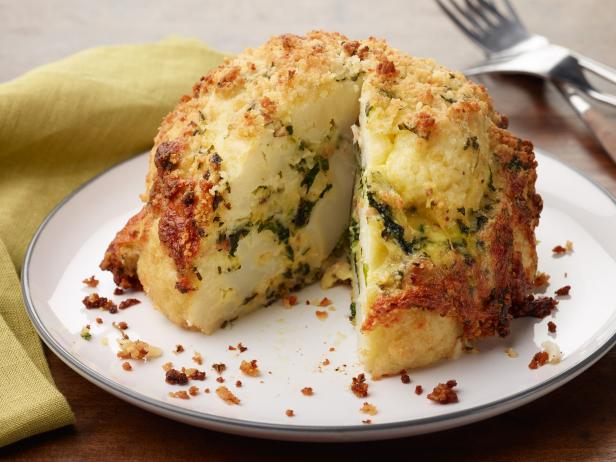 Serves:
4
This favorite vegetables gets the royal treatment: It's filled with a cheesy, bacony kale stuffing, coated in crispy breadcrumbs and baked until melting and tender. You can make it vegetarian by replacing the bacon with 4 ounces of sliced button mushrooms.


Dovetailing Tip:Use the extra 6 bacon strips you cooked while making bacon for the roasted stuffed cauliflower.
Prep Time:
Cook Time:
Total Time:
Ingredients:
4

slices

bacon

kosher

salt

1

large head

cauliflower

8

ounces

kale , stems removed

2

large

eggs

, beaten to blend

4

scallions, thinly sliced

2

garlic cloves , finely grated

3/4

cup

grated

muenster cheese

1/2

cup

heavy cream

1/2

cup

plus 2 tablespoons panko breadcrumbs

1/4

cup

plus 2 tablespoons finely grated parmesan

3

tablespoons

chopped fresh

oregano

1/3

cup

(5 tablespoons plus 1 teaspoon)

butter

, melted
Directions:
Special equipment: a large piping bag or 1-gallon resealable plastic freezer bag

Position a rack in the center of the oven and preheat to 400 degrees F. Line a baking sheet with parchment.

Arrange the bacon on the prepared baking sheet and roast until the bacon is browned and the fat has rendered, 15 minutes. When cool enough to handle, finely chop and transfer to a medium bowl. Reserve the baking sheet.

Meanwhile, bring a heavily salted pot of water to a boil over high heat (the water should be very salty, even more than the sea). Carefully remove as much of the cauliflower stem as you can without cutting any of the stalks of the florets. Remove any small inner leaves. (You want to be able to freely pipe filling into the nooks of the cauliflower.)

Boil the cauliflower until just beginning to get tender, 5 to 7 minutes. Do not overcook, or it will break apart as you stuff it. Carefully remove the head from the water and allow to drain and cool.

Add the kale to the same pot and cook bright green, 2 to 3 minutes. Drain and squeeze dry. When cool enough to handle, finely chop and transfer to the bowl with the bacon.

Add the eggs, scallions, garlic, Muenster, cream, 1/2 cup panko, 1/4 cup Parmesan and 2 tablespoons oregano to the kale mixture and stir to combined. Transfer to a large piping bag (or 1-gallon freezer bag) and cut a 3/4-inch opening at the tip. Turn the cauliflower stem-side up, and start piping the filling in between the stalks of the florets until you've used about half of the filling. (The bottom of the head will start to expand, and you will see the filling start to push out from the top in between the florets. Turn the cauliflower right-side up and use your finger to push between the florets to separate them slightly and pipe filling in the gaps. Use all the filling, even if it looks like the cauliflower is going to explode -- it won't. It will just be full of flavor!

Mix together the butter with the remaining 2 tablespoons panko, 2 tablespoons Parmesan and 1 tablespoon oregano in a small bowl. Put the cauliflower right-side up in the center of the reserved baking sheet and smear with the butter mixture to coat the entire head. Bake until deep golden brown, 45 to 55 minutes. Let cool 10 minutes before cutting into wedges.

Source: foodnetwork.com