Tuscan Kale Pesto Pizza with Shrimp Scampi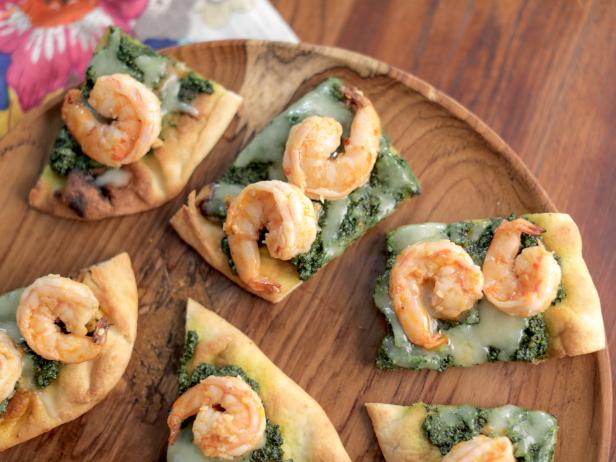 Serves:
6
Top flatbread pesto pizza with lemony shrimp scampi for a delicious bite. Store any leftover kale pesto in the freezer and use it the next time you're in a pinch for a quick dinner.

Dovetailing Tip: Use the 25 shrimp that you roasted on day 1.

Yield:
6 pizzas
Prep Time:
Cook Time:
Total Time:
Ingredients:
tuscan kale

salad

with lemon-anchovy dressing, recipe follows

1/2

cup

extra-virgin

olive oil

2

tablespoons

unsalted

butter

1

tablespoon

extra-virgin

olive oil

1 1/2

pound

jumbo

shrimp (21/25 count), peeled and deveined, tails removed

kosher

salt

1/4

cup

minced

garlic

(from about 1 small head)

1/2

cup

white wine

1 1/2

teaspoon

calabrian chile paste or 2 pinches red

pepper

flakes

2

tablespoons

lemon juice

(from about 1 lemon)

1

tablespoon

lemon zest (from about 2 lemons)

9

six 1/2-by-5-inch plain naan flatbreads (see cook's note)

6

tablespoons

extra-virgin

olive oil

2

cups

shredded fontina

cheese

(about 8 ounces)

2

bunches tuscan

kale , stemmed, leaves sliced into 1/4-inch strips

kosher

salt

1/2

cup

golden raisins

1/2

cup

white wine

vinegar

4

anchovy fillets

3

tablespoons

grated pecorino, plus shaved pecorino, for garnish

2

tablespoons

diced

shallots

1

teaspoon

honey

1/4

cup

plus 1 tablespoon extra-virgin

olive oil

1

cup

hazelnuts , toasted
Directions:
Pizza:

For the Tuscan kale pesto: Place the entire dressed salad--including the hazelnuts, raisins and shaved pecorino--in a food processor and process to a fine paste. With the motor running, stream in the olive oil until the paste loosens into a pesto. Use immediately or store in an airtight container for up to 2 days before using. (Makes 2 1/2 cups; see Cook's Note.)

For the shrimp scampi: Heat the butter and olive oil in a 12-inch skillet over medium-high heat. Sprinkle the shrimp with 2 teaspoons salt; add to the hot pan, along with the garlic. Cook until the shrimp are just starting to turn pink, 3 minutes. Add the wine and chile paste, and bring to a boil; boil until the shrimp are cooked through and the wine is reduced by half, about 4 minutes. Remove from heat and stir in the lemon juice and lemon zest. Season with more salt if needed.

For the pizza: Preheat the oven to 450 degrees F. Line two baking sheets with foil.

Place the flatbreads, bottom-side up, on the prepared baking sheets; brush each with 1 tablespoon of the oil. Transfer to the oven and toast until just beginning to brown and get crispy. Let cool for 5 minutes.

Turn the flatbreads over, spread 1/4 cup kale pesto over each and then sprinkle each with 1/3 cup of the fontina. Place back in the oven for another 5 minutes, until the top edges have browned slightly and the cheese is melted. Remove from the oven and top with 6 to 8 pieces of shrimp per pizza. Spoon over some scampi sauce.

Cut the pizzas into smaller pieces and serve immediately.

Tuscan Kale Salad with Lemon-Anchovy Dressing:

In a large bowl, combine the kale and 1/2 teaspoon salt. Massage the salt into the kale and let sit for 10 to 15 minutes. In another bowl, combine the raisins, 1/4 cup of the vinegar and 1/4 cup hot water. Rehydrate the raisins for at least 15 minutes. Drain when ready to serve.

Combine anchovies, grated pecorino, shallots, honey and the remaining 1/4 cup vinegar in a blender. Blend on high speed until smooth. With the motor running, slowly add in the oil. Pour the dressing over the salad at least 15 minutes before serving to help further tenderize the kale.

When ready to serve, add the toasted hazelnuts and plumped golden raisins to the salad, and garnish with shaved pecorino.

Cook's Note:

Feel free to use larger pieces of naan and make 3 larger flatbreads instead of 6 smaller ones. You can easily substitute store-bought pesto for the kale pesto. If you do make the pesto out of the Tuscan kale salad, you might have some extra pesto. Add it to pasta, or use it on sandwiches or as a vegetable dip!


Source: foodnetwork.com