DESSERTS TO DIE FOR
Salted Caramels
I'm a fan of the tart and tangy, the sweet and rich, the delicious and divine, but there is a special place for the sweet and salty. It satisfies two cravings at once. Every time you hear a sweet and salty combination, you think "No, that can't be. How could those two things taste good together?" But somehow, it almost always pulls through.
I remember being in the 4th grade and Ashley sat across from me. She pulled out a bag of Nacho Cheese Doritos and carefully placed them between two pieces of bread...on her peanut butter and jelly sandwich. "EWWW!" The chorus of 4th graders began.
"How could you eat that?"
"That's disgusting."
However, being the kind person she was, she gave us all a try. No more teasing. No more "ewww's". We were convinced. I still eat my PB and J's that way to this day.
The bacon maple donut: another example. I have yet to try one, but have heard from multiple people they are actually really quite good. They're selling and popping up in businesses, so they must be. However, I don't know if I'm convinced about the bacon shake yet.
Okay, before getting too scared, salted caramel isn't as crazy as bacon maple donuts or Dorito PB and J's. It's just caramel with a little salt. Very doable.
They sell these at candy stores, usually dipped in chocolate. I think I'm going to try that.
And just so you know, this is a good regular caramel recipe too. It's fun to add different extracts, my mom likes to do orange-flavored caramels.
Salted Caramels
can be made as regular caramels, orange caramels, etc.
Serving size:

100


Calories per serving:

51




Ingredients:
1 cup
brown sugar
3/4 cup
granulated sugar
1 cup

butter

softened
1 cup
light corn syrup
1 (14-ounce) can
sweetened condensed milk
2 pinches

Kosher

salt

optional
Directions:
In a 5 qt saucepan combine ingredients (except for Kosher salt). Over medium heat, bring to a full rolling boil, stirring constantly (don't scrape sides, this will cause batch to crystalize and have a grainy texture) boil for 12-15 min until it reaches firm-ball stage (holds shape until pressed, about 242-248 degrees). This can be tested by placing a small amount of caramel with a spoon into a cool, fresh, bowl of water. Don't touch caramel until cooled. Pour mixture into a lightly buttered 9x13 pan. For salted caramels, sprinkle desired amount of Kosher salt over the top of the caramels while still warm. Start with a little and add more only if desired.

Recipe formatted with the Cook'n Recipe Software from DVO Enterprises.
Sources:
http://sarahmeyerwalsh.files.wordpress.com/2008/11/salted-caramels.jpg?w=500&h=375
---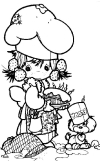 Sydney Hill
Weekly Newsletter Contributer since 2012