Trends to Watch in 2014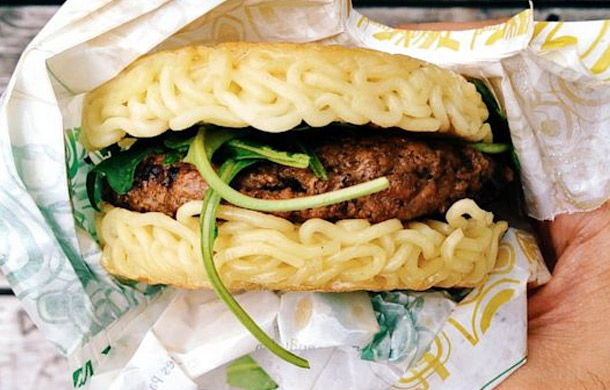 Whether you work in a restaurant, are a home chef, or are just interested in what's going to be hot in the New Year, this list is for you. I've done a little bit of research, and I've found what the professionals have predicted will be the biggest food trends of the year. From what I could find we should be looking forward to things like bizarre food mash-ups (Caesar salad pizza, for example), tea time, and retail stores creating branded restaurant. Check out the list of what's trending, and let me know your thoughts!
Before we begin with what's in, we've got to discuss what's out.
Cupcakes, donuts, and croissants are on the way out.
Bacon and chocolate, were voted as two of the most pass@eacute; food items, so don't expect them to be as prominent on the menu as they have been in the past.
Food courts are expected to be replaced or at least have some competition from food halls. Food halls make freshly prepared meals on-site, so a higher quality food court.
Focusing on low-calorie or light foods is on the way out. Instead focusing on the natural good ingredients in food is on the rise.
Here's what's in, and hot for this year.
Ice cream sandwiches, biscuits, and unusual food combinations are on the rise. We should expect to see gourmet ice cream sandwiches and weird foods like the already popular ramen burger (ramen noodles turned into a bun with a burger between them), take over menus.
Wraps, sandwiches, and things that require small bites are in. Why? Because more and more people are using their phones while eating, so with wraps and sandwiches you can enjoy your food and still play on your phone.
Exotic meats like goat, rabbit, and pigeon are going to be popular as part of the farm/local to-table movement. From my understanding that movement wants to focus on local farms and produce instead of grocery store groceries. Go more natural.
Along with the go natural trend, we should see a rise in forging for your food. Things like seaweed, truffles, rose hips, and blackberries are going to be a trend this year.
As mentioned above, eating natural or focusing on the natural nutrients of foods are in. Along with this we should see grocery stores offering healthy snacks as the norm instead of as an alternative.
Speaking of grocery stores, a trend to keep your eye on is drive-through grocery stores and online grocery shopping. You'll be able to pick out what you want and have it delivered to your door.
Midwestern cooking is in. Simple and hearty dishes, like comfort foods, that use root vegetables, steak, and other locally-sourced ingredients are going to see a rise in popularity.
There is going to be a rise in spices that allow you to travel around the world in the comfort of your own kitchen. A few of these spices include gochujan, a Korean condiment, and shichimi togarashi, which is a Japanese seasoning made from seven spices. It can be considered the new salt and pepper.
Raw vegetables are going to make a comeback, especially cauliflower. Also look for parsnip, artichoke, kale, and salsify. It won't be uncommon to see vegetables as the main course instead of a side.
Last year the grain trend was to go "gluten-free" this year it's "designer grains". Look for noodles made from non-wheat alternatives like quinoa, rice, and buckwheat.
If you like to cook but aren't the best at following directions, look forward to chefs providing demo videos on how to make their dishes.
A new emerging trend is to replace the water in recipes with beer, teas, and smoky liquids.
In the bar scene, ice cubes are being infused with fresh herbs, fruit, and other ingredients. If you like entertaining, this popular trend is easy to do at home.
Chicken is the new beef. Restaurants are going to pick up their chicken dishes; roasted chicken will no longer suffice. They are expected to make specialty chicken dishes that cost as much as steak dishes.
If you're the type of person who loves eating and shopping at the same time, this new trend might interest you. Be on the lookout for retail + restaurant mash-ups. Some of your favorite brands may be creating restaurants based on their brand.
Finally look forward to tea time or "low tea". Basically it consists of a light meal or snack of brunch-type fare. It is served around 4 p.m. This trend stems from the popular idea of eating several light meals throughout the day instead of three large meals. Tea is also going to be popular on its own.
There you have it! Those are just some of the trends to watch. It's not guaranteed that these will take off or be popular, but it's what the experts have predicted, and they are the pros!
Sources:
http://blogs.seattletimes.com/allyoucaneat/2014/01/01/food-trends-for-the-year-that-was-and-2014/
http://kxl.com/2014/01/03/top-ten-food-trends-for-2014/
http://www.azcentral.com/thingstodo/dining/articles/20140103chefs-votes-food-trends-forecast-mix-local-healthy-options.html
http://www.cbsnews.com/news/10-hot-food-trends-to-expect-in-2014/
http://www.kitchendaily.com/read/experts-predict-food-trends-2014
http://www.huffingtonpost.com/foodbeast/trend-report-a-day-in-the_b_4521472.html
---


Whitney Saupan
Weekly Newsletter Contributer since 2013