The Secrets to Successful Chicken Crusting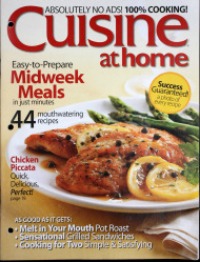 If you've ever had your crust coating on your fried or baked chicken turn out a little gooey, or less than crusty, then you'll appreciate this information. My latest Cuisine at Home magazine chefs shared their wisdom for turning out chicken that's crisp on the outside and juicy on the inside—just what we want.
The Cuisine pros say the secret is in the four "Cs": chicken, crumbs, coating, and cooking. Let's look at each one:
CHICKEN:
While boneless, skinless breast halves are convenient and they cook quickly, they are usually too big, so halve each one lengthwise. This ensures that the coating doesn't burn before the chicken is thoroughly cooked. And BTW, use two pans if you're cooking a lot of chicken—it doesn't like crowding.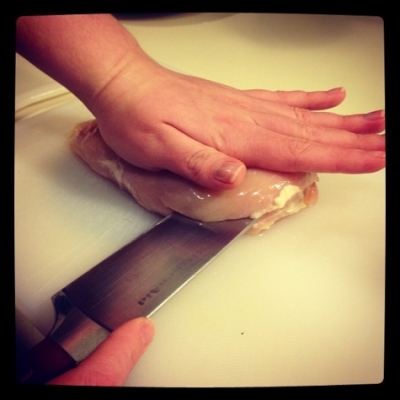 After halving the breasts, pound the pieces to an even 1/2-inch thickness. Be gentle with this to avoid creating a cutlet. Pounding in a slightly damp plastic bag helps prevent sticking and tearing.
CRUMBS:
This is the most important "C" in the equation. They add great flavor and are crucial for the right texture. When done correctly, they'll create a crouton-like crust on the chicken, not a dry, flavorless, crumbly one.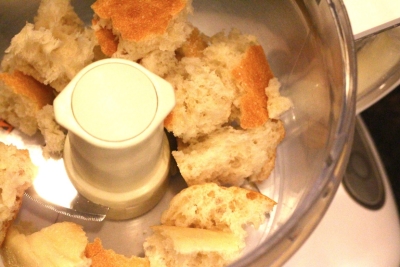 The best crumbs come from the right bread—a rustic loaf with a chewy, yet fairly soft crust; ciabatta is ideal. With the crust intact, cut the bread into cubes and process into crumbs (food processor is best, but blender works). You'll get different-sized crumbs, from powdery to pea-sized, and it's all good. You don't care about uniformity here.
Dry the crumbs on a baking sheet at 200° until completely dried but not toasted, about 10-15 minutes. Any extra crumbs freeze well in a re-sealable bag, and they're great to have on hand for all sorts of things (casserole toppings, etc.).
COATING:
To coat chicken, you need to dip it into something we (such as egg whites, which are a natural "glue"), then roll it in something dry (such as your prepared bread crumbs). Even if the meat feels moist, it's not damp enough for crumbs to stick and stay stuck.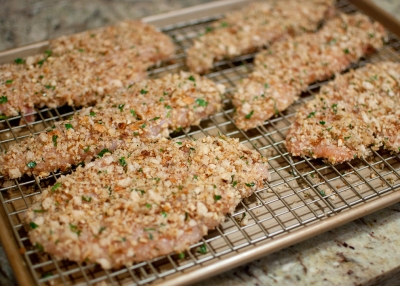 First dip chicken in the egg whites, then in the crumb mixture. The coarseness of the crumbs prevents them from adhering well, but that's OK. Just scoop handfuls of crumbs, piling them on each piece, then transfer the chicken to a rack set over a baking sheet. Air-dry the chicken in the fridge for 20 to 30 minutes to set the crumbs.
COOKING:
First sauté it on the stovetop in an ovenproof, nonstick skillet. As you place the chicken in the pan, lay it down toward you from back to front so that it rests on top of any of the crumbs that may fall off. Sauté until pieces are golden and crisp on one side, then carefully flip the pieces over, using your hand to gently guide them. Be careful not to turn the chicken more than once—crumbs fall off with too much handling. Transfer the pan to a preheated 450° oven to finish cooking, about 8 to 10 minutes more is all it takes.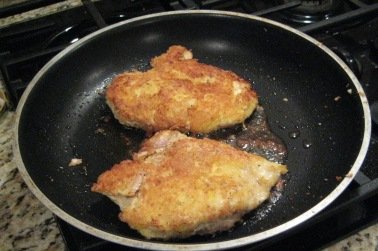 As a dipping mixture, the Cuisine chefs like to blend egg whites with cornstarch (2 whites to 2 tsps), but their secret is the addition of the juice of 1/2 lemon. The citric acid tenderizes the chicken as it cooks! Who knew? For crusting they mixture bread crumbs with chopped parsley (1 cup crumbs and 1 tablespoon parsley). The season with salt and pepper to taste, but they add another little secret touch: the minced zest of 1 lemon. Here again, the tenderizing feature of the zest is the reason for this. Finally, they prefer sautéing in extra virgin olive oil.
Crispy on the outside, juicy on the inside—that's what we want, and if we follow these secrets to successful crusting, that's just what we'll get. I know, because I tried it, and it works—so well in fact that I had to add this information to the chapter in my Cook'n 11, "Best Cooking Tips." (If you don't have a chapter like this in your Cook'n 11, you'll want to start one right away—it's the best way to keep yourself and your hard-earned cooking knowledge organized and at your fingertips!)
Sources:
www.culinarycovers.com
www.jenniesyummytummy.com
www.miseenplace.us
www.michaelvancise.com
---


Alice Osborne
Weekly Newsletter Contributer since 2006