16 Time-Saving Tips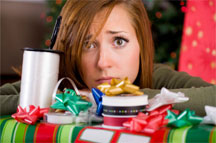 Do you ever feel so busy busy busy that you have a hard time enjoying this wonderful, joyous time of year? That's not how it's meant to be! This is time for family and friends, time to reflect and to love. That's so hard to do when you have a big list of things to do. So here are some solutions:
First Tip: Cut out any excess things that just don't need to happen. You don't have to do everything on your list. Prioritize and do the important things. Be smart, save time where you can. Your family isn't going to remember that extra gift you got or that movie you wanted to watch. They'll remember the quiet times together just being with each other. I know I do.
Second tip: Don't get stressed if something doesn't go as planned. I have a hard time with this one, but I'll work on it too. If a cake sinks in the middle or you forgot to put sugar in the cookies, Just laugh. There's too much to enjoy to sweat the small stuff.
This is a list of time-saver tips I compiled from different sources that will hopefully help your holiday sanity.
•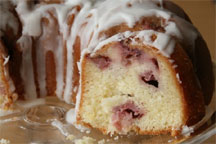 Bundt cakes feed more people. If you're making dessert for a crowd, consider it.
• Shop on Mondays and Tuesdays. If you can avoid the weekends, you might avoid more traffic and carts.
• Use parchment paper to save scrubbing the cookie sheets.
• Make pie crusts beforehand. Freeze until you're ready to use them. Saves last minute stressing.
•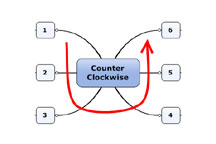 Go to the stores that you need to in counter clockwise order to avoid left hand turns.
•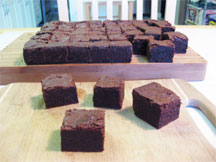 Cut your brownies smaller so they go further.
• Freeze cookie dough. Bake when you're ready for them.
•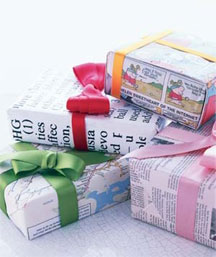 Buy wrapping paper that works for both Christmas and birthdays, or use the Sunday newspaper comics! You get a gift and a laugh! You could use aluminum foil and have a shiny gift.
• Use boxes and containers around the house (empty oatmeal canister, crackers) to wrap your presents in. Saves money too.
• I got these from parenting.com. Make a dessert that uses a mix, but mix it up a bit so it still has a personal flair. I think it's a great idea, and then you don't have to stress about bringing a more time-consuming dessert.
Duncan Hines Devil's Food Cake Mix
Add one package (10 oz.) of peanut butter chips to batter and frost with dark chocolate frosting. Top with a dollop of whipped cream for extra holiday flair.
Betty Crocker Sugar Cookie Mix
Add 1 Tbs of lemon juice to the mix and sprinkle decorative sugar on top.
Pillsbury Pumpkin Quick Bread and Muffin Mix
Follow quick-bread directions and drizzle raspberry sauce over slices. (For raspberry sauce, melt 1 Tbs of seedless raspberry preserves per slice in the microwave.)
Mix pancake batter in a blender, and pour it straight on the griddle. Saves dishes.
•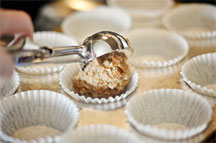 Scoop ice cream the day before you need it into muffin liners and store in the freezer. That, or cut the ice cream block into squares. Scooping takes some time.
• Need a quick lunch? Use a tortilla to make mini pizzas. Still fun, but nice and easy.
•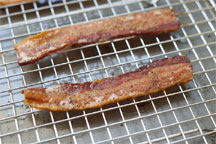 Cook bacon in the oven on a wire rack with a cookie sheet beneath. Bake at 350 degrees until crispy. You get a lot more bacon over a cookie sheet than in a skillet. Who wants to spend the morning over a skillet? As a plus, you're grease is drained!
• Don't cry over spilled cooking oil. Put flour on top of the spill, and in a few minutes wipe it up. The flour absorbs the oil.
•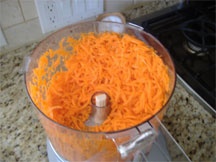 Shred carrots for your cake in the blender with the eggs from the recipe.
Hopefully these things will help your holiday be a little less stressful, and you can focus on the things that truly matter.
References:
http://www.parade.com/food/slideshows/holiday-baking-tips.html#?slideindex=2
http://www.parenting.com/article/20-holiday-time-savers
Cyndi Roberts, editor of "1 Frugal Friend to Another"
Stressed image:
http://sp.life123.com/bm.pix/coping-with-holiday-stress.s600x600.jpg
Bundt cake image:
http://www.shockinglydelicious.com/wp-content/uploads/2011/08/Fresh-Strawberry-Bundt-Cake-hero-480x320.jpg
Counter clockwise image:
http://fluentbrain.com/wp-content/uploads/2012/04/Counter-Clockwise.png
Brownies image:
http://4.bp.blogspot.com/-8e3iysrlsVQ/TfX_grj32AI/AAAAAAAADD8/E-T_21k5bDM/s1600/brownies+cut.JPG
Presents image:
http://img4-1.realsimple.timeinc.net/images/holidays-entertaining/gifts/0202/gift-packages_300.jpg
Ice cream image:
http://1.bp.blogspot.com/-2zUJCU2o9sU/TyaeNOBiZQI/AAAAAAAACBo/oyN7y18JrOo/s1600/014+copy.jpg
Bacon image:
http://1.inspiredtaste.net/wp-content/uploads/2011/10/Bacon-Roasted-Potatoes_21.jpg?86c6d6
Carrots in blender image:
http://2.bp.blogspot.com/_ssp5AEs5qlM/TBusuCgU53I/AAAAAAAAAPQ/RWE0ZmFEI-w/s1600/CarrotCakeShredded2.JPG