The Many Lives of Chocolate Chip Cookie Dough
Who doesn't love chocolate chip cookies? This is such a tasty dough and foolproof dough - you just about have to try really hard to ruin it. It's like a no-brainer in the world of baking.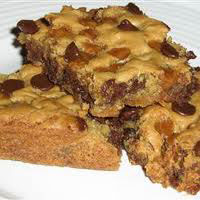 And what's really fun about this dough is not only how good it tastes, but how versatile it is. For instance, if you're in a hurry and don't have time to bake up 2 dozen individual cookies, just plop the entire ball of dough in a 9x13 buttered baking dish, with wet fingers spread the dough out to all sides of the dish, and bake the whole thing like you would a pan of brownies. In fact, that's what you end up with - a Blond Brownie! But hold onto your hat - this idea is tame compared to what follows.
Now you might have other uses for this cookie dough, and we'd love to hear about them, so drop us a line. But a few I stumbled onto just today are on the extremely popular food blogs, www.bakerella.com and www.recipegirl.com.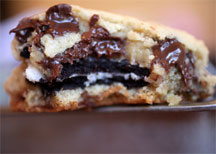 This very enthusiastic cook, Bakerella, mentioned that this idea has probably been all over the Internet and she decided to finally try it. Get this: she stuffed chocolate chip cookies with Double Stuffed Oreos! I'm not kidding. On her blog she says, "Hello. Heaven." Judging from this picture from her blog, I'd say she's nailed it!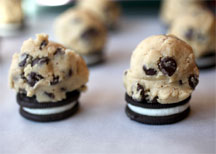 So here's what she did, and we can do it too: She made her favorite chocolate chip cookie dough recipe, and used a regular sized ice cream scoop to scoop out balls of dough. As you see in the picture, she placed a ball atop each Oreo.
She repeated the process, placing the second ball on the bottom of the Oreo - there's a whole lotta cookie sandwich going on here.
Then she gently pressed the dough around the Oreo until it was sealed completely inside the chocolate chip cookie dough - it became one big ball. In fact, she calls them Giant Oreo Stuffed Chocolate Chip Cookies.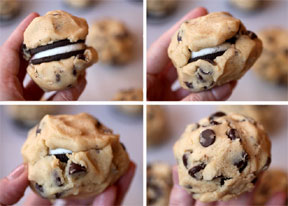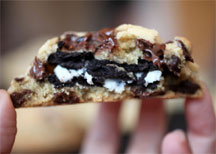 She concludes this blog by saying "This is what I'd call a face plant!" Yup, I'm with her. These are at the top of my TO DO list for tomorrow.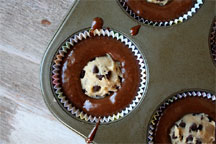 Then there's Chocolate Chip Cookie Cupcakes, made by Lori Lange of www.recipegirl.com. She placed small balls of her favorite chocolate chip cookie dough in chocolate batter and baked as usual.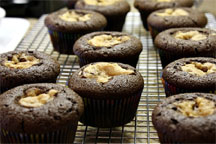 Lori says these are half and half - a little baked cookie on top and doughie underneath.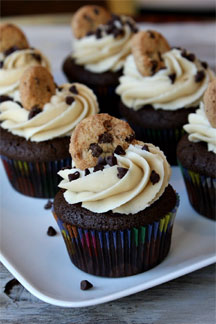 She garnished them with cookie dough icing (sounds yummy), sprinkles of mini chips, and a small chocolate chip cookie. They look delectable and have to be positively intriguing to eat.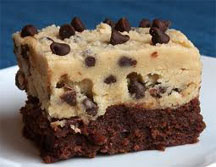 This same clever blogger even came up with an amazing recipe for Chocolate Chip Cookie Dough Brownies. Holy smokes, will the goodness ever end?
Only in America, maybe, but my goodness there are some creative cooks out there. We'll never look at chocolate chip cookie dough the same way again, will we?
Sources:
www.whenthedinnerbellrings.blogspot.com
www.bakerella.com
www.recipegirl.com