Ringing in the New Year
with a Clean Ring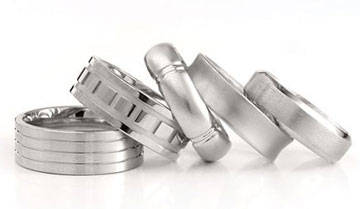 Ringing in the new year is a time to think of things we want to do better, things we want to start, and maybe doing something we haven't in a while, such as cleaning your wedding ring. They build up some gunk throughout the year with cookie dough, lotion, and just normal wear. Here's is a cheap, homemade solution, which really does work! Vouched for by our very own lovely editor.
Since many of our resolutions will be to save money, this is great because it is so cheap! It's also super fast for those trying to save time.
---
Jewelry Cleaning Solution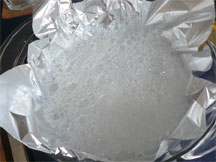 Ingredients:
1 tablespoon
salt
1 tablespoon
baking soda
1 tablespoon

dish detergent
1 cup
water
1 piece

aluminum foil
Directions:
1. Heat water in the microwave for 1 or 2 minutes.
2. Cut a piece of aluminum foil that roughly covers the bottom of a small bowl (like a cereal bowl).
3.Pour hot water into bowl. Place salt, soda, and dishwashing liquid into bowl. Place jewelry on top of foil and let it sit for 5 to 10 minutes. Rinse jewelry in cool water and dry jewelry completely with soft cloth. Discard solution after use and make a new batch next time.
4. According to wire-sculpture.com, "this works well for gold-filled, brass, german (nickel) silver, and sterling silver. I have even cleaned jewelry with freshwater pearls, shell cameos and mother of pearl with no problem.".

Recipe formatted with the Cook'n Recipe Software from DVO Enterprises.
---
Reference (recipe from):
http://www.food.com/recipe/jewelry-cleaner-180133
Ring image:
http://christopherduquet.com/collections/bandedTogether/banded4.jpg
Solution image:
http://www.planetjune.com/blog/images/silver_bubbles.jpg
---