Week Night Dinner Quickies
Is this one of the craziest months of the year, or what? Whether you're out shopping, running family here and there, or just stuck in traffic a lot, getting home in time to get a good dinner on the table can be a trick.
With this in mind I went sleuthing through Aunt Annie's recipe box - she was a whiz at getting a meal on the table in no time flat. And she never flinched when company dropped in around meal time - she was ready. So I thought she might have some ideas to share. Sure enough - consider these ideas for a couple week night dinner quickies: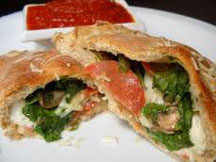 Veggie-Stuffed Calzones: I remember having these when we'd go see her. And I was always amazed at how calmly and quickly she could get a really delicious meal on the table for us. She would have prepared dough on hand (Rhode's, for instance) and she'd roll out circles, add pesto, veggies, and cheese, and voila! What was especially fun about this meal was that enlisted us kids to help her put these together.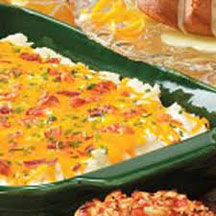 Spud Nest: Whether you use instant mashed potatoes, leftover mashed potatoes, or just peel fresh spuds and cook - this is a quick and delicious dinner that adapts well to vegan or meat-eating preferences. You'll butter a 9x13 baking dish and fill it with your cooked potatoes. Push them away from the center, creating a "nest" in the center of the dish. Fill this with any assortment of your favorite vegetables. For the meat-eaters, add diced or chopped leftover meat of choice (ham is always a hit) and sprinkle the entire dish with grated cheese. Place in a preheated oven (350 degrees) and bake for about 15 minutes or until heated through and cheese is melted and bubbly. Another approach is to put the vegetables 9and meat if using) on the bottom of the pan and cover these with your mashed spuds and grated cheese.
The idea behind quick meals, of course, is to always have the right things waiting in your cupboards or pantry. It's possible to create 20 or more meals from about 6 basic staples. In fact, Fitness Magazine did an article a while ago on this very idea. Here is their suggested shopping list that makes this magic happen:
Boneless, skinless chicken breasts
White fish fillets
All-white meat ground turkey
Beef tenderloins
Cilantro or parsley
Rosemary (fresh or dried)
Oregano (fresh or dried)
Ginger (fresh and dried)
Capers
Tofu
Tomatoes (canned and fresh)
Onion
Canned mushrooms
Lime
Frozen small shrimp
Frozen peas and corn
Whole wheat pasta
Whole-grain rolls
Canned black beans
Brown rice
Low-sodium beef broth
Low-sodium chicken broth
White wine
Garlic (fresh and in powder form)
Dried thyme
Grated Parmesan cheese
Chili powder
Marjoram
Whole-grain mustard
Hoisin sauce or reduced-sodium soy sauce
Steak sauce
Extra virgin olive oil
Sesame oil
Nonstick cooking spray
Salt and pepper
With these staples on hand, you can whip up just about any recipe or put almost any leftovers into a tasty meal. It's not a shortage of recipes we suffer from, it's a lack of ingredients on hand that usually trips us up.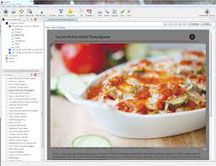 So stock your pantry and then turn to that wonderful feature your Cook'n Recipe Organizer offers (listing what ingredients you have on hand and recipes using them pop up), and you too can dazzle the family as you put together a week night quickie dinner!
Sources:
www.budgetbytes.blogspot.com
www.tasteofhome.com
www.gatheringmyroses.blogspot.com