Desserts to Die For:
Pomegranate Cheesecake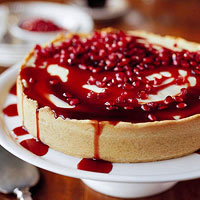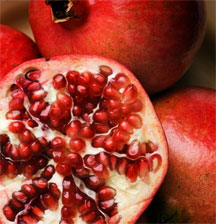 Just in time for pomegranate season, I bring you this delicious holiday dessert. It is my cousin's absolute favorite. I'm not trying to sound pompous, but maybe it will become yours too!
The recipe is from Better Homes and Gardens, they have good stuff.
---
Pomegranate Cheesecake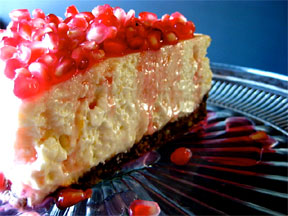 Ingredients:
1/2 cup

butter

, softened
1/4 cup

packed

brown sugar
4
eggs
1 1/4 cups

all-purpose

flour
4 ounces

cream cheese

, softened
1 1/4 cups

plus 1 tsp.

vanilla extract
1 (16-ounce) carton

dairy

sour cream
1 teaspoon

finely shredded

lemon peel
1 1/2 cups

pomegranate

seeds
Directions:
1. Preheat oven to 350 degrees F. In a mixing bowl beat butter on medium to high speed for 30 seconds. Add brown sugar. Beat until combined. Add 1 egg; beat well. Beat in 1-1/4 cups flour until combined. Divide dough in half. Cover and refrigerate one portion.
2. Spread unrefrigerated dough half on bottom of ungreased 10-inch springform pan with sides removed, spreading dough to edges. Place on baking sheet. Bake for 10 minutes. Cool completely. When cool, attach sides of pan. Press chilled dough onto sides to a height of 1-3/4 inches, using a thin metal spatula to spread dough.
3. Reduce oven temperature to 325 degrees F. For filling, in an extra-large mixing bowl beat cream cheese and 1-1/4 cups granulated sugar until fluffy. Beat in the remaining flour on low speed until smooth. Add remaining 3 eggs and 1 tablespoon vanilla all at once, beating on low speed just until combined. Stir in 1/2 cup sour cream, the lemon peel, and 3/4 cup of the pomegranate seeds.
4. Pour filling into crust-lined pan. Place on baking sheet. Bake for 65 minutes or until edges are puffed and center jiggles slightly when gently shaken. Remove from oven.
5. Stir together remaining sour cream, sugar, and vanilla. Spread sour cream mixture over top of baked cheesecake. Return to oven; bake for 10 minutes more. Remove from oven. Cool on wire rack for 15 minutes. Loosen crust from sides of pan. Cool for 30 minutes more. Remove sides of pan; cool completely. Cover; chill 4 hours or overnight.
6. Remove cheesecake and Pomegranate Sauce from refrigerator 15 minutes before serving. Spoon some sauce over top of cheesecake; pile remaining 3/4 cup pomegranate seeds in center of cheesecake. To serve, slice cheesecake. Pass remaining sauce. Makes 16 servings.
7. For sauce, in a medium saucepan bring 1-16-ounce bottle pomegranate juice to boiling; reduce heat and boil gently, uncovered, until reduced to 1 cup (10 to 12 minutes). Stir together 1/4 cup brown sugar and 1 tablespoon cornstarch. Add to juice. Cook and stir until thickened and bubbly. Cook and stir 2 minutes more. Transfer to a medium bowl; cover surface with clear plastic wrap. Cool to room temperature. Store, covered, in refrigerator until serving time.
Cool: 2 hrs
Chill: 4 hrs
Bake 350 degrees F 10 mins
Bake 325 degrees F 1 hr 15 mins

Recipe formatted with the Cook'n Recipe Software from DVO Enterprises.
---
Recipe:
http://www.bhg.com/recipe/cakes/pomegranate-cheesecake/
Image (whole cake):
http://images.meredith.com/bhg/images/recipe/l_R093900.jpg
Image (slice):
http://takeflightandfeast.files.wordpress.com/2011/10/img_6287_2.jpg
Pomegranate image:
http://wmevents.com/wp-content/uploads/2011/11/ART-Arils-Removal-Tool-Pomegranates-WM-Events-Planner-Atlanta-Food-Design.jpg