Oh Holiday Joy!
Here's a Treat You Can Actually Eat!
From one of my favorite foodie websites, Nourished Kitchen (www.nourishedkitchen.com) I received a newsletter that had the best recipe and really helpful information for those of us needing to eat carefully during the holidays. And by carefully, I mean not just real, whole foods, but sweets in very limited amounts.
With this criteria in mind I was overjoyed to get Nourished Kitchen's recipe for White Chocolate Cranberry Almond Bark that, if I eat it, isn't going to send me into a sugar-induced coma! Read on for the recipe, and information on why cocoa butter is so good for us.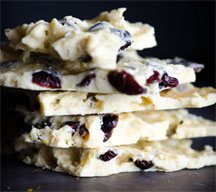 "Mildly sweet and dotted with tart, dried cranberries, this white chocolate bark is a far cry from its sugary relatives. Cocoa butter, rich in vitamin E, slowly melted with honey, mandarin zest, and vanilla bean mixes with cranberries for a uniquely nourishing holiday treat.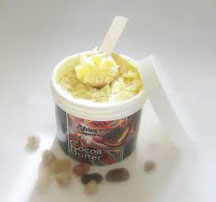 "Cocoa butter is the primary ingredient in white chocolate and it is produced when cocoa beans are fermented, roasted, and pressed. This process separates the chocolate liquor from cocoa solids and cocoa butter. Cocoa butter is often then refined and deodorized which removes its beautiful, rich and bloomy floral notes which is why it's imperative to buy food-grade, unrefined oil (you can get it online or in a few of the better health food stores).

"Cocoa butter is often used in natural skin care products - and you can find quite a few recipes for its use in the book Organic Beauty [My Comment: it's available on the Nourished Kitchen website] which provides tons of recipes for homemade creams, lotions, scrubs, tooth powders and other DIY cosmetics. I recommend you buy food-grade, unrefined cocoa butter for both culinary and cosmetic applications as you'd never want to put something on your skin that you wouldn't put in your mouth.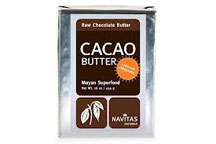 "Cocoa butter (often spelled cacao) is rich in vitamin E and K - fat-soluble vitamins that help to support eye, skin and heart health. Saturated and monounsaturated fat comprise the 97% of fatty acids found in cocoa butter, and these fats also contribute to cocoa butter's stability in cooking and its long shelf-life. Monounsaturated fat, the same kind found in olive oil and avocado and lard, supports cardiovascular health while stearic acid (the primary saturated fat in cocoa butter as well as in beef) has cholesterol-lowering properties.
"While cocoa butter, with its floral notes and rich creaminess, is the primary ingredient in white chocolate, I still prefer making my own. Commercial white chocolates are typically loaded with emulsifiers, additives and white sugar. And they are, to my taste, far too sweet. I prefer a simply making my own white chocolate - with honey and vanilla - similar to this recipe for honey-sweetened white chocolate chips, though I prefer to use far less sweetener."
So now here are Nourished Kitchen's 2 recipes for homemade chocolate chips and then the White Chocolate Cranberry Almond Bark. Let's make this, indulge a little, and enjoy the holidays even more!
---
Homemade White Chocolate Chips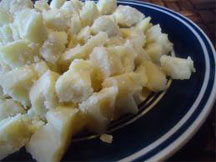 What a great idea--white chocolate chips without the emulsifiers, stabilizers, flavor enhancers, or other mystery ingredients! These creamy chips are sure to become a baking favorite!
Ingredients:
2 cups

, food grade cocoa butter
3/4 cup

raw

honey
scraped seeds from 1

vanilla bean
1 teaspoon
vanilla extract
Directions:
In a glass bowl set over simmering water, melt cocoa butter completely. Turn the heat off and add honey and vanilla seeds from scraped vanilla bean (reserve the bean for another use), whisking until smooth. Add vanilla extract and whisk until smooth again.
Remove bowl and set aside to cool. After 30 minutes, use an immersion blender to blend the honey back into the liquid. Repeat every 30 minutes (depending on how warm your kitchen is) until the liquid starts turning opaque again but is still pourable.
Pour into a glass pan or jelly roll pan and let harden at room temperature. Then cut and remove with a spatula in large pieces.

Recipe formatted with the Cook'n Recipe Software from DVO Enterprises.
---
White Chocolate Cranberry Almond Bark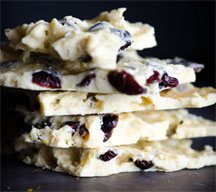 Creamy, rich-bodied, and not too sweet--now THAT'S what bark ought to be!
Ingredients:
8 ounces

, natural, unrefined, food grade cocoa butter
1/3 cup

raw

honey
1 teaspoon

vanilla bean

powder
2 teaspoons
orange zest
1/2 cup

dried, unsweetened

cranberries
Directions:
Melt cocoa butter in a double boiler over gently simmering water. When the cocoa butter melts into a viscous, fragrant and slightly yellow oil, remove it from the heat and allow it to cool on the kitchen counter for 20 minutes. Pour the melted cocoa butter into a food processor and pour in honey. Pulse three or four times, then add vanilla bean powder and orange zest to the sweetened fat. Process until well-emulsified, then transfer the cocoa butter (still in the food processor bowl with the blade attached) to the refrigerator and let it cool a further 20 minutes.
Remove the food processor bowl from the fridge and reattach it to the base. Process the sweetened cocoa butter a minute or two until its color becomes opaque and its texture creamy. Pour the cocoa butter into a mixing bowl and fold in cranberries. Spread the cocoa butter and cranberries onto a parchment paper-lined baking sheet and refrigerate until hard. Break into hunks and serve.

Recipe formatted with the Cook'n Recipe Software from DVO Enterprises.
---
Sources:
www.nourishedkitchen.com
www.soliditytrade.com
www.wineandcake.com
www.godairyfree.org
www.heavenlyhomemakers.com