DELICIOUS Gifts from Your Kitchen
Don't you love handmade gifts? They're the best kind, particularly when they're edible and prettily packaged. You'll enjoy sharing these treats, not just because they are easy to make, but also because they speak of friendship. Gifts from your kitchen are such a lovely way to offer the best sentiments of the season. And since this is such a popular approach to holiday gifting, you might want to create a special cookbook, "Gifts from MY Kitchen" in your Cook'n Recipe Organizer to house all the wonderful recipes that tend to show up this time of year. (And then think how on top of things you'll be next year at this time!)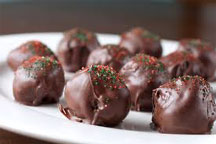 One treat that's making the rounds in our neighborhood now is the cookie truffle. These delicacies are made by crushing a package of chocolate cookie sandwiches (such as Oreos) and mixing this with an 8 ounce package of cream cheese. This mixture is then rolled into balls. Two 8 ounce packages of semi-sweet chocolate chips are melted and the cookie balls are dipped in this melted chocolate and sprinkled with crushed hard peppermint candies or cookie sprinkles. I've tried sprinkling the balls with crushed malted milk balls, too. This is an easy recipe and such a pretty gift!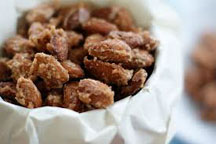 Candied nuts are also a big hit. Loads of recipes for these are floating around the Internet, but my favorite uses orange juice. These so festive in clear plastic bags tied up with a Christmasy ribbon.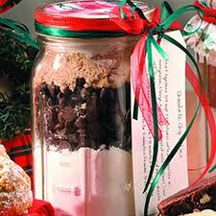 Then there are the mixes in a jar that everyone loves to receive. Whether it's pancake mix, muffin mix, cake mix, soup mix, etc., the recipe choices are limited only by your imagination. The ingredients look beautiful layered in the jar, and the attached recipe tops it off - this is such a thoughtful gift.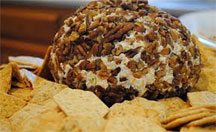 Our good friend, Shauna Haehl, used to share her homemade cheese balls with the neighbors. She made sure to tuck in a box of gourmet crackers. Oh how we looked forward to her knock at our door! I took this idea a step further last year and tried making, rather than a savory cheese ball, a sweet cheese ball. It turned out awesome - how can you go wrong when you sweeten cream cheese with powdered sugar and add some lemon extract? I rolled the ball in sweetened shredded coconut and gave it with my homemade lemon-flavored sugar cookies. Spreading a sugar cookie with sweet cream cheese - oh my gosh!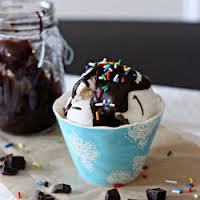 And one more idea for a gift from the kitchen: homemade hot fudge sauce. The nice thing about this gift is that it keeps for a LONG time. The holidays tend to be almost overloaded with sweets that need to be eaten fairly soon so they don't dry out or spoil. So what a cool idea to give someone a gift they can use after the dust and hoopla of the holidays dies down. Along comes January or February and you can pull out the homemade hot fudge sauce and top your nightly dish of ice cream. Now that's living!
Gifts from the kitchen - they'll never turn into clutter, and that makes the perfect gift. In case you like the idea of the homemade fudge sauce, I share the recipe here:
---
Old Fashioned Hot Fudge Sauce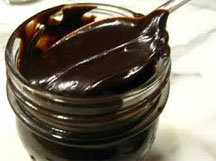 Rich and creamy, smooth as silk, and easy to make. What more could you ask for?
Ingredients:
2 cups
sugar
4 tablespoons

all-purpose

flour
3/4 cup

top quality

baking cocoa

(Dutch or Belgian cocoa is the best!)
1 1/2 cups
milk
1/2 cup
cream
4 tablespoons
butter
2 1/2 teaspoons
vanilla extract
Directions:
In medium bowl, whisk together dry ingredients. In large saucepan combine milk, cream, butter, and vanilla; stir until butter has completely melted. Add dry ingredients to milk mixture, constantly whisking. Boil, stirring constantly until thick and smooth, approximately 5 minutes. Cool and refrigerate any unused sauce. Leftovers can be reheated in a double-boiler, or microwave.
TIP:
Cocoa powders are not created equal. The very best cocoa powders have a butterfat content of 24% or higher, so look for this on the container label. The higher butterfat percentage, the richer and fuller-bodied your end product will be. Dutch cocoas are considered some of the finest and are the cocoa-of-choice by professional chefs and bakers.

Recipe formatted with the Cook'n Recipe Software from DVO Enterprises.
---
Sources:
www.lifesambrosia.com
www.aliceandthemockturtle.blogspot.com
www.blog.friendseat.com
www.homeiswheretheholmansare.blogspot.com
www.foodgawker.com
www.bonnycooks.wordpress.com