Customer Planning Tip
Thank you Terri! Great idea for using the calendar...
---
Dan,
In the video you demonstrate how to use the menu planner to plan the week's meals or the whole month etc. I am sure others have thought of this, but what about those that haven't thought of using that feature for party planning and holiday baking. For parties, use the planner to help plan out what dishes you can make ahead, for example having the gang over for a Super Bowl party on Sunday, make chili and cook the pulled pork (chicken or beef) on Friday; on Saturday cook the sausage stuffed baked baby red potatoes and refrigerate then pop them in the oven to reheat on Sunday. You could also cook the ground beef on Saturday for tacos, then zap the meat in the microwave on Sunday or pop it in the oven along with the baby reds when they are reheating.
For holiday baking - map out what cookies or candies you are going to make and do a little at a time and freeze the cookies. Monday do the chocolate chip cookies; Tuesday do the spritz and the molasses cookies; Wednesday do the thumbprints and mix the dough for a batch or two of refrigerator cookies that you will bake on Thursday. Some of the doughs call for chilling for a period of time or overnight. The cook can plan which doughs to do when so that they don't have the refrigerator filled with 8 rolls of chilling cookie doughs and no room for the leftovers from tonight. It also helps to do the shopping list so that you have everything need when you need it, so that you don't have to put off until another day a batch of those cookies that need to chill overnight because you ran out of the cream cheese or maybe ran out of (of forgot to get) the Hershey kisses or whatever. Just a thought to pass along!
Terri Minser (from Virginia)
---
---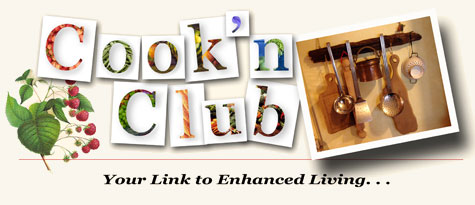 Contribute to the Cook'n Club!
DVO would love to publish your article, prose, photography and art as well as your cooking, kitchen and nutrition tips, tricks and secrets. Visit the Newsletter Submission / Win Win for All section in our Forum for more information and details.