Pie Crusts We Can ALL Eat!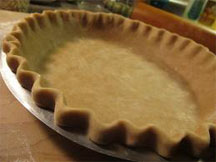 Celiac strugglers (or folks that just want a delicious yet healthier pie): Don't you just love how creative cooks have come up with ways to make pie crusts that are easy to digest and taste scrumptious at the same time?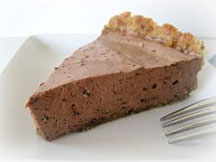 Pie crust doesn't have to be made using those traditional wheat flour, or graham cracker crumb recipes most of us we grew up with. A great crust I tried the other day was made with oat flour, coconut oil, sea salt, and ice water, for instance.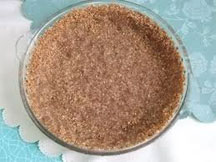 And then there's the world of nuts to turn to. My Aunt Annie used to make an amazing crust with crushed pecans or walnuts. She'd mix in a couple tablespoons of melted butter, a dash of vanilla extract, and a smidge of sugar. She'd mold this into her pie pan, bake as she would a graham cracker crumb crust (watching closely because nuts can burn quickly), and after it cooled, pour her filling into it. This was one of our favorite pies - the crust was so good that we didn't care what the filling was!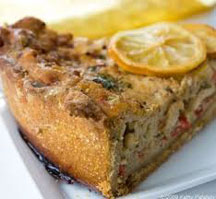 But nut crusts aren't just for sweet desserts. Aunt Annie would make her nut crust without the sugar and vanilla, add a dash of salt, and she'd have the perfect crust for a quiche!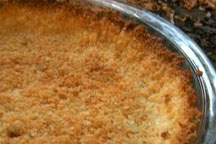 Another great crust is made with coconut. 1 1/2 cups coconut is mixed with 3 tablespoons of butter and pressed into a pie pan. It's baked at 325 degrees F for about 15 minutes, or until golden. That's it! This is another crust that takes any filling really well, but my favorite combination is a creamy pineapple custard, topped with sweetened whipped cream, of course. It's very tropical.
Finally, still talking coconut, an amazing crust I just discovered this past weekend is made with oat and coconut flour and shredded coconut (see recipe below). I found it in a favorite magazine, Mother Earth News, and paired it with pumpkin custard. The flavor combination was incredible. If you're not all that crazy about pumpkin pie, part of the issue might be the all-purpose flour crust. Try a different crust, such as this one, and see if your mind doesn't change.
I suspect, as long as folks love to cook, new and imaginative pie crusts will continue to emerge. Meanwhile, let's give a few of these alternatives to wheat flour a try - it's thoughtful and fun to offer a pie we can ALL eat!
---
Coconut Pie Crust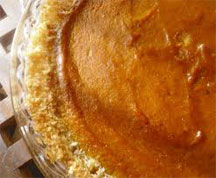 A gluten-free alternative to the traditional holiday pie crusts that usually grace the season.
Ingredients:
1 cup

brown sugar

loosely packed
1/2 cup

butter

at room temperature
1
egg
1 tablespoon
milk
1/2 cup
oat flour
1/2 cup

coconut

flour
1/2 teaspoon
baking soda
1/2 teaspoon

baking powder

(Aluminum-free, such as Rumford's)
1/2 teaspoon
salt
1/8 teaspoon

freshly ground

nutmeg
1 cup

shredded, dried

coconut
Directions:
Use a pastry blade or two butter knives to cream the sugar and the butter. Beat the egg and the milk and add them to the sugar and butter, then beat until smooth.
Mix the dry ingredients: flour, baking soda, baking powder, salt and nutmeg in a small bowl, then add them to the wet ingredients and mix until smooth. Add the dried coconut and mix well.
Grease two pie tins with butter. Press the dough into the pie tins as evenly as you can.
Bake the pie shells in a 350-degree oven until very light brown. Take the pie shells out of the oven and pour equal amounts of the pumpkin pie filling into each shell.

Recipe formatted with the Cook'n Recipe Software from DVO Enterprises.
---
Sources:
www.rcakewalk.blogspot.com
www.simplysugarandglutenfree.com
www.eatlivegrowpaleo.com
www.glutenfreehelp.com
www.feastofjoy.blogspot.com
www.allergyfreemenuplanners.com
---
---
---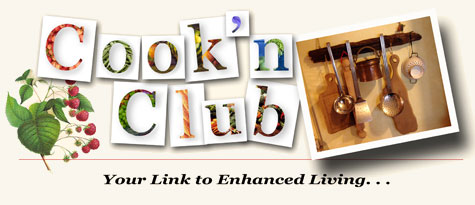 Contribute to the Cook'n Club!
DVO would love to publish your article, prose, photography and art as well as your cooking, kitchen and nutrition tips, tricks and secrets. Visit the Newsletter Submission / Win Win for All section in our Forum for more information and details.