Low Fat, No Sodium
I have been following you for years and now have a new issue/problem to deal with. My sister has to seriously watch her weight along with no sodium and a low or no-fat diet. Do you have any recipes to suggest for this problem.
Thanks much.
Susan
---
Hi Susan,
Here are some links to information that may assist you in helping your sister. Some of these are recipes that you simply need to enter your email address into to access the information.
To lower the salt, don't put it in when called for in these recipes. You can find alternate salt substitutions in the grocery store. Some people can't use Sodium but can still use Potassium based salts. Using herbs and other blends can also assist in bringing out flavors. Mostly, your sister will need to adjust her tastebuds. This is usually more palatable and doable if the salt is cut bit by bit instead of going "cold-turkey." If possible, start cutting the salt in half in the food cooked for her. When adjusted to that, trim off another 1/4. Then, as the tastebuds adjust, she can move to a completely no-added-salt diet.
Low-Calorie Fat-Free Whipped Cream
Healthy Substitutions for Baking
Best wishes,
Desiri Wightman, R.D.
---
---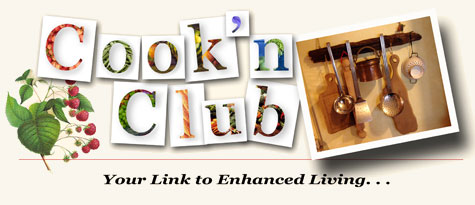 Contribute to the Cook'n Club!
DVO would love to publish your article, prose, photography and art as well as your cooking, kitchen and nutrition tips, tricks and secrets. Visit the Newsletter Submission / Win Win for All section in our Forum for more information and details.