Spring to Great Health with Salads!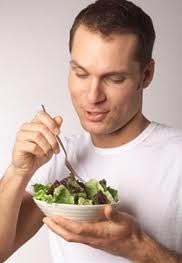 A recent study found that daily salad eaters had higher levels of certain disease-fighting antioxidants. This is such a big deal that American Dietetic Association spokesperson, Dawn Jackson Blatner, RD, has set a goal to eat a salad a day and is blogging about her attempt to consume 365 salads this year.
In Fitness Magazine she shares a week's worth of her favorite recipes (see below). And as I read this I thought, why not? With spring here and summer almost close behind, why not follow her example as an ultra healthy means to getting ready for all the activities warmer weather offers (not to mention looking better in my swimsuit)?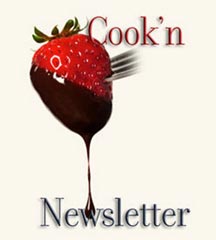 And here's another idea: Since some of the folks in our Cook'n office (aka DVO) have been engaged in a weight-loss contest since the beginning of the year, why not get them involved too? Together we could have some fun with this.
Through the Cook'n Forum we could compare notes, ask questions, and especially share salad ideas, recipes, and tips. But most especially we could cheer one another on. What do you say, are you in?
In case you like the idea, here are spokesperson Blatner's favorite recipes thus far (as seen in Fitness Magazine). I think I'm going to start a chapter in my Cook'n Recipe Software (version 10) titled "A Salad a Day!" as a quick and easy place to store these recipes, and any you are willing to share!
---
Egg-Cellent Asparagus Salad
Serves 2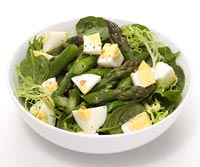 8 asparagus spears
2 teaspoons olive oil
1 garlic clove
2 cups mixed greens
1 hard boiled egg
1 tablespoon vinegar
Salt
Pepper
Cut 8 asparagus spears into 2-inch pieces; saute with 2 teaspoons olive oil and 1 minced garlic clove. Top 2 cups greens with cooked asparagus, 1 chopped hard-boiled egg, 1 tablespoon vinegar and salt and pepper to taste.
---
Peanut Butter & Greens Salad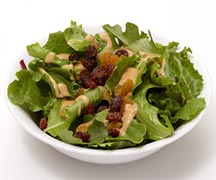 1 Tbsp natural peanut butter (I bet almond or cashew butter would work as well)
2 1/2 C mixed greens
2-3 Tbsp organic raisins (I also bet dried cranberries or cherries would be awesome!)
Whisk together peanut butter and 1 1/2 Tbsp warm water until smooth. This creates a dressing. Pour over greens; add raisins and toss. Sounds yummy!
---
Fiesta Bowl Salad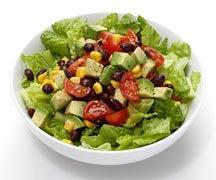 1/4 cup black beans
1/4 cup cubed avocados
1/4 cup corn
1/4 cup cherry tomatoes
1/2 lime, juiced
2 cups romaine lettuce
Combine 1/4 cup each canned black beans (rinsed and drained), chopped avocado, canned corn (drained) and chopped cherry tomatoes with the juice of 1/2 fresh lime and salt to taste. Serve on top of 2 cups romaine.
---
Pesto Pizza Salad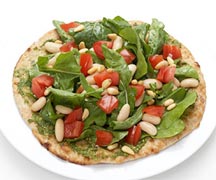 2 teaspoons pesto sauce
1 whole-grain pita
1 1/2 cups arugula
1/4 cup tomatoes
2 tablespoon pine nuts
1/3 cup white beans
1 teaspoon olive oil
1 tablespoon lemon juice
Spread 2 teaspoons pesto on a whole-grain pita; broil until golden. Toss 1 1/2 cups arugula, 1/4 cup chopped tomato, 1 tablespoon pine nuts, 1/4 cup canned white beans (rinsed and drained) and 1 teaspoon olive oil with fresh lemon juice, salt and pepper to taste. Serve on pita.
---
Tropical Toss Salad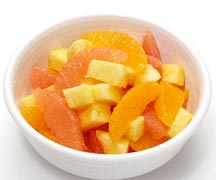 1/2 grapefruit
1/2 orange
1/2 cup pineapple
Combine 1/2 grapefruit and 1/2 orange (separated into segments) with 1/4 cup pineapple chunks or tidbits.
---
Curried Quinoa Salad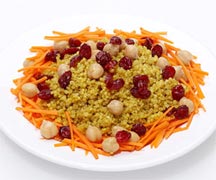 1/4 cup quinoa
1/2 teaspoon curry powder
1/2 cup carrots, shredded
2 tablespoons dried cranberries
1/4 cup canned chickpeas
Salt
Pepper
Boil 1/2 cup water; add 1/4 cup quinoa and 1/2 teaspoon curry powder. Cover, remove from heat, and let stand 10 minutes. Fluff with a fork and add 1/2 cup shredded carrots, 2 tablespoons dried cranberries, 1/4 cup canned chickpeas (rinsed and drained) and salt and pepper to taste.
---
Nutty Apple Salad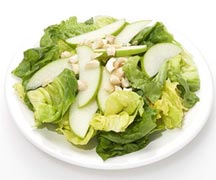 2 1/2 cups mixed greens
2 tablespoon cashews
1/2 sliced green apple
1 tablespoon apple cider vinegar
Combine mixed greens, cashews and green apple with apple cider. Toss well and enjoy!