The Best Apple Pie You Will Ever Make!
While this is certainly the time of year to start dreaming (or, ya know--obsessing!) over all things pumpkin, I am more of a caramel and apple kind of girl this time of year.  I mean how can you compete with apple pie, apple cider, homemade applesauce, apple turnovers, apple fritters?—okay I'll stop now—you get the picture :)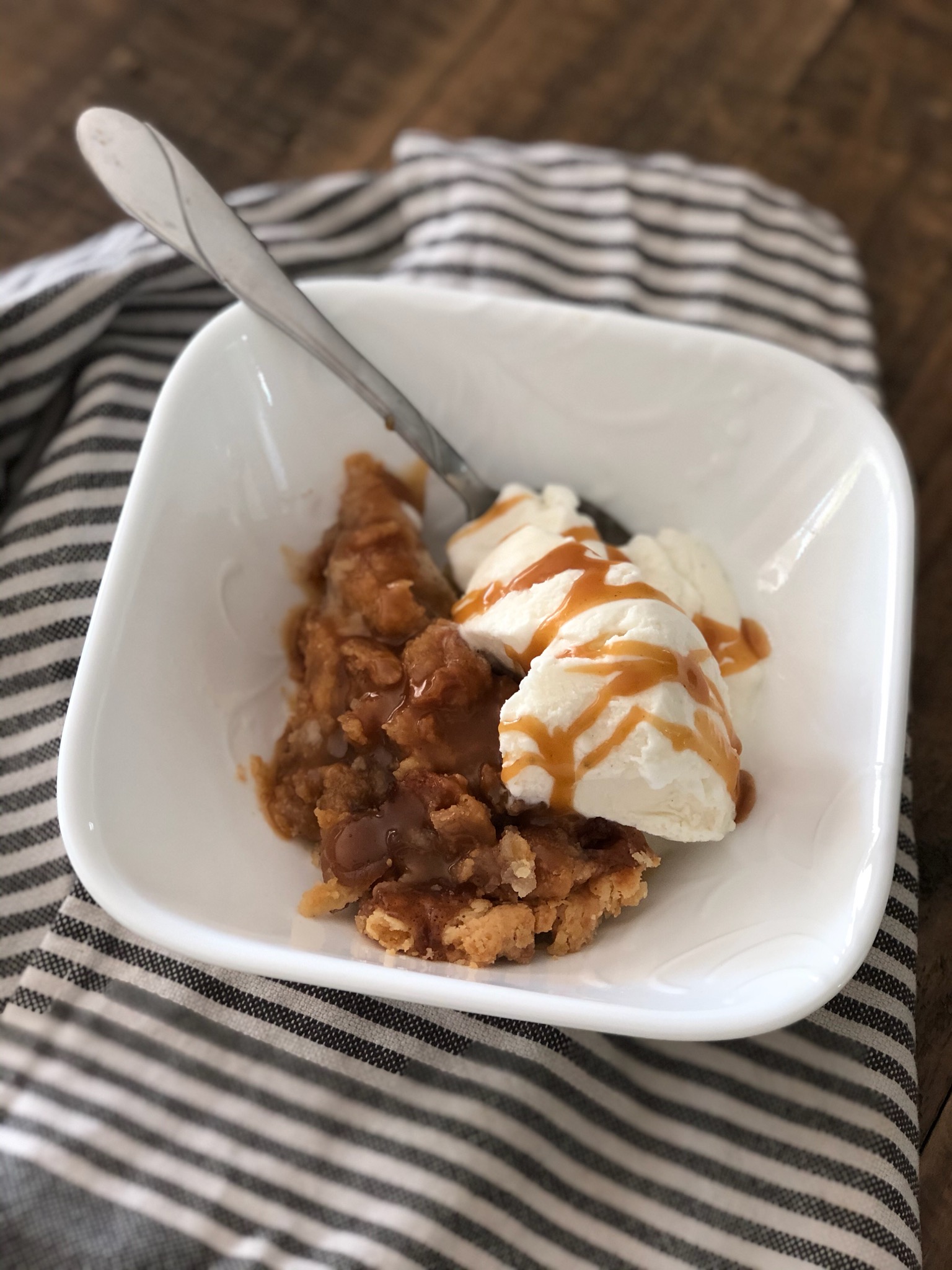 Warm apple pie with a scoop of vanilla ice cream has got to be my favorite of all the things apple. It's just the most classic perfect way to enjoy apples. Surprisingly, my husband doesn't really feel the same way. He could take or leave apple pie. Personally I find this blasphemous so I felt it my duty to find the best apple pie recipe and win him over. I have never made an apple pie from scratch before, so this was quite a feat to take on.
So the big question was—which recipe should I go with?? I went where any logical gal would go—straight to the source. My older sister married a guy who grew up in Washington on an apple farm. These people know and love their apples and have the best recipes for all things apple. I remember once she had mentioned how delicious brown bag apple pie was. My sister makes it occasionally and it is one of their most beloved Nielson family recipes.
When she said that it bakes in a brown bag I have to admit that I was a bit concerned—wouldn't a brown bag burn in the oven? After reading enough recipes and comments and her assuring me that it bakes just fine, I decided to go for it. The brown bag traps the steam inside and cooks it perfectly in every way—The apples still have the perfect amount of bite to them, the crust comes out cooked all the way through and even a little browned and the topping is crumbly and browned and bubbles a bit with the heavenly pie filling. It is basically like opening a little present when you get it straight out of the oven. It's pretty exciting!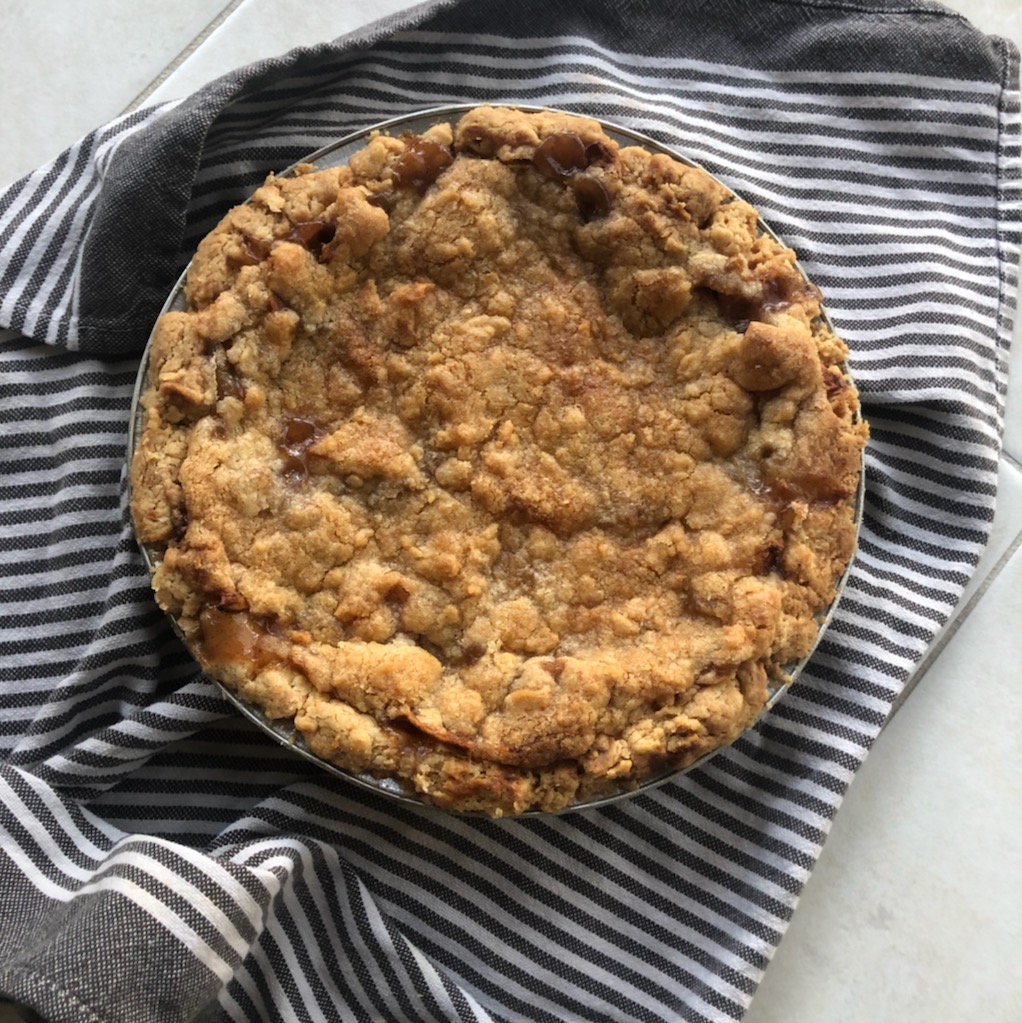 This particular recipe has a delicious crumble topping and a really flaky pie crust that is super easy and doesn't even need to be rolled out. The apple filling is really simple to make and has just the right amount of cinnamon and spice.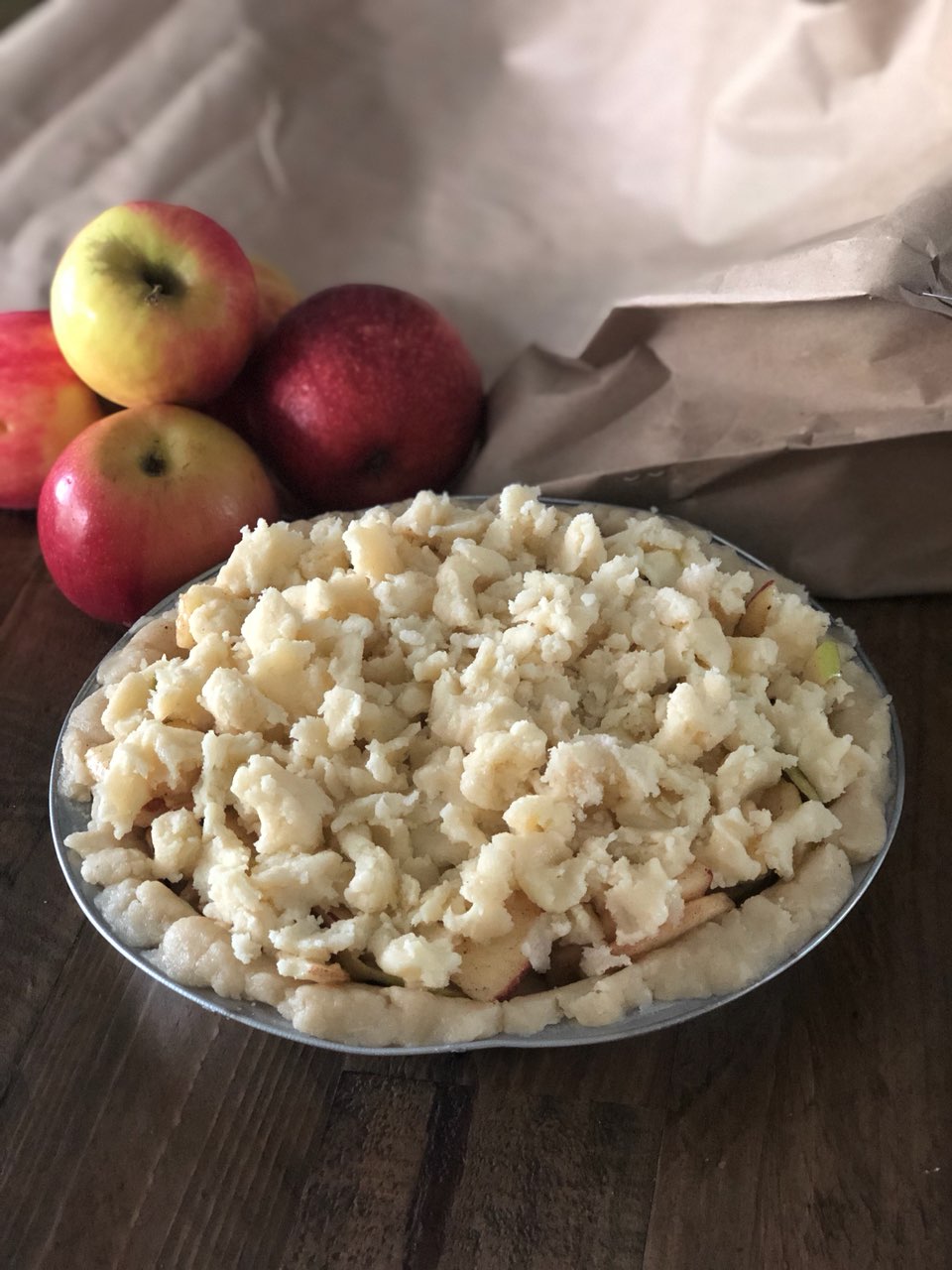 Now, what really puts this recipe over the top for me is eating it with a scoop of vanilla ice cream and topping it with the salted caramel I have in my other article from today's newsletter. You have to go check out that caramel! It is absolutely worth the make.
TIPS FROM READERS FOR PERFECT APPLE PIE:
Before I get to the recipe, I wanted to share a few tips from comments on all the recipes that I read to help you make this pie turn out perfectly.
You can use any apples you have on hand, but try to make sure you have a good portion of Granny Smith or Honeycrisp if you can. These hold up really well to baking and still have some tooth to them when the pie is done—they aren't completely mushy.



I did get a little bit of brown bag smell as this is baking—so to not have any problems with smell or smoke, try to find the most plain brown bag you can. Most people use one from Trader Joe's, which is totally fine, but if you can get one with less ink that is ideal.  They carry really simple brown bags at Aldi for a nickel by the checkout stand if you can get your hands on those. If there are straps on the brown bag, you want to cut them off so there is no glue that could cause smoke.
A lot of readers commented on having success with other flavors of pies as well—blueberry, cherry, etc. One woman said she made the best pecan pie by following the recipe on the back of the Karo syrup bottle, and baking it at 350 degrees for 60 minutes and it turned out perfectly! That sounds delicious and worth a try.
If you'd like it to be a little more browned after the timer is done, you can cut the top off of the bag, or just bake the pie by itself on a cookie sheet for an additional 10 minutes to really brown the pie to your desired level.
Brown Bag Apple Pie
Easy brown bag apple pie with a delicious crumb topping and flaky pie crust. The brown bag helps seal in all of the delicious flavors and leaves you with the best apple pie you've ever tried. Author: Jamielyn Nye Recipe Type: American Total Time: 2 hours
Serving size:
16
Calories per serving:

276




Ingredients:
1 1/2
cups
all-purpose
flour
1 1/2
teaspoons
sugar
1
teaspoon
kosher
salt
1/2
cup
oils
2
tablespoons
cold
milk
4
cups
sliced
apples
1/2
teaspoon
cinnamon
1/2
cup
sugar
2
tablespoons
all-purpose
flour
1/2
teaspoon
nutmeg
1/2
cup
all-purpose
flour
1/2
cup
butter
(softened)
1/2
cup
sugar
Directions:
Crust: Combine the flour, sugar, salt, oil and milk. Mix until well blended. Pat mixture in bottom and side of a 9? pie pan. Do not roll out. (To smooth it out, use the back of a hot metal spoon and gently push down to smooth evenly.) Set Aside.
Filling: Combine sugar, flour, nutmeg and cinnamon. Toss lightly with sliced apples. Let sit 10 minutes for sugar mixture to melt onto the apples and then pour into the unbaked pie shell.
Crumb topping: Combine flour, butter and sugar. Mix together with fingers or a fork, until crumbly. Sprinkle over pie. You'll want to bake soon before the butter mixture softens too much.
Place pie in brown paper bag and staple shut. Bake at 350&degF for 1 1/2 hours. (If oven bakes hot, reduce to 325 degrees. No peeking.) Slit the bag open with sharp knife. Cool on a cooling rack.
Serve the pie warm with vanilla ice cream and caramel on top if desired.
Source:
iheartnaptime.net

Recipe formatted with the Cook'n Recipe Software from DVO Enterprises.
Add Recipe to Cook'n
Sources:
www.iheartnaptime.com
www.allrecipes.com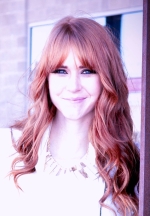 Mary Richardson
Weekly Newsletter Contributor since 2014
Email the author! mary@dvo.com
---
Subscribe to Cook'n Premium and get newsletter articles like this each week!