3 Ingredient Salted Caramel Sauce to Use Again and Again this Fall
When I made my very first apple recently (amazing recipe in my other article for today's newsletter)—after drooling over the pictures on the blog with the salted caramel sauce dripping all over the ice cream and apple pie, I knew there was no other way to make my very first apple pie then to go big and bring all the fixings to go with it.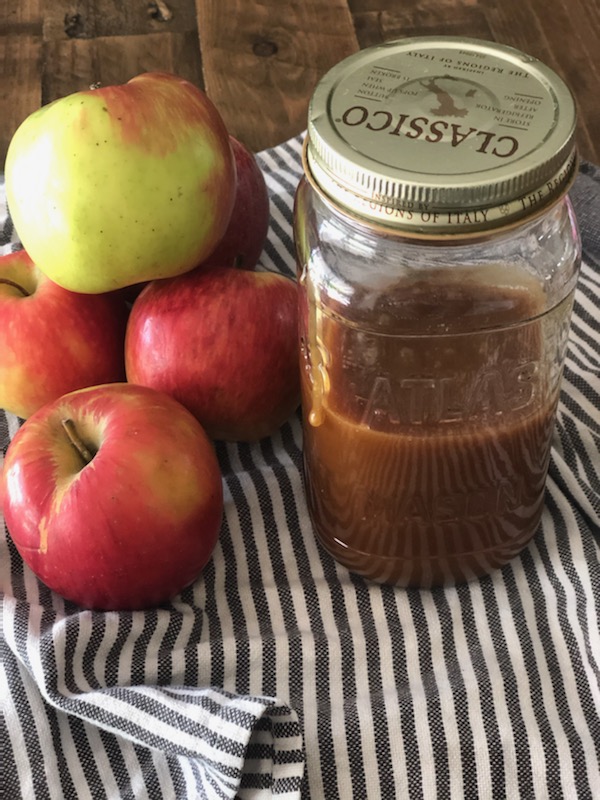 Both the recipe for the brown bag apple pie and this salted caramel sauce come from the blog I heart naptime. When I clicked on the recipe for the caramel, I was expecting a fussy recipe that I probably would make once and be done forever. When I saw that it only had three ingredients and she says it all comes together in under 15 minutes, I was sold.
It is very straightforward recipe that doesn't involve a candy thermometer or anything and you can see the caramel take form right before your very eyes. It is actually a really fun process and so cool to see it all come together!
This caramel is truly over the top when you add a little bit of flaky salt at the end. I used some large flecks of pink Himalayan salt and it was delicious! She recommends adding the salt after it is all the way cooked when you are putting it in a jar. I enjoyed adding my salt to each small batch I would heat up in the microwave for that immediate use. I would add a hefty pinch of salt and it was so fresh and delicious!!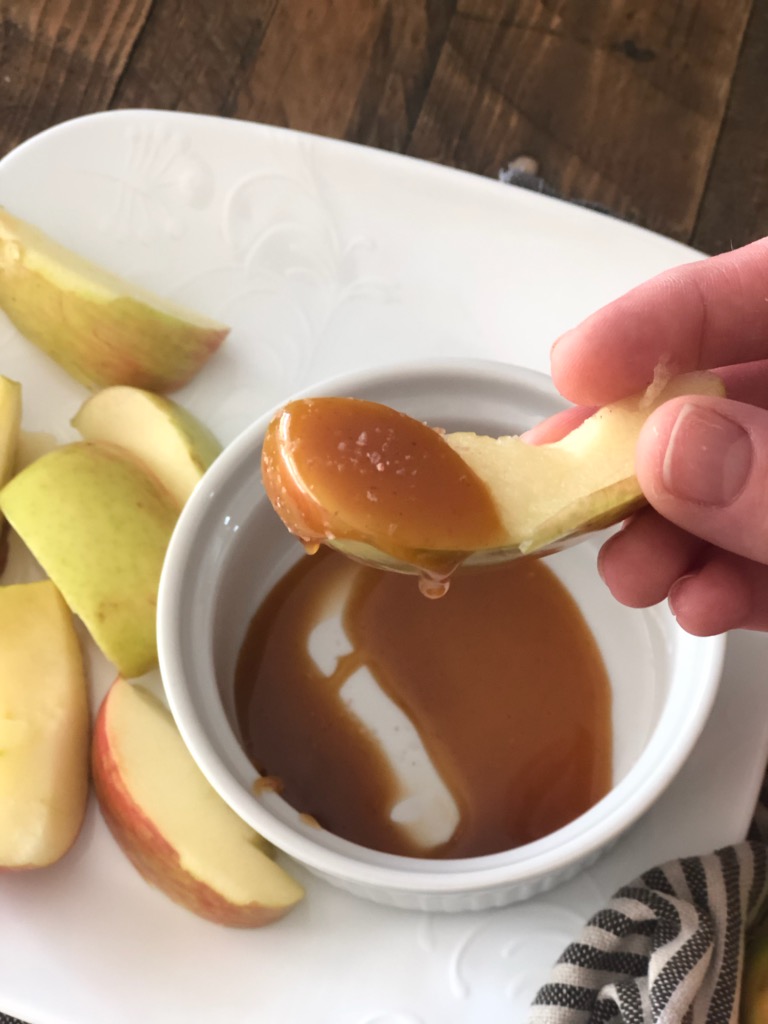 So basically all you're doing is starting with just plain old sugar on the stove top and cooking it until it turns into caramel. Then you add your butter and a little bit of heavy cream and that's all there is to it. You add your salt after it's all the way cooked, or you can choose instead to add for each individual use like I do. Here is a helpful picture for you of the different stages of the sugar turning into caramel. This is what it should look like along the way. At the beginning the sugar will get clumpy and eventually it will melt into a liquid.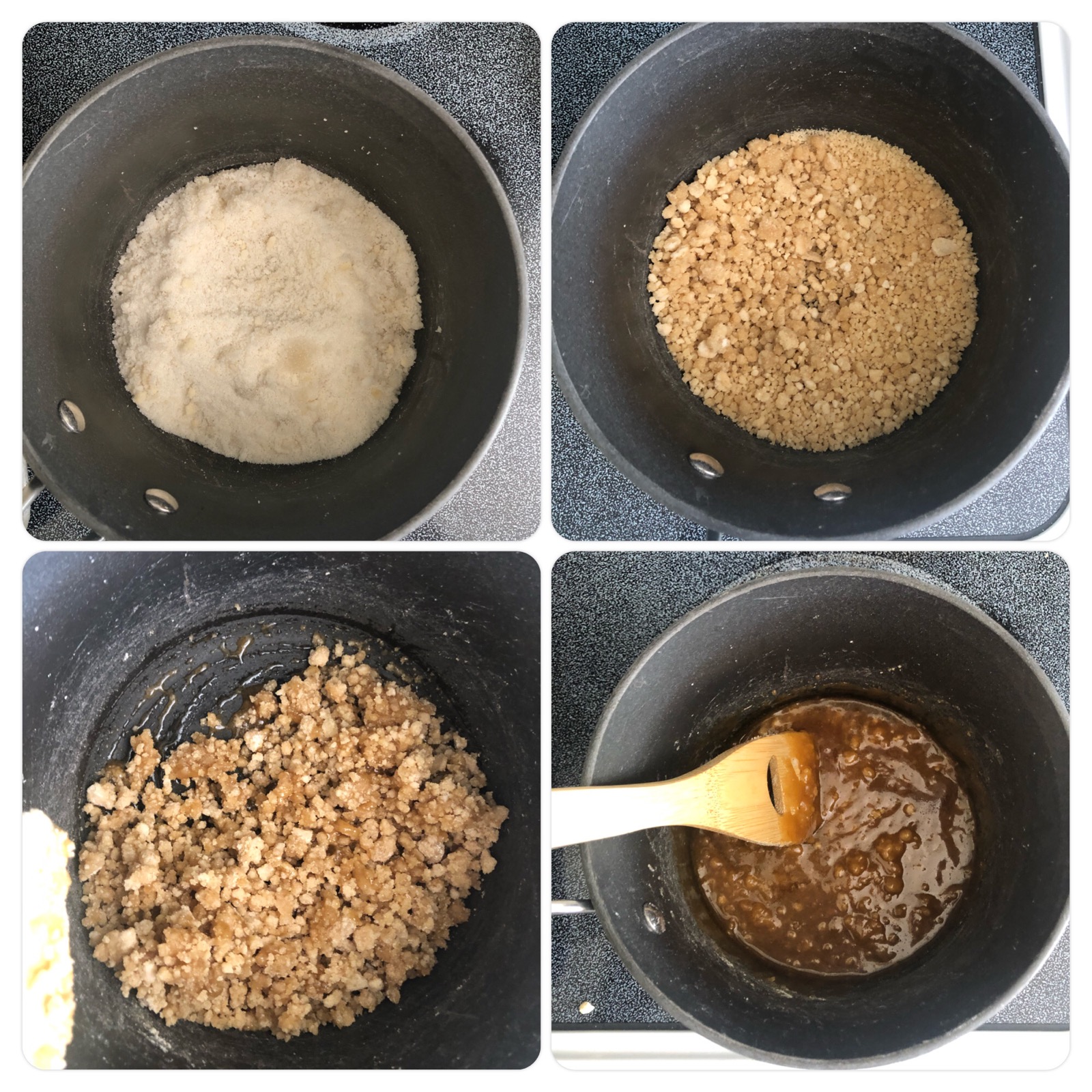 The only thing is, she said hers goes from sugar to caramel in seven minutes, however, it took me about 30 minutes to get mine to the same level. She recommends cooking on medium heat—if you have a gas stove, I think you could totally cook this in seven minutes on medium heat. However, I have a glass stove top in our new house, and I find the cooking times to take significantly longer than with my old gas unit. If you have a glass top stove or coil unit, I would recommend stirring constantly and keeping an eye on it so you can cook it on high or medium high. If you keep your eye on it and keep stirring it shouldn't burn.
She also says you can add a half a tablespoon of water here and there to help speed up the process. I bet I added a half a tablespoon four different times to try to speed along the process. This worked beautifully for me.
I could not believe how delicious it was when I took my first bite. I immediately sliced up some apples to dip in as a snack for the kids and I. We were all in heaven!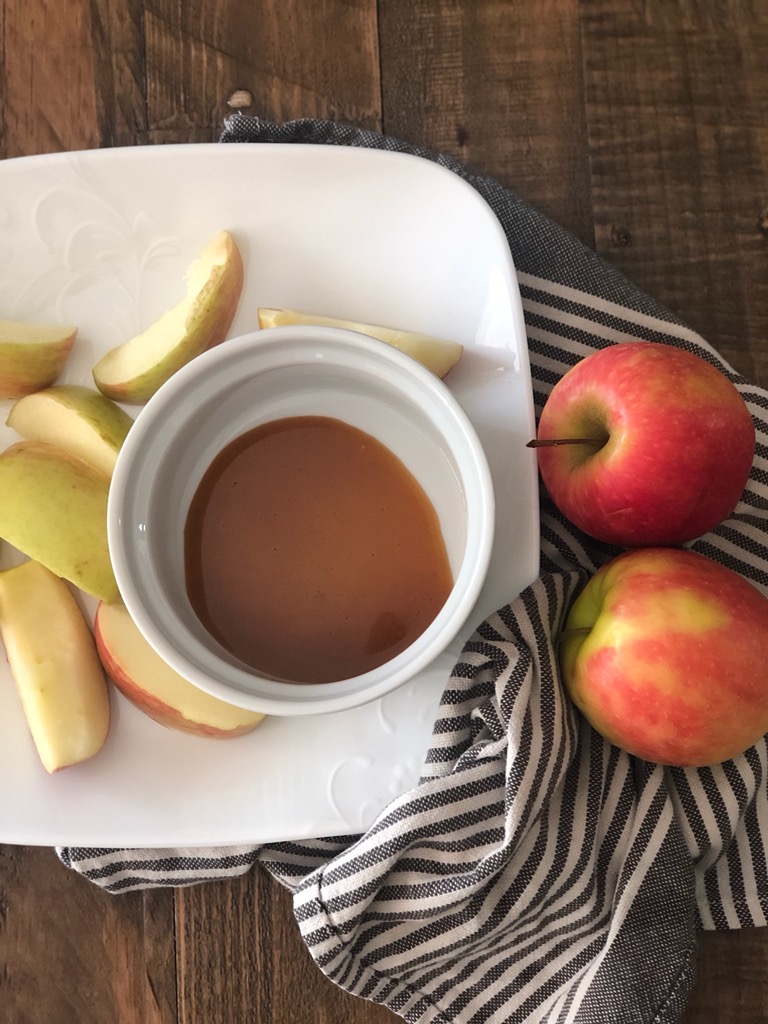 This caramel is so heavenly, it could absolutely stand alone with just a bowl of your favorite vanilla ice cream on any given night. It really shines as the star of the show. But on top of this brown bag apple pie—there are no words!! You won't think of pumpkin ever again this fall if you try this pie and caramel sauce. You are going to crave it time and time again.
I hope you enjoy this caramel sauce recipe as much as my family did!
Homemade Caramel Sauce
Homemade caramel sauce made with only 3 ingredients and done in just 15 minutes! Rich, decadent and full of amazing caramel flavor. This stuff is pure liquid gold! Author: Jamielyn Nye Recipe Type: American Total Time: 15 minutes
Serving size:
18
Calories per serving:

134




Ingredients:
1 1/2
cups
granulated sugar
1/2
cup
salted
butter
(room temp)
3/4
cup
heavy
cream
(room temp)
Directions:
In a medium sauce pan, heat sugar over medium heat. Stir every minute (about 5-7 minutes) with a whisk, spoon or rubber spatula. The sugar will first get clumpy and then start to melt into a liquid.
When the sugar has turned to a liquid, reduce the heat to medium-low. Add butter right away. Grab a new spoon and keep stirring until butter is completely melted and bubbly (about 1-2 minutes).
Slowly pour in heavy cream until it comes to a boil. Then remove from heat and stir constantly for one minute. Add salt if desired. Then let cool for a few minutes in the pan and then transfer to a jar. It will thicken as it cools.
Store in a mason jar for up to 3 weeks in the refrigerator. Warm in the microwave 30 seconds before serving.
Source:
iheartnaptime.net

Recipe formatted with the Cook'n Recipe Software from DVO Enterprises.
Add Recipe to Cook'n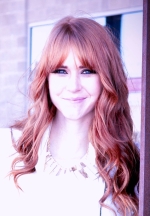 Mary Richardson
Weekly Newsletter Contributor since 2014
Email the author! mary@dvo.com
---
Subscribe to Cook'n Premium and get newsletter articles like this each week!