5 Amazing Ways to Enjoy Peaches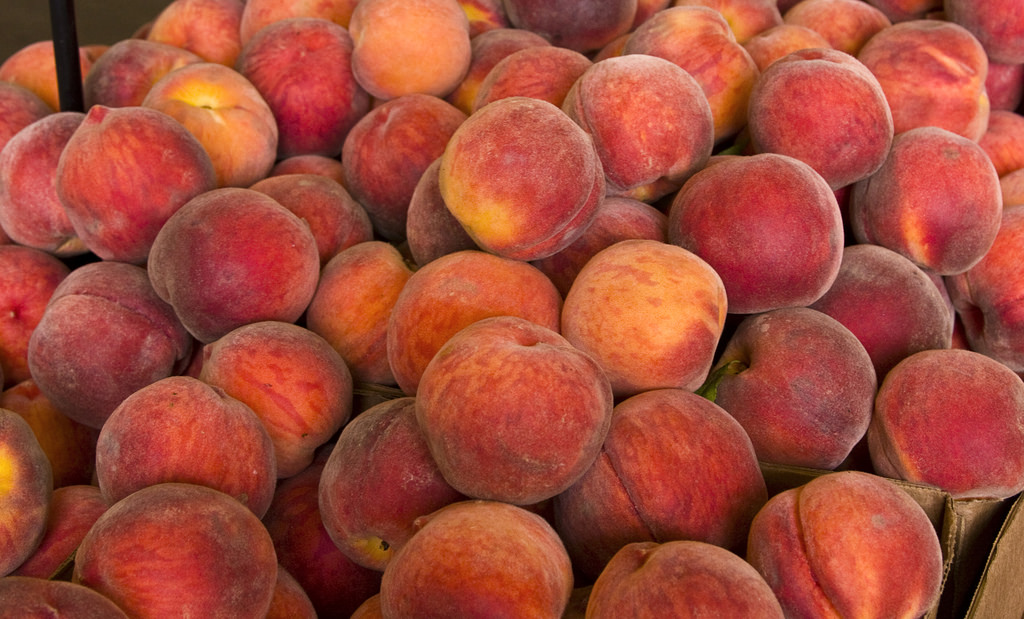 I'm moving to the country. I'm going to eat a lot of peaches. Yes, I'm moving to the country and I'm going to eat a lot of peaches. Peaches come from a can. They were put there by a man in a factory downtown. If I had my little way, I'd eat peaches every day. Millions of peaches. Peaches for me. Millions of Peaches. Peaches for free.
That, of course, was from the song Peaches by Presidents of the United States:
https://www.youtube.com/watch?v=wvAnQqVJ3XQ
It is peach season! Peaches are one of the most delicious fruits, and I would eat millions of peaches, peaches every day, if I could. There are many ways you can enjoy these fuzzy little buddies.
Plain Peach
Of course, the easiest way is just to eat them plain. Make sure you wash them well first.
Peach n' Cottage Cheese
If you want a little more with your peach, you can enjoy them with cottage cheese. This makes for a healthy snack. I've never too much enjoyed eating peaches this way, but many do. So if you are one of those people, enjoy some fresh peaches and cottage cheese this month.
Raspberry Peach Lemonade
What could be better on a hot August afternoon than some raspberry peach lemonade? This is sure to put the lemonade stands in the neighborhood out of business.
Raspberry Peach Lemonade Recipe
1/4 cup agave nectar (or white sugar)

6 ounces raspberries

3 medium peaches, sliced

1 cup freshly squeezed lemon juice
In a medium saucepan, combine 1 cup water and agave over medium heat until the agave has dissolved, about 1 minute. Add raspberries and peaches, and simmer, stirring occasionally, until raspberries have broken down, about 5 minutes.

With the top cap removed, combine raspberry peach mixture in a blender until smooth, about 1 minute; let cool completely before straining through a cheesecloth or fine sieve.

In a large pitcher, whisk together raspberry peach mixture, lemon juice and 5 cups water. Place in the refrigerator until chilled.

Serve over ice and raspberries, if desired.
Add Recipe to Cook'n
Peach Ice Cream
After a great bbq with friends and family, enjoy the sunset overlooking over the landscape with some delicious homemade peach ice cream. My mom used to make peach ice cream and it was always a hit in my family. It barely reached the freezer because we ate it so fast.
Peach Ice Cream Recipe
2½ c. sugar

1 c. whole milk

4 egg yolks

Pinch of salt

2 c. fresh peaches

1 c. half-and-half

1 c. whipping cream

1 tsp. vanilla extract
In a medium saucepan, whisk together sugar, milk, egg yolks, and salt. Place pan over medium-high heat and whisk until mixture reaches a simmer. Lower heat to medium and whisk mixture for 5 minutes or until it begins to thicken. Strain into a large bowl, then whisk in peaches, half-and-half, cream, and vanilla. Cover with plastic wrap and refrigerate until chilled, about 2 hours.

Pour mixture into ice-cream maker; process according to manufacturer instructions.
Add Recipe to Cook'n
Peach Cobbler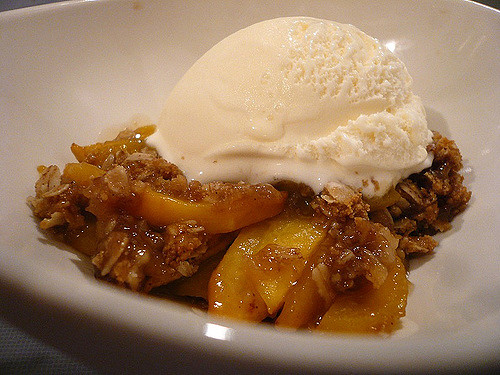 This is by far my favorite peach dish. It was my go-to dessert when I was first learning to cook because it is so easy and yummy. It was always a hit at get togethers in college. Now you can impress your friends and family even if you are a horrible cook!
Peach Cobbler Recipe
1/2 cup unsalted butter

1 cup all-purpose flour

2 cups sugar, divided

1 tablespoon baking powder

Pinch of salt

1 cup milk

4 cups fresh peach slices

1 tablespoon lemon juice

Ground cinnamon or nutmeg (optional)
Melt butter in a 13- x 9-inch baking dish.

Combine flour, 1 cup sugar, baking powder, and salt; add milk, stirring just until dry ingredients are moistened. Pour batter over butter (do not stir).

Bring remaining 1 cup sugar, peach slices, and lemon juice to a boil over high heat, stirring constantly; pour over batter (do not stir). Sprinkle with cinnamon, if desired.

Bake at 375° for 40 to 45 minutes or until golden brown. Serve cobbler warm or cool.
Add Recipe to Cook'n
Now that you have some good recipes, go out to your local farmer's market and get you some fresh peaches. Millions of peaches. Peaches for me!

Rhett Hildebrandt
Monthly Newsletter Contributor since 2017
Email the author! rhett@dvo.com