Maybe the BEST Food Storage Container EVER, + A Quiche Recipe to Die For!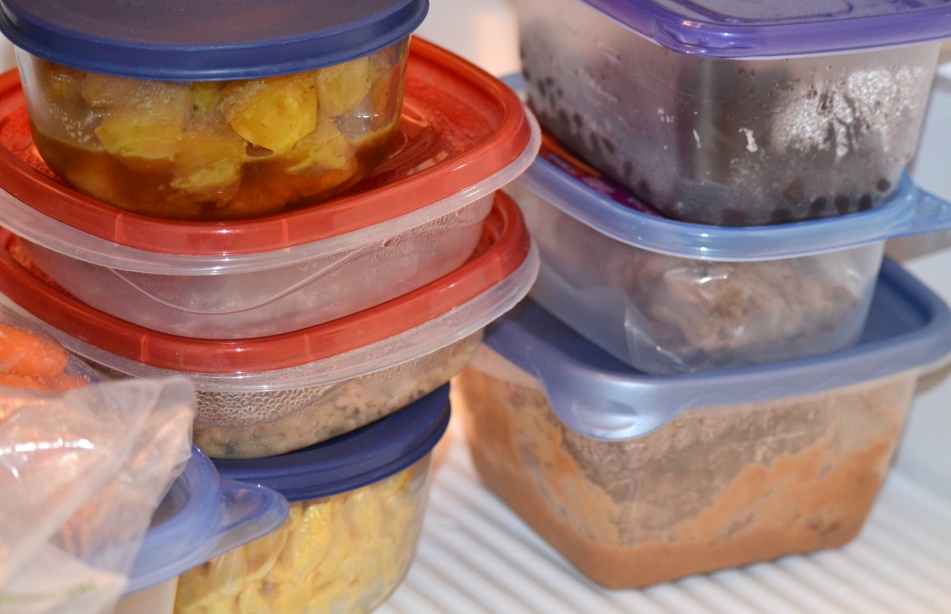 Let's talk leftovers. Not using them, but storing them. And actually, storage containers is my focus.
It's been my experience that the containers available for this job are pretty much alike these days. It all boils down to personal preference. Me, I like glass with tight-fitting lids (Anchor Hocking with the blue or red plastic lids, as an example). My very frugal neighbor, Ruthie, who also prefers glass, stores her leftovers in various sizes of Mason jars. "They're very affordable, they stack well, are fairly air tight, and of course I can with them," is her reasoning. And my daughters are OK with plastic.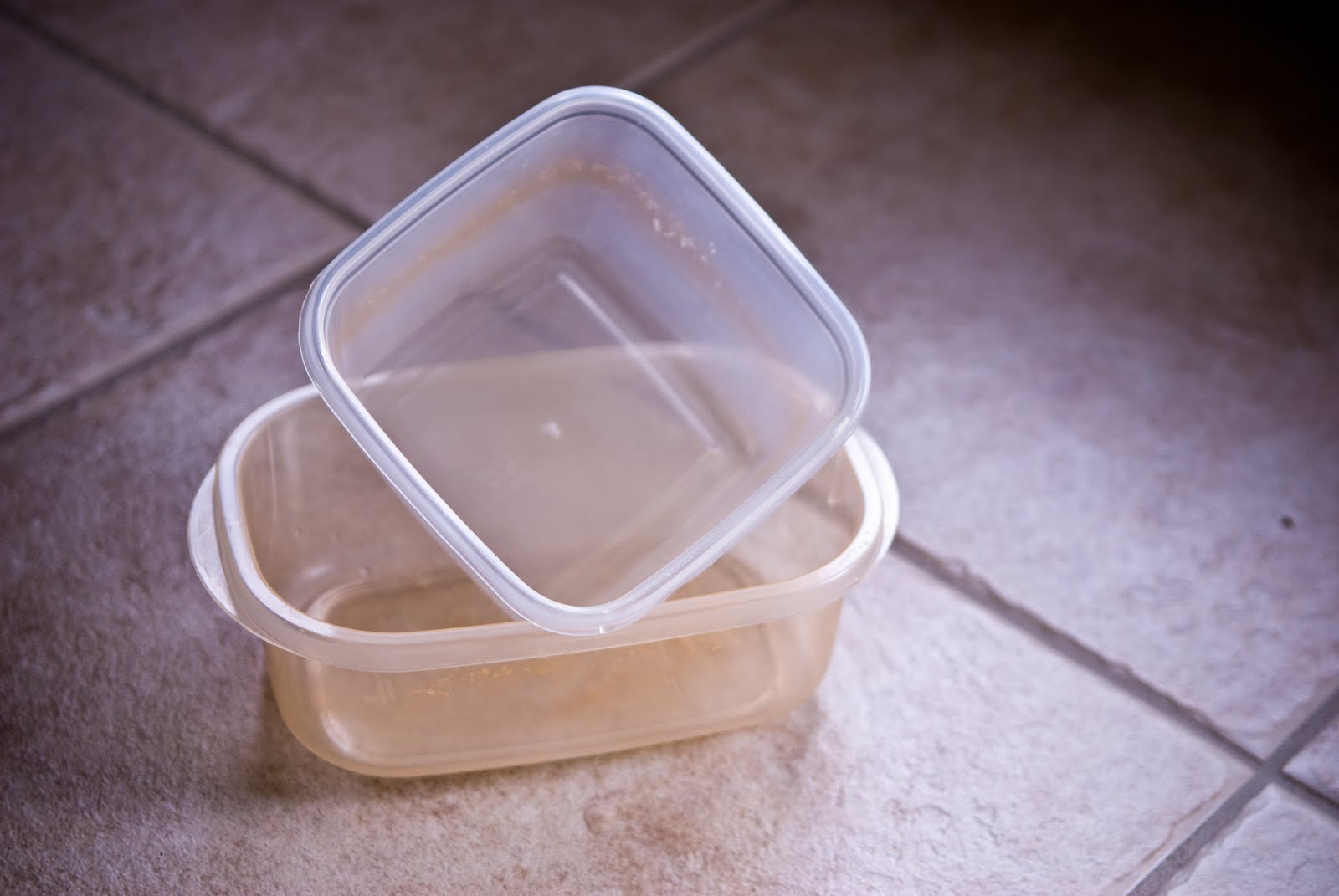 Plastic actually is a proverbial favorite for leftovers storage. But in talking to friends and family about this subject, I hear a common complaint: plastic containers end up with food stains too much of the time. Through some research I found a few tips on how to deal with this annoyance:
Use a baking soda paste (baking soda and water) and rub it into the stain. You can then rinse with vinegar (optional) and wash normally.

Another method is to place your container outside on a nice sunny day and the sun actually bleaches the stain out.

However, to avoid stains in the first place, spray your container with cooking spray before putting things in it that are prone to discolor (such as spaghetti sauce, for instance).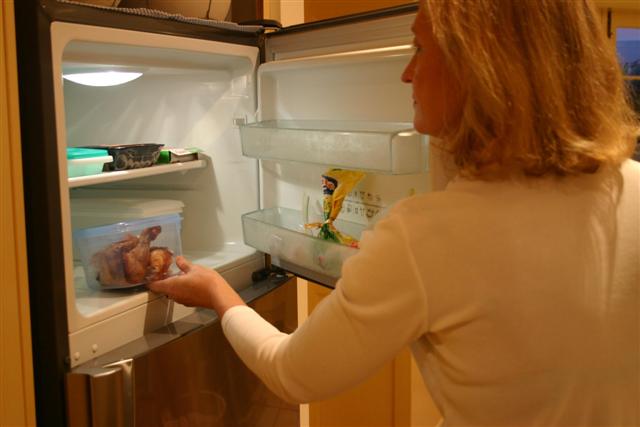 A good storage container should not only work well in the refrigerator, but in the freezer, also. Not all containers are suited for freezer use, though. Some become very brittle and can crack if bumped at freezer temperatures. I lost a lot of my 1970s Tupperware to this very scenario.
So the perfect fridge-to-freezer container is designed to handle extreme temperatures to eliminate all cracking possibilities. You also want it airtight so there are no freezer burn possibilities. And since you want to be able to see what's inside (for fridge or freezer), you want clear containers.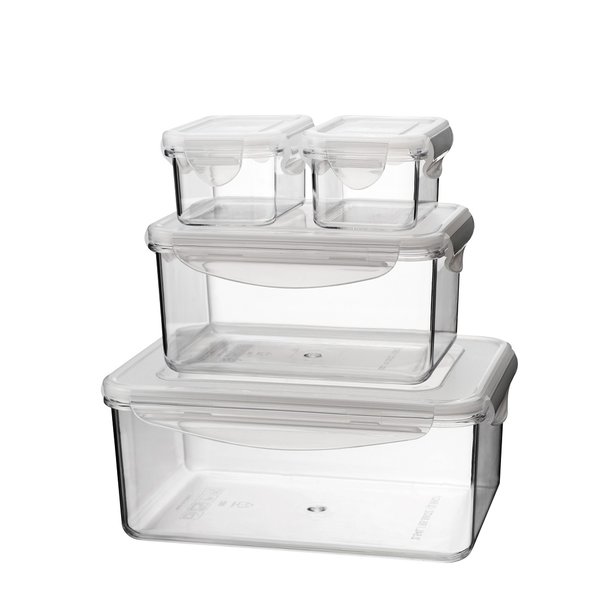 Some more research turned up a terrific product, the Tritan Food Storage Set. These are shatter-and crack-resistant plastic containers that are BPA-free (making them ultra safe for food storage). They come with silicone sealed plastic lids for airtight and watertight storage.
Besides being refrigerator and freezer safe, they're microwave and dishwasher safe. This Tritan material is super-clear and stain resistant. And speaking of microwaving, you can actually microwave these with the lid on (unlike most plastic storage containers). You just open the vent first—how wonderful to have spatter-proof thawing or reheating!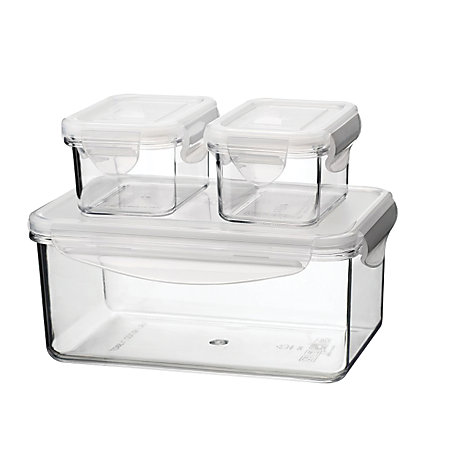 But wait, there's more. Not to sound like an info-mercial, but Tritan containers also save space because of their square and rectangular shapes. And the price is good. A six-piece set, ranging from 6-ounce to 51-ounce capacity, is $16.99 (at Office Depot, of all places).
I have no vested interest in this product or company, I'm just enthusiastically passing on information. There are other good food storage container choices out there, but to find a plastic container with the above features isn't that easy. So I'm very jazzed about this product. I'd love to know your thoughts on these if you do try them.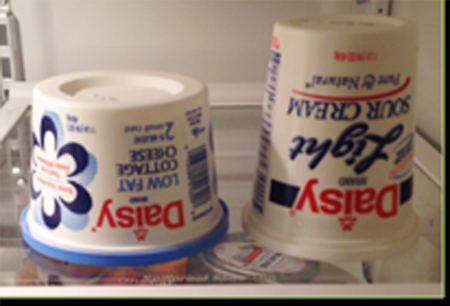 Finally, here's a tip on storing your cottage cheese, sour cream and yogurt. You'll keep them fresher longer by storing them upside down. Who knew?
And to close, why not a terrific recipe for a cottage cheese quiche. This uses zucchini (you gardeners can thank me later), makes great leftovers (stored in a see-through, air-tight container, of course), and can be prepped a day ahead for later baking. It's delicious!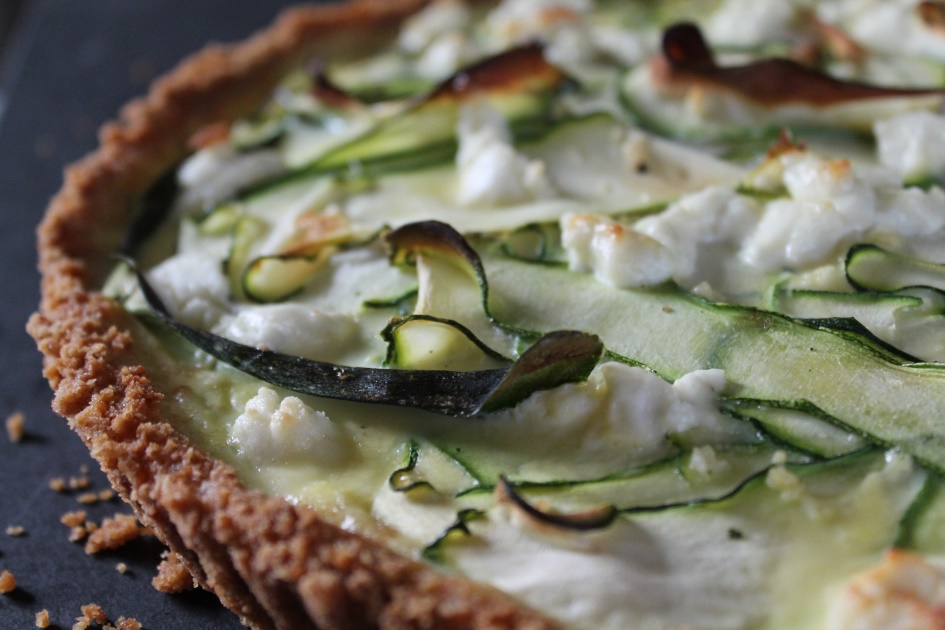 COTTAGE CHEESE AND ZUCCHINI QUICHE
(serves 6)
4 tablespoons unsalted butter, melted, divided
24 whole grain wheat crackers (Triscuits® or other cracker) ground in a food processor (about 1 cup) or 1 cup dried bread crumbs
1 medium zucchini (about 6 ounces)
Kosher salt
1 tablespoon extra virgin olive oil
¾ cup finely chopped onion
1/4 cup unbleached all-purpose flour
1/2 teaspoon baking powder
3 large eggs
2 cups freshly grated Monterey jack cheese
½ cup grated Parmesan cheese
1 cup whole-milk cottage cheese
1 (4.5-ounce) can chopped mild green chiles, drained
Zucchini strips for top (optional)
Bottled salsa (optional)
Preheat the oven to 375°F.

Stir 2 tablespoons of the melted butter into the cracker crumbs.

Press the crumb mixture into the bottom and 1-inch up the side of a 9-inch glass pie plate.

Bake the crust in the center of the preheated oven until it begins to brown, about 7 minutes.

Remove the crust from the oven and reduce the oven temperature to 350°F.

Meanwhile, grate zucchini.

Toss zucchini with 1/2 teaspoon salt and let drain in a colander for 10 minutes.

Heat oil in a medium skillet over high heat until hot.

Reduce the heat to medium; add the onion and cook, stirring occasionally, until softened, about 5 minutes.

Squeeze the zucchini well to remove excess moisture. Add the zucchini to the onion and cook over high heat for 3 minutes.

Stir together the flour, the baking powder, and 1/4 teaspoon salt in a small bowl until combined.

In a large bowl with an electric mixer, beat the eggs until thick and fluffy, about 3 minutes.

Add cheeses, the flour mixture, and remaining melted butter to the eggs and beat well.

Stir in the zucchini mixture and chiles and pour the mixture into the crust.

If using, top with zucchini strips.

Bake quiche in center of oven until the top is puffed and golden brown and a cake tester inserted in the center comes out clean, 35 to 40 minutes.

Set aside at room temperature 5 minutes, cut into wedges, and serve with salsa, if desired.
Add Recipe to Cook'n
Sources:
www.k-state.edu
www.learnhow-to.com
www.chicken.org.au
www.officedepot.com
www.abc-oriental-rug.com
www.smellslikebrownies.com

Alice Osborne
DVO Newsletter Contributor since 2006
Email the author! alice@dvo.com