Mocktails: Alcohol-free drinks that are fun, tasty, and 5-star refreshing
My husband and I vacationed at an all-inclusive resort for the first time last year. We were hesitant to book there because we don't drink alcohol, and we didn't want to pay for unlimited drinks that we wouldn't be drinking. It turns out we were nervous for nothing! We drank at least ten mocktails each day, making our all-inclusive rate more than worthwhile!
A Mocktail is a non-alchoholic drink which consists of fruit juices, syrups or soft drinks. Mocktails are for people who want flavorful fun drinks, without the alcohol. We enjoyed our mocktails on vacation so much that we came home eager to learn how to make a few to enjoy on a summer afternoon or with company. So I turned to Pinterest to get me started with a few recipes! The photos are what initially lured me in, but these recipes are easy enough and rank a 10/10 on the delicious scale! The peach raspberry lemonade has become one of my favorites!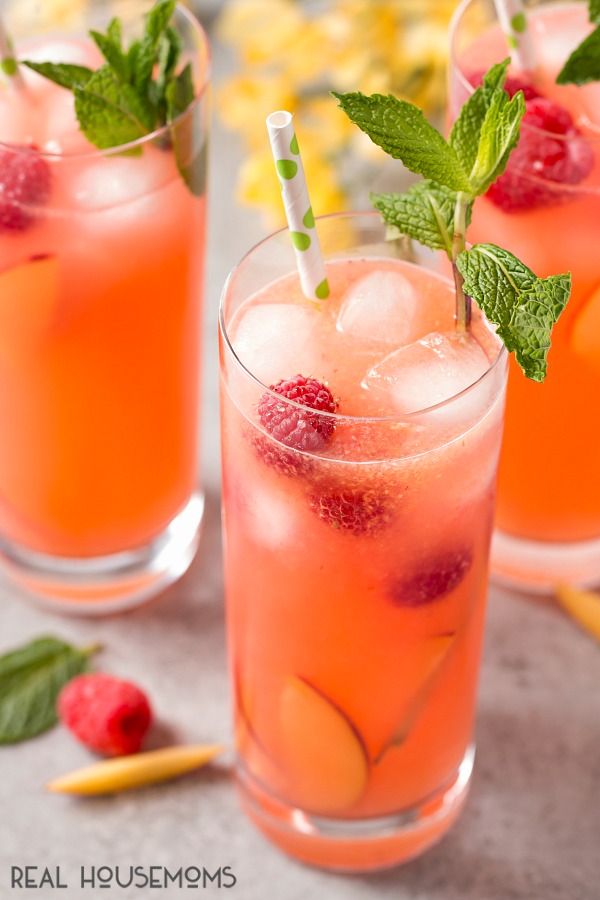 The thing about mixing drinks is that you can use the directions as a method, and substitute in various flavors and proportions to change the taste of your drink. Use this recipe as a jumping off point and feel free to make adjustments according to your preference and ingredients on hand! I think fresh ingredients are always better, but with drinks you can thaw frozen fruit if you have it already. Let's get started!
PEACH RASPBERRY PUREE
4 peaches, pits removed and flesh diced into chunks
1 cup fresh raspberries
1 cup water
SIMPLE SYRUP
1/2 cup granulated sugar
1/2 cup water
LEMONADE
7 cups water
1 1/4 cups fresh lemon juice (from approximately 4 lemons)
Ice cubes
TO SERVE (optional)
Additional fresh raspberries
Peach slices
Sprig of mint
First, add 4 peeled and chopped peaches, 1 cup fresh raspberries, and 1 cup water into your food processor or blender until it's a smooth puree. Then strain that puree using a sieve to get rid of any excess skins or seeds. Now add ½ cup sugar and ½ cup water to a saucepan over the stove until the sugar dissolves. Boil for 3 minutes until the liquid becomes a syrup consistency. Set aside to cool.
Now add 7 cups of water, lemon juice and ice cubes to a large pitcher. Stir this up and add the sugar syrup and raspberry liquid. Stir to combine. Now you can store it in the refrigerator until you're ready to serve it, preferably with a sprig of mint on top!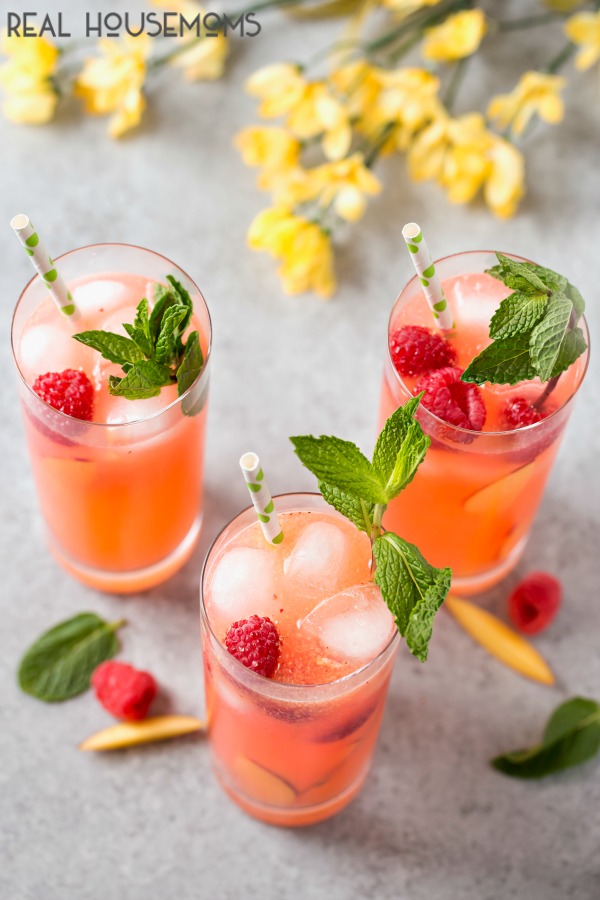 This peach raspberry lemonade is a great way to bring some summer color and flavor into your life and parties, without any complicated ingredients. Enjoy being transported to a tropical locale while you sip away in solitude or with friends! I hope you enjoy it as much as I do!
Add Recipe to Cook'n
Sources:
http://realhousemoms.com/peach-raspberry-lemonade/

Stefanie Hathaway
Monthly Newsletter Contributor since 2016
Email the author! stefanie@dvo.com