Squash Blossoms Take Cooking to a Whole New Level!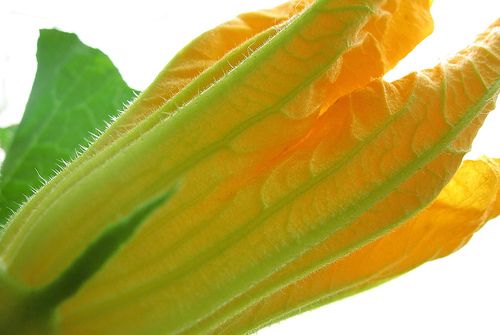 Those of you who grow gardens are familiar with this remarkable blossom. The squash blossom is the precursor to every squash we eat.
Squash blossoms aren't just pretty, some are even edible. The light and delicate blossoms from any winter and summer squash are delicious and loaded with health benefits as well. For instance:
One cup of squash blossoms only has five calories!

They also have only one gram of carbohydrates.

They're high in calcium.

They're high in iron.

They're especially high in vitamin C.

They're especially high in vitamin A.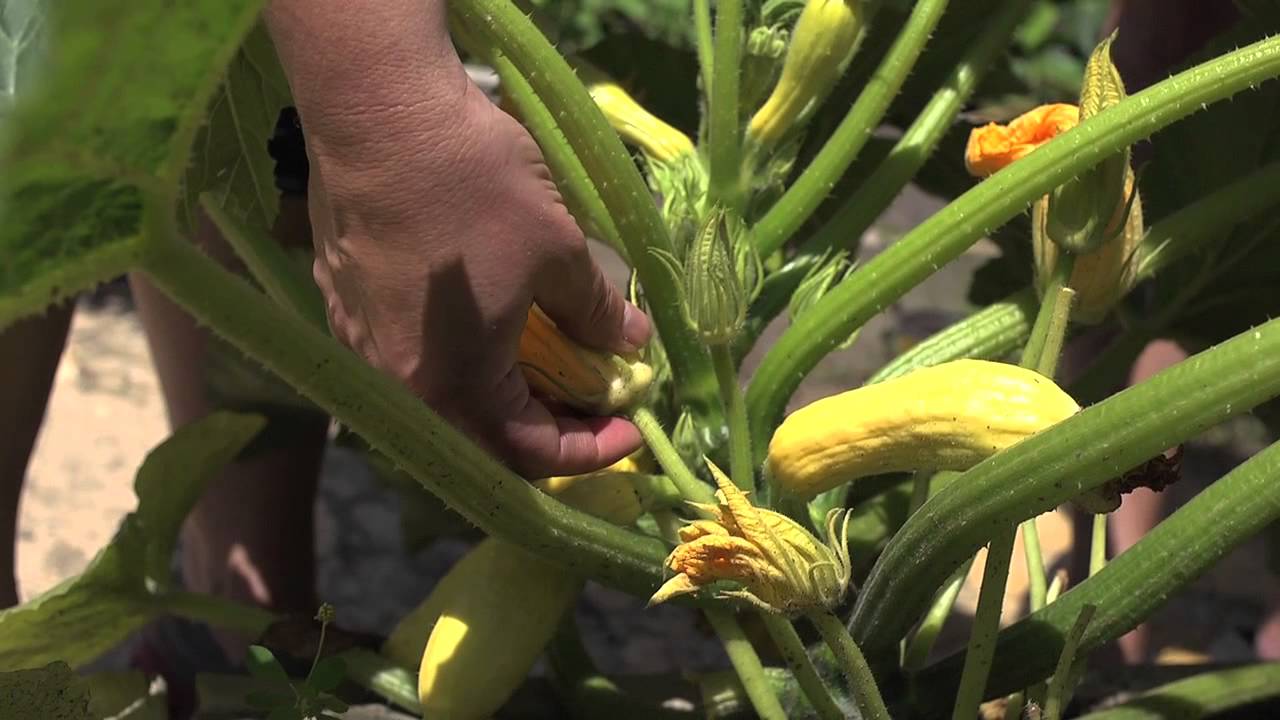 Squash blossoms are extremely perishable and should be stored in the refrigerator for no more than a day. For best results, they should be used within just a few hours after picking. Thus you'll seldom find them at supermarkets where produce is flown in from all around the world. Typically, you have to come by these bright and fragile delicacies at your local farmers market or even better, in your own or your neighbor's garden.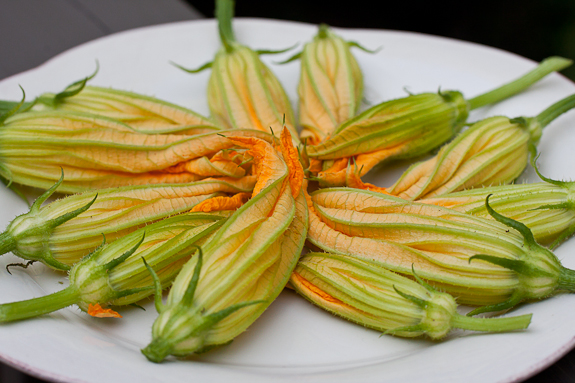 You'll notice that they're naturally soft and somewhat limp. When selecting, choose those that look fresh, with closed buds.
Their flavor is light and airy (as the blossoms are themselves). They have a hint of the squash from whence they've come. These blossoms are a favorite garnish for professional chefs in high end restaurants, but can be used for much more than pretty garnishing (in soups, salads, entrees). They're actually used in all manner of cooking, and are large enough for stuffing. You should try using them; they can take your cooking to a whole new level.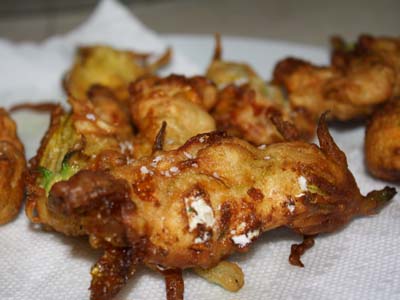 It's true: Blossoms are unbeatable when stuffed with cheese and breadcrumbs (or cooked rice), dipped in batter, and lightly fried. For a healthier version, consider baking them instead of batter-dipping and frying.
It takes a little bit of work, but they make a spectacular appetizer. The pros at Food Network (www.foodnetwork.com) experimented with recipes for everything from tempura batter to egg batter to beer batter. Their conclusion was that all batters work well, but they do advise that for frying you want to make sure the oil is at the proper temperature (a thermometer helps). This way, the food absorbs the least amount of oil, which helps keep the calories and fat under control.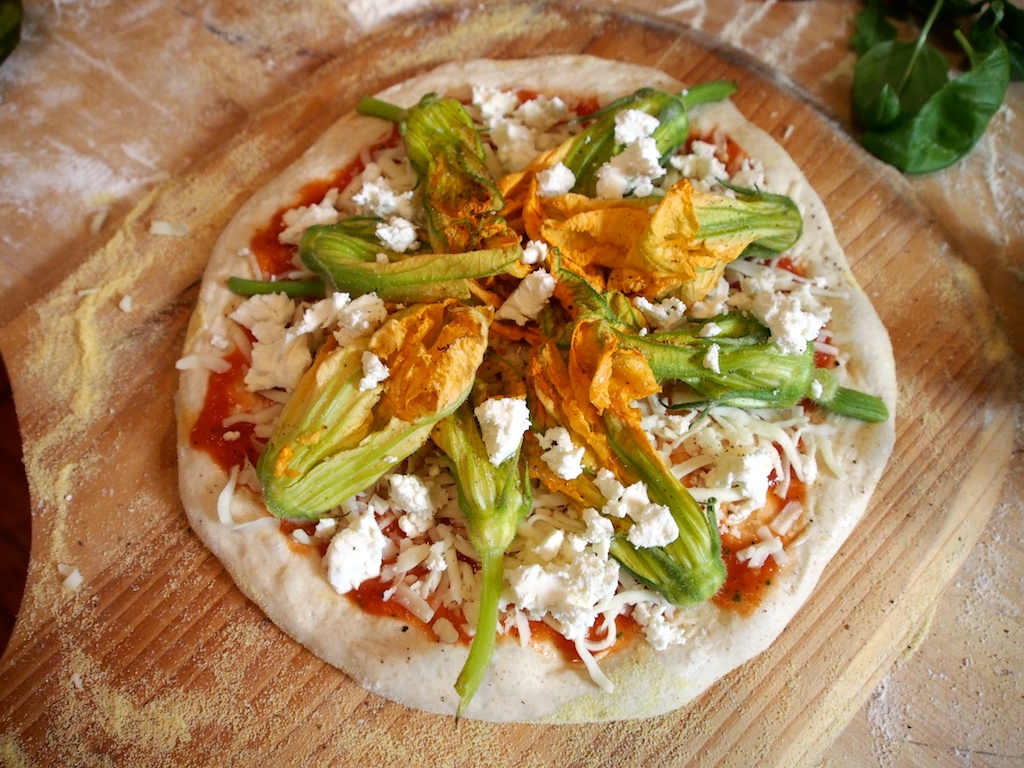 Squash blossoms also make a gourmet pizza topping as well as a pasta sauce or salad addition. To do this you can use them whole (as the photo shows) or you can gently tear or make a chiffonade of the blossoms. I've even added them to my stir frys. And their mild flavor makes them easy to work with. They contribute a pleasant flavor and texture to quesadillas, for instance. And try adding them to your creamy fresh veggie soups; the flavor sparkle that results takes your dish to a whole new level.
Don't you think eating these blossoms now and then is a clever idea? After all, what gardener doesn't end up with way more squash than he or she can eat in any given garden season? So eating the blossoms is a cool way to control the amount of squash you have. No more nightmare harvests!
With all this said, I'll close with a favorite recipe that puts these beautiful flowers to work as the above-mentioned appetizer. Thanks goes to the folks at the Food Network Blog for this. See what you think: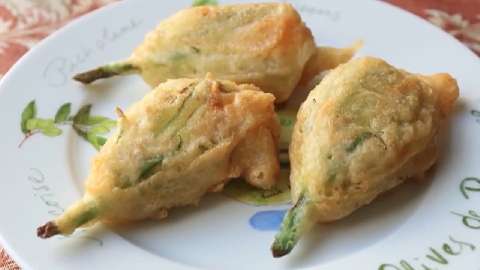 CRISPY SQUASH BLOSSOMS
(yield: 14)
1/2 cup part-skim ricotta cheese
3 tablespoons chopped fresh basil
1/4 cup shredded part-skim mozzarella cheese
Canola oil for frying
1 cup all-purpose flour
1 cup milk
1/8 teaspoon kosher salt
1/8 teaspoon freshly ground black pepper
14 squash blossoms
Place ricotta in a small bowl lined with cheesecloth or a paper towel. Cover with plastic wrap and place in the refrigerator to drain for 1 to 2 hours. Combine strained ricotta, basil, and mozzarella in a small bowl; mix well with a fork. Transfer cheese mixture to a resealable plastic bag and cut off one of the corners so that the filling can be squeezed out. Gently pull away the leaves of each blossom and squeeze in about 3/4 to 1 teaspoon of the filling. Close the petals and gently twist at the top to seal.
To prepare the batter, combine flour and milk. Season with salt and pepper and whisk to combine.
Heat oil in a medium saucepan to 350-degrees. Dip the stuffed blossoms in the batter and allow any batter excess to drip off. Gently place in hot oil and fry, turning once, until golden – about 2 minutes. Transfer to a paper towel to drain. Sprinkle with additional salt if desired and serve immediately.
Add Recipe to Cook'n
Sources:
www.organicauthority.com
www.blog.foodnetwork.com
www.pratesiliving.com
www.tastycrush.com
www.youtube.com
www.allrecipes.com

Alice Osborne
DVO Newsletter Contributor since 2006
Email the author! alice@dvo.com