How to Get Your Kids to Cook Dinner: Cowboy Quesadillas
My two daughters are always cruising around underfoot while I'm preparing dinner. They are hungry, tired and want attention. Instead of shooing them out of my way, or turning on a show for them, I have been trying to find recipes they can help with instead. It's definitely easier said than done, but involving them in the cooking process makes for a happier dinner hour all around. Cowboy quesadillas are a meal they are excited about and can help with. They love plain cheese quesadillas, so starting with a known food opens their minds to trying it with the various fillings. Perhaps this recipe will work with your kids too!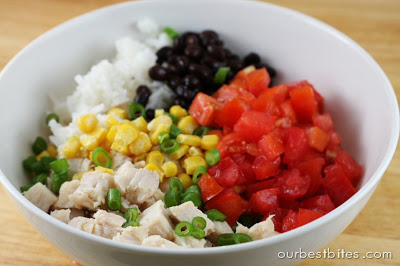 Ingredients:
1/2 C white rice
1/3 C black beans
1 cup diced cooked chicken (or shredded rotisserie chicken)
1/3 C fresh frozen corn kernels (no need to thaw)
2/3 C diced tomato
3 Tbs sliced green onion
1 1/2 C shredded cheese (any type or combo you like)
1/4 C bbq sauce
6 small tortillas (fajita size, about 6″)
Dipping Sauce
Equal parts bbq sauce and ranch dressing
I typically have leftover white rice in my fridge, so this is a great chance to use that up. If you don't have any, skip it! Start by combining rice, beans, chicken, corn, tomato, green onion and shredded cheese.  I use picked apart rotisserie chicken since all the work is done and it has tons of great flavor! My kids open the cans of beans and corn with a can opener, and pour them into the mixture. They can help rip up tabletalk
Heat up your saucepan and spray with cooking spray. Then portion the mixture out on the tortillas in your pan and fold to close. Cook for 2-4 minutes or until golden brown and crispy. Flip and repeat on the opposite side.  You can serve with a dipping sauce made of equal parts barbeque sauce and ranch dressing. Kids love dipping foods!
Add Recipe to Cook'n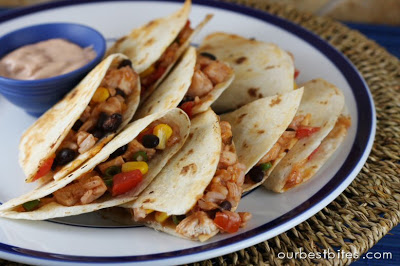 What are some of your tricks for cooking with kids? How do you manage the 5 o'clock hour? Any ideas or kid friendly recipes are welcome in the comments!
Sources:
http://ourbestbites.com/2010/10/cowboy-quesadillas/

Stefanie Hathaway
Monthly Newsletter Contributor since 2016
Email the author! stefanie@dvo.com