Thanksgiving in the 50 States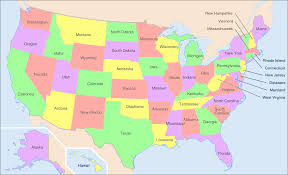 Thanksgiving dinner is the most anticipated meal of the year in many American homes. Part of what makes Thanksgiving dinner so special is tradition. Most of us eat turkey, mashed potatoes, gravy, cranberry sauce, stuffing, rolls, and pumpkin pie. Of course, we all have our own variations of these things; and we all have other things that we like to eat with our turkey. In my house growing up, my mom always made a delicious green jello salad that I looked forward to each Thanksgiving. In recent years, I have spent many Thanksgiving dinners with my husband's family. Now I look forward to his grandma's yams every year.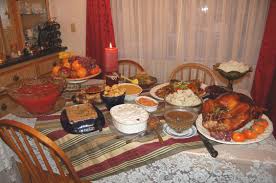 While researching Thanksgiving traditions across the country, I found an interesting article from the New York Times written last November. The title of the article is, The United States of Thanksgiving. This article is basically a collection of Thanksgiving recipes from each of the fifty states. Although I doubt these specific recipes are commonplace on Thanksgiving, I think the author did a great job trying to capture the flavors and essence of each state.
Here are some of my favorites from the article…
-Double Apple Pie from New York
-Cranberry Sauce with Chiles from Arizona
-Hasselback Potatoes with Garlic-Paprika Oil from Idaho
-Lobster Mac and Cheese from Maine
-Pawpaw Pudding from West Virginia
-Turkey Tamales from Texas
-Sweet Potato Cornbread from North Carolina
-Russian Salmon Pie from Alaska
(If you would like to see the recipes for any of these or check out recipes for the other states, click on this link: http://www.nytimes.com/interactive/2014/11/18/dining/thanksgiving-recipes-across-the-united-states.html )
Since I live in Utah and Utah is known for its jello recipes, I will share my mom's amazing green jello salad recipe with you. Enjoy!
Auntie's Green Jello Salad
1 lrg. box Lime Green Jell-O
1 8 oz box Cream Cheese (let stand at room temperature)
1 lrg. container Cool Whip (keep frozen)
1 lrg. can Mandarin Oranges
1 lrg. can Fruit Cocktail
1 lrg. can Crushed Pineapple
Open cans of fruit and reserve all liquids. Pour 1/2 of the fruit juices in a sauce pan and heat to boiling. Add box of jello to the boiling juices; dissolve and set aside.

Put cream cheese in a large mixing bowl, next add frozen Cool Whip, along with the hot "Jello juice". Mix until cream cheese is thoroughly dissolved.

Stir in fruit. If mixture appears thick, add remaining juices held in reserve, if the mixture is thin, toss remaining juices...

Pour into large casserole dish, cover with plastic wrap and store in refrigerator until hardened. This recipe makes a large amount of Jello salad for a crowd; the ingredients could be cut in half for a family-sized portion.
Add Recipe to Cook'n
What state do you live in? Did the New York Times represent your state well? What are your favorite Thanksgiving food traditions?

Cristina Duke
Monthly Newsletter Contributor since 2014
Email the author! cristina@dvo.com