Meal in Minutes Gifts
With Halloween and Thanksgiving not too far before the Christmas gift-giving season many of us spend nearly two months in some degree of sugar coma or another. All too suddenly we find ourselves making a list, and checking it twice. We all have family, neighbors, friends, and co-workers that we'd like to acknowledge at Christmas. Gift giving is such a fun, personal way for us to share our love and appreciation for the people in our lives, but it can become a very expensive and stressful prospect.
So how do you find something that everyone can use, doesn't cost a fortune, and really shares a piece of your heart? Food!
But what to give? By about December 16th, most of us have eaten our sugar allowance for the following year, and although cookies and fudge are delicious, it is nice to do something different for a change. Don't get me wrong, I can appreciate a plate full of cookies like anybody else, but here we want to talk about a couple of ideas that can really step it up! From casual neighbor gifts, to lovely gift baskets perfect for your friends, let's talk about a few ways to wow this Christmas!
When you are running around buying gifts, wrapping presents, hitting holiday parties, and visting Santa at the mall, December can be so hectic, who wouldn't like the gift of an easy meal that can be thrown on the stove and ready in no time?
With the weather so cold outside, soup makes a perfect cozy meal, but you don't want to make soup and then find out they've already got something else in the oven, or they are heading out the door to grandma's for a week (can a mason jar of chicken noodle soup make it through TSA security?).
Putting together a dinner in a gift basket, with all the fixings, allows them to plan whether to make it right away, or to save it for a night when things are crazy and it would otherwise be cereal or PB&J.
Here are three wonderful gift basket ideas that are sure to share the warmth from your table to theirs!
---
Soup in a Basket
Make or buy (we won't tell) a good dry chicken noodle soup mix and fill a basket with that, a can of chicken, and some carrots and celery and you have given them the makings for a wonderfully warm meal for whatever night they need it!
Another variation is to get a get a creamy potato soup mix, a can of clams, and a couple stalks of celery for a quick and easy clam chowder.
Finish off either basket with some oyster crackers and wrap it up nice and pretty and don't forget to add a note with cooking instructions and something clever wishing the a "SOUP"er Christmas. Everybody will want to be on your list!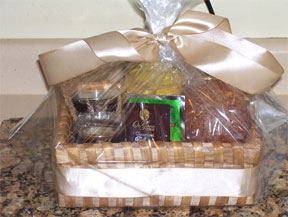 (Photo credit: http://www.michaelchase.ws)
---
Pasta Perfect Basket
Just like it sounds, this basket is filled with pasta, parmesan, frozen breadsticks, a wonderful jar of sauce (bonus points for homemade!), and anything else you like to add to a quick, easy pasta night.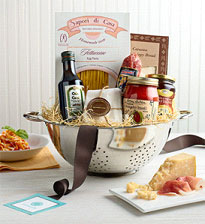 (photo credit: http://gushevents.wordpress.com/)
---
Cookie Night Basket
Yes, I know that cookies aren't actually a meal... though wouldn't that be amazing? This basket gives them all the fixings for a simple, fun, and delicious family cookie night without all the work. Frozen cookie dough (again, homemade is ideal), some frosting, sprinkles, candies, and a couple of cookie cutters and you have given them everything they need to make some yummy cookies and wonderful memories!
Make sure to check out Cook'n Gifts in a Jar or The Mason Jar Soup To Nuts Cookbook for great recipes you can use for these gifts and dozens of others!
This holiday season I hope your hearts and homes are warm and full of love.