The Gift That Keeps On Giving!
We all know that food gifts are a great way to go for family, friends, neighbors, and teachers during the holiday season. But we also know that holidays seem to be FILLED with food, and that come January 1st, we might be regretting that 4th plate of holiday cookies we got to know way to well.
So when is a food gift NOT a food gift? When it is a recipe book to MAKE favorite foods, of course!
We've all gone to that neighborhood potluck and found a delicious dish we'd love to know how to make, right? Or maybe you have recipes for things that you make every year for special occasions because you can remember your own mom and grandma making them way back when. Cook'n makes it simple to enter and organize these recipes into a wonderfully personal cook book for any group!
So here are some steps you can take to create a recipe book of your own to give to the special people in your life: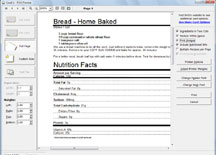 1. Decide on a format. You could do an actual bound book with photos or just print them onto paper and staple, or almost anything in between. It just depends on how much time, effort, and money you want to put into it. The beauty of using Cook'n is that once it is in there you always have it and can reprint as necessary. Not to mention all of the searching, nutritional information, and shopping list features!

2. Decide who will receive your book. If you are going to give a copy of treasured childhood recipes to each of your siblings, you might be willing to go to more time and expense. If you want to give one to all 179 coworkers at the office, you might need a more frugal approach.
3. Begin collecting recipes. For a book of favorite childhood treats, you might have all the recipes, or it might require a few phone calls to great-aunt Mildred to get all the ones you want. For a neighbor or work recipe book, try sending out an email or posting on facebook that you're in a rut and looking for other family's favorites to try if they are willing to share the recipe.
If there is something you've tried and LOVED at a get-together, be sure to call and ask for that recipe in particular from whoever made it.
4. If you're really dedicated, you can try making all the recipes. Take pictures of key steps, difficult concepts, and especially of the finished product! It is simple to add a photo to recipes in Cook'n so whether you make them all or just a few special recipes, pictures can really bring it up to the next notch!
5. Enter all the recipes into your Cook'n software!
6. Feel free to give extra information with a recipe! Especially if you're giving the same book to your siblings and all your neighbors, it might be nice to give a little extra information like, "This recipe comes from our neighbor, Mindy Watson. We first met at a church party where she brought this dish. Afterwards, I had to ask her for the recipe, and we've been friends ever since!" Personal touch goes a long way and really helps connect us all.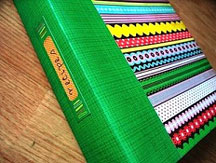 7. Format your book. If you've done pictures of the recipes, make sure they are with the correct recipe and in the right order. Put like items together, like appetizers, soups, desserts, etc.
8. Make sure to include at least one recipe from each of the people who will receive the book, and make sure to give credit to the person who contributed the recipe.
9. Do a final check for spelling and other content, then print them off or order books from a place like Shutterfly online.
10. Add a note to the book about how friends and loved ones are the spice of life, and how the recipe of your life just wouldn't be complete without them in it.
Check out this link to see how easy it is to create a family or friends cookbook with Cook'n!
With the right recipes and a bit of hard work, you could give a gift that they will use and treasure for years and years to come!
(photo credit: shine.yahoo.com)
---
---
An unbeatable value with exclusive benefits for members only.
Get a newsletter like this each week when you join the Cook'n Club.