Hot Chocolate Mix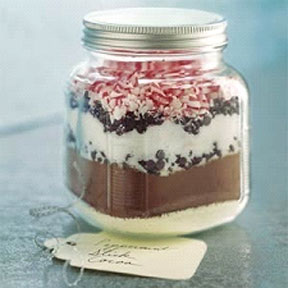 An easy gift for friends and family is hot chocolate mix. Not only is it easy, but it is very cost savvy, and I prefer the homemade blends to store bought. I like a stronger cocoa, and prefer to cut additives when possible. On top of being cost savvy, hot cocoa mix can be customized to your recipient when given as a gift.
There are a couple ways to prepare cocoa mix. You can layer the ingredients in a jar, creating a beautiful gift, or you can mix them first, which makes using it much easier for the recipient. There is also the possibility of doing both, which is my preferred method. Meaning, I mix the powdery ingredients, and my add-ins sit on top of the powder. We will get to add-ins soon. Top it all off with a cute label, or tag, or even just a simple bow. You can get super fancy and add special stirrers, candy canes, or a mug. The wrapping options are endless.
Here is a general hot cocoa recipe.
---
Hot Cocoa Mix
Ingredients:
3 cups
dry milk powder
2 cups
powdered sugar
1 1/2 cups

baking cocoa

powder
1/4 teaspoon
salt
2 cups

dark, white or

milk chocolate chips

depending on desired flavor (this is typically one bag)
Directions:
Mix up the first four ingredients very well. There are several options for the chips. They can be pulsed into the first mixture, using a food processor or they can be layered on the top and or bottom of your jar or clear bag.

Recipe formatted with the Cook'n Recipe Software from DVO Enterprises.
---
One mug of cocoa will take about 1/4 cup of powdered mix.
You can mix this up by changing your chips. During the Christmas season there are many other types of chips out. I have seen raspberry, mint and even cinnamon chips, and I think all of those would be delicious!
Another way to customize your mix is by adding marshmallows, crushed peppermints/candy canes, candy cane stirrers, or other add-ins.
The storing and wrapping options are just as endless, here are a few ideas for you!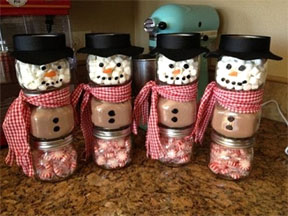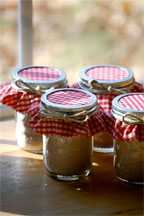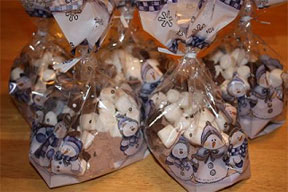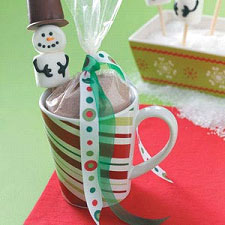 Whichever way you choose to prepare and gift this hot cocoa mix, its sure to warm the heart (and tummy). Wishing you and yours a warm holiday season, Shar.
Sources:
http://cdn.indulgy.com/w/4A/98/778278997799872638OMpxrFXc.jpg
http://cdn.indulgy.com/E2/w6/53/78672324711254131pxi7Sn4Rc.jpg
http://www.google.com/imgres?start=137&um=1&hl=en&biw=1525&bih=751&tbm=isch&tbnid=VxVO3zTkextXNM:&imgrefurl=http://simplemom.net/17-last-minute-gift-ideas-from-your-pantry/&docid=EyvSF184811sWM&imgurl=http://simplemom.net/wp-content/uploads/2009/12/cocoa-300x450-custom.jpg&w=300&h=450&ei=G4x_UKKfLerrigLHtYCwBw&zoom=1&iact=hc&vpx=290&vpy=229&dur=426&hovh=275&hovw=183&tx=81&ty=173&sig=108377090597038664523&page=5&tbnh=142&tbnw=93&ndsp=39&ved=1t:429,r:38,s:100,i:118 http://1.bp.blogspot.com/_JFUsMEyrxeo/TPl2BbplVnI/AAAAAAAAHck/SMvcrHTntf4/s1600/DSC_5152.jpg
http://www.vanillajoy.com/wp-content/uploads/2008/12/43.jpg
http://hostedmedia.reimanpub.com/TOH/Images/Photos/37/exps50236_SD19999445C08_30_3b.jpg