The Best of the Rest, From Pinterest
Cinnamon Roll Cookies
Check out these little lovelies from The Country Cook, that are blowing up on Pinterest - Cinnamon Roll Cookies. Brandie at The Country Cook made them using store bought sugar cookie dough. They look absolutely delicious. These would be great on a treat platter, as a gift, or maybe even as breakfast, just maybe.
Here is what she did.
---
Cinnamon Roll Cookies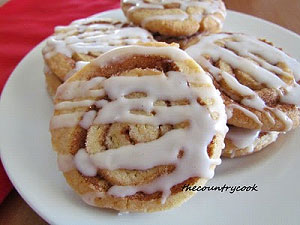 Ingredients:
1 (17 1/2-ounce) bag

sugar cookie

mix
1/2 cup

butter

or margarine, softened to room temp.
1/4 cup

all-purpose

flour
1
egg
1 tablespoon

butter

, melted
1/4 cup

granulated

sugar
1 tablespoon
ground cinnamon
3/4 cup
powdered sugar
1 tablespoon
milk
Directions:
In medium bowl, stir cookie mix, softened butter, flour, and egg until dough forms. On a floured surface, roll dough to about 1/4-inch thickness. Brush dough with melted butter.
In a small bowl, mix together sugar and cinnamon. Sprinkle this mixture evenly over dough. Begin to roll up dough, starting at the long side. If the dough tears at all, do not worry. This dough is very forgiving. Just pinch it back together, it will still bake up nicely. Cut dough in half.
Wrap in plastic wrap and pop dough in the freezer for about 20-30 minutes (until firm - not hard)
Heat oven to 375 F degrees.
Cover your baking sheet with parchment paper. Take dough out of freezer and begin cutting into 3/4-inch slices. If dough tears a little as you cut it just pinch it together a little with your fingers. Place slices about 2 inches apart on cookie sheet.
Bake 10-12 minutes or until edges are lightly golden brown.
Cool for about 2 minutes, remove from cookie sheet to cooling rack. Cool completely.
In a small bowl, mix powdered sugar and milk until smooth (adding a tad more milk if necessary). Drizzle icing over cooled cookies (making sure you have aluminum foil or waxed paper underneath cooling racks to catch excess icing).
Cook's Notes: We prefer a little bit more icing on ours so I actually made up a second batch of icing. You want the icing to stay fairly thick but thin enough so you can still drizzle it easily.

Recipe formatted with the Cook'n Recipe Software from DVO Enterprises.
---
So here is my take on this recipe... These cookies are delicious, and super easy. A word to the wise however, when it comes to the cinnamon sugar topping, less is more. See my picture... I used too much, and it ended up looking a little too cinnamonified (yes, I did create that word just for you). The recipe made about 24 cookies for me, next time I will chill it a bit on the cinnamon sugar mixture and not use so much, and maybe use a bit more flour to roll the cookies out so that they are a little more firm. I have included a picture of what my cookies turned out like.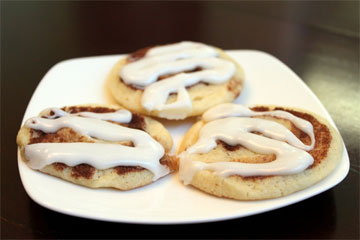 They aren't as pretty as the originals, but I bet if I smeared enough icing on them no one would know!
Brandie is so awesome that she even provides some step by steps photos to help you out! If you have questions get over to The Country Cook for her great directions. She also has lots of other great recipes on her blog to check out. Use Cook'N to import this recipe into your cookbook. DVO is working on an import feature straight from Pinterest to your Cook'N software, it should be soon!
Here are some other exciting Pins found via Pinterest for you to check out!
---
---
An unbeatable value with exclusive benefits for members only.
Get a newsletter like this each week when you join the Cook'n Club.