Cookbook Reviews:
Slow Cookers and Peanut Butter
101 Things to Do With a Slow Cooker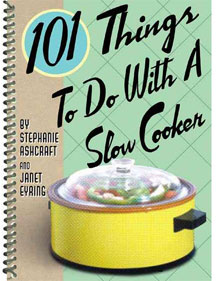 Since December is often one of the busiest months of the year, I thought a great cookbook to offer this month would be a slow cooker cookbook! If you have read even a couple of my articles, you have probably figured out that I LOVE slow cookers. They are so easy to clean, easy to use, and make delicious food. The best part of slow cookers is that you usually just put in the ingredients, cover, set the temperature, and walk away until dinner time! I absolutely love that about slow cookers! Plus, it makes your home smell delicious all day long, and who can resist that? I have this cookbook in my kitchen and it is one of my "go to" cookbooks when I want something delicious without a lot of effort.
This cookbook starts off with some great tips and tricks for using a slow cooker, including things like testing the cooking temperature of your cooker, how to make clean up even easier, and general cooking tips about ingredients like ground beef, dairy products, and rice in slow cookers. One of the great things in the tips section of the cookbook is there is a chart to adapt your family's favorite recipes into slow cooker time! I love that part, because we have a few favorite recipes that were originally meant for the oven, but I can now put them together in my slow cooker and let it cook for a few hours, and then dinner is ready with no last minute scrambling to put something on the table.
Slow cookers are great for parties and get-togethers as well, especially for delicious drinks and dips. This cookbook has some great recipes for Party Hot Chocolate, Mallow Mint Hot Chocolate, Hot Spiced Cherry Cider, Mild Chili Cheese Dip, Pizza Fondue, Cheese Fondue, Caramel Fondue, and more great party recipes. I always serve the chili cheese dip at our Super Bowl party every year, and it's great because you can keep the slow cooker plugged in, on the warm setting, and your dip is always hot and delicious! The fondue recipes (and there are more than what I just listed) are great for an awesome New Year's party too, and it's so easy!
This cookbook has chapters for soups and stews, beef, chicken, pork, and yes-even desserts! If you REALLY want your home to smell amazing, try making a slow cooker dessert, pure heaven! Here are some of the recipes you will find in this cookbook: Zesty Minestrone, Santa Fe Cheese Soup, Salsa Fever Soup, Turkey and Rice Soup, South of the Border Pot Roast (and several other roast recipes), Lasagna (one of our family favs!), Unbelievably Simple Brisket, Onion Meatballs, Scalloped Chicken, Whole Cranberry Chicken (another family fav), Creamy Italian Chicken, Orange Chicken, Chicken Enchiladas, Barbecued Pork Chops, Pork Chop Casserole, Holiday Ham, Carrot Cake, Caramel Rolls, Sugar and Spice Cake, Lemon Custard Cake, and Pineapple Upside Down Cake. This cookbook is amazing, everything is SO simple, and it is guaranteed to save you time and still please your tummy! Enjoy!
Peanut Butter Sweets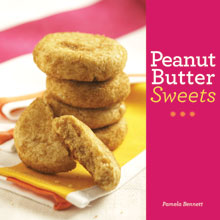 Our other cookbook this month I also thought was appropriate for December, or as it's known in my house: The Month 'O Baking! I originally started looking at this cookbook because my husband is hopelessly addicted to peanut butter and everything it can be used to make. He doesn't have much of a sweet tooth, unless that sweet includes peanut butter! So I am always on the lookout for new peanut butter recipes to make for him. I found more peanut buttery goodness in this cookbook than I even knew what to do with, and my husband was drooling as we browsed through the recipes together!
This cookbook starts out with a brief introduction about peanuts and peanut butter which I found interesting; did you know that peanuts were first grown by the Incas about 950 BC? I didn't! The author then talks about her own family history with peanut butter, and how these treats were "rock stars" in their house growing up. After the introduction it's time to delve into the recipes, and you will find peanut buttery goodness in the form of: shakes, smoothies, cookies, bars, muffins, cakes, pies, desserts and treats, candies, dips, sauces, toppings, and spreads! See what I mean? I had no idea that you could do SO much with peanut butter! I have a few recipes from this cookbook featured in my other article this month, Kid-Friendly Cookies for Santa, so be sure to check out that article as well to see the recipes from this cookbook.
Another great thing with this cookbook is the pictures! Not every recipe has a picture, but the ones that do will have your mouth watering. As I have looked through (and tried!) these recipes, I was also glad to see how simple they were, nothing was out of the ordinary or especially tricky to make, and many of these recipes will not be very time intensive (what a great thing to hear in December!) so it will be easy to try lots of different recipes without a lot of hassle!
Some of the recipes in this cookbook are: Chocolate Peanut Butter Smoothie, Southern Belle Shake (made with Reese's Peanut Butter Cups!), Potato Chip Cookies, Peanut Butter Macaroons, Peanut Butter Bars, PB and J Bars, Peanut Coconut Muffins, Peanut Butter Pound Cake, Peanut Butter Cheesecake, Luscious Lava Cake, Deep South Peanut Butter Pie, Peanut Butter Vanilla Pie, Heath Bar Pie, Homemade Peanut Butter Ice Cream, Peanut Butter Souffle, Hobo S'mores, Peanut Butter Patties, Peanut Butter Fudge, Peanut Brittle (a Christmas time staple in my house!), Christmas Treats (with maple and peppermint), Peanut Colada Dip, Perfect Peanut Butter Icing, Homemade Peanut Butter Chocolate Sauce, and Peanut Butter and Pear Spread. I know I just gave you a lot of recipe titles, but that's because it was so hard to choose from all of the amazing recipes in this cookbook! So, whether you want to try a new kind of dessert that isn't the typical chocolate chip cookie, or if you are like my husband and just can't get enough peanut butter-this cookbook is for you!