Easy White Fudge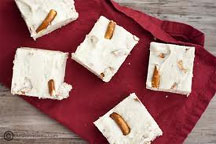 I downloaded the recipe book "Miriam Cooks for the Holidays" a while back. Being Christmas season soon, I wanted to try out the 'Easy White Fudge' recipe. The problem is there isn't an ingredient list, only the directions. Is there a way you could send the ingredients to me? I can type them into the recipe myself.
Thanks,
Terry
---
Hi Terry,
Thanks for being so generous with our human and sometimes technical glitches. I hope you'll never fail to send an email when you come across our errors. We want to do everything we can to correct any recipes that may have a mistake, and your keen eyes go a long way to helping us do just that. Just follow this link for the same recipe from Miriam B. Loo for Easy White Fudge from our website.
Hope this helps,
Desiri Wightman, R.D.
Registered Dietitian
---
---
An unbeatable value with exclusive benefits for members only.
Get a newsletter like this each week when you join the Cook'n Club.