Dessert Salads
Just when you thought that we had got all healthy on you, I am going to toss in a little something sweet and exciting. Dessert salad - How on earth some of these concoctions ever became associated with the word salad is beyond me, but they are yummy!
While they may not be 100% health fanatic worthy, I would say that an Apple-Snickers is better than eating just the Snickers bar with no apples, right? That is what I tell myself to justify these wonderfully delicious summer dessert salads. Generally dessert salads involve ingredients of the fruit, whipped topping, jello, or candy varieties, but the occasional vegetable has been known to sneak its way in.
Try these or mix up some sweet combos of your own.
---
Apple-Snickers Salad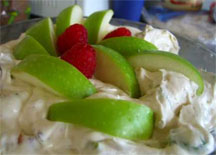 3-4 apples
1 8-ounce container Cool Whip whipped topping
3 snickers bars
Chop apples and Snickers bars into pieces and fold into Cool Whip! Serves 4.
---
Strawberry Delight Dessert Salad
1 (16-ounce) container frozen whipped topping, thawed
1 (6-ounce) package strawberry gelatin
3 (15 1/4-ounce) cans fruit cocktail, drained
1 (11-ounce) can mandarin orange, drained
2 cups grapes
2 cups miniature marshmallows
In a large bowl, combine the thawed whipped topping, gelatin, fruit cocktail, oranges, grapes and marshmallows. Mix together well and refrigerate until chilled. Stir again before serving. Serves: 8
---
Strawberry Pretzel Salad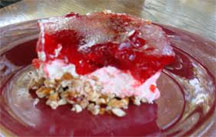 3/4 cup margarine, melted
3 tablespoons brown sugar
2 1/4 cups crushed pretzels
1 package (large package) strawberry gelatin
2 cups boiling water
3 cups cold strawberries (can used sliced, frozen)
1 (8-ounce) package cream cheese
3/4 cup brown sugar
1 carton frozen whipped topping, thawed
Mix the margarine, 3 Tbl. brown sugar, and pretzels together, then press into a 9 x 13 baking pan. Bake 10 minutes at 350 degrees. Dissolve the gelatin in 2 cups of boiling water; stir in the strawberries (no need to thaw them). Chill just until it begins to set. Blend together cream cheese and 3/4 cup brown sugar. Fold in whipped topping. Spread on cooled pretzel crust. Pour strawberry gelatin mixture over the cheese blend and chill. Serves: 12
---
---
An unbeatable value with exclusive benefits for members only.
Get a newsletter like this each week when you join the Cook'n Club.