Mmm... Berry Cobblers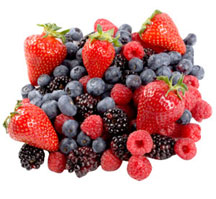 This is definitely the time of year for berries. Just thinking about berries tempts my taste buds! Because I grew up in an area where berries were prolific, I have had them served in an array of recipes.
Raspberries, strawberries, blackberries, and blueberries were always a part of summer and it was not unusual for many homes in our area to have berry bushes growing in their yards. We were one of those families; we had a patch of blackberry bushes. It was also not uncommon to find blackberry bushes along the side of the road, growing wild. We would often see people stopping to pick enough for a pie or cobbler. My mother's blackberry pie was, bar none, the best!
This summer I had a 9 year-old grandson ask me, "Grandma, did you ever do anything stupid when you were a kid?" It set me back for a minute because I had remembered myself being a cautious child. I took a few minutes to think about the question and several memories floated to the forefront of my mind. "Yes," I said and I proceeded to tell him about the small shed we had in our backyard. It wasn't all that tall but it was about 2 1/2 times taller than I was. Blackberry bushes grew right up next to it.
One day my friend and I decided to test our courage. I think we were 7 or 8. We wrapped an old blanket around us, covering as much of our body as we could, especially our faces. Then we took the plunge off the roof of the shed into the thorny blackberry bushes. We did this several times thinking we were the bravest kids ever – that is until the blanket slipped off me and I had my hands and face scratched up! After telling Ethan, my grandson, this story and a few other goofy things I did as a kid. I had a good laugh not only because of some of the things I did as a kid but that Ethan would ask the question. Then, I thought; why shouldn't he ask me a question like that, he already knows his grandma is a little adventurous! After all he was at the family reunion.
We had our family reunion a couple of weeks ago. One of the days we spent at Lava Hot Springs, Idaho. It was a great day for swimming and we were having a great time. As the afternoon drew on, I noticed the kids challenging each other to jump off the Olympic high dives. I thought … I can do that! Not telling anyone of my intentions, I quietly climbed the first set of stairs. This first level didn't seem too bad, so I jumped. I then quietly climbed to the second platform and jumped – piece of cake! Then I climbed to the highest platform which was 33 feet high. Although I was scared, I was not turning back! I had 25 family members watching and I was not going to climb down those stairs! I decided it was best not to look down and reasoned that I had already done the other two high dives, so I jumped! Cheering came from all directions and my grandchildren thought I was awesome. You know until that day I don't think I ever really experienced a wedgie!
Just like jumping from the high dives hasn't diminished my love of swimming, my jumping into the blackberry bushes didn't diminish my love of blackberries. I want to share with you an old fashion blackberry cobbler that is mixed, baked and served in the skillet. You can use other berries or fruits if you aren't a blackberry fan.
What you will love about this recipe is that it is so easy to make, and serving it out of the skillet adds a nice down home feel.
---
Skillet Blackberry Cobbler
4 cups of blackberries
1/4 cup cold water
1 cup sugar
1 Tablespoon lemon juice
Topping
2 cups flour
2 Teaspoons baking powder
1 Teaspoon salt
6 Tablespoons butter, cold, cut into small bits
1/2 cup boiling water
1/2 cup sugar
In an 8 or 9 inch cast iron skillet or cookware that can go on the stove top and also into the oven, mix the cold water and cornstarch until thoroughly mixed. Add lemon juice and 1 cup sugar and four cups of washed blackberries.
In a separate bowl, mix the flour, sugar, baking powder and salt. Blend batter with hands or pastry cutter until it resembles coarse corn meal. Add boiling water, stirring only long enough to turn it into dough.
Bring the skillet mixture to a boil on medium heat on the stove, and drop, by tablespoons, the dough mixture onto the blackberry mixture. Remove the mixture from the stove and bake in a preheated 375 degree oven for 20 minutes or until the topping is golden brown. Serve warm with vanilla ice cream.
---
Mixed Berries with Orange
4 cups variety of berries (sliced strawberries, raspberries and blueberries)
1 large orange
1 Tablespoon sugar
This is super simple. In a medium bowl, add the variety of berries. Squeeze juice of one large orange on the berries. Add zest from orange and sugar. Let sit in the refrigerator for about 1 hour so the orange can infuse itself into the berries.
---
Raspberry Peach Cobbler
This recipe is from FoodNetwork.com
4 to 5 pounds firm, ripe peaches (10 to 12 large peaches)
1 Teaspoon zest of orange
11/4 cups granulated sugar
1 cup light brown sugar, packed
11/2 cups plus 2 to 3 tablespoon all-purpose flour
1/2 pint raspberries
1/4 Teaspoon salt
1 cup quick-cooking oatmeal
1/2 pound cold unsalted butter, diced
Preheat the oven to 350 degrees F. Butter the inside of a 10 by 15 by 21/2-inch oval baking dish.
Immerse the peaches in boiling water for 30 seconds and then place them in cold water. Peel the peaches and slice them into thick wedges and place them in a large bowl. Add the orange zest, 1/4 cup granulated sugar, 1/2 cup brown sugar, and 2 tablespoons of flour. Toss well. Gently mix in the raspberries. Allow the mixture to sit for 5 minutes. If there is a lot of liquid, add 1 more tablespoon of flour. Pour the peaches into the baking dish and gently smooth the top.
Combine 11/2 cups flour, 1 cup granulated sugar, 1/2 cup brown sugar, salt, oatmeal, and the cold, diced butter in the bowl of an electric mixer fitted with a paddle attachment. Mix on low speed until the butter is pea-sized and the mixture is crumbly. Sprinkle evenly on top of the peaches and raspberries. Bake for 1 hour, until the top is browned and crisp and the juices are bubbly. Serve immediately, or store in the refrigerator and reheat in a preheated 350 degree F oven for 20 to 30 minutes, until warm.
---
An unbeatable value with exclusive benefits for members only.
Get a newsletter like this each week when you join the Cook'n Club.